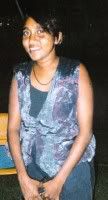 Age: 24 when missing Height: 175cm Hair: Black Eyes: Brown
Sara DAVEY was last seen driving a four wheel drive type vehicle in Saville Street, Broome, WA on Tuesday January 14, 1997 at 5.00pm. This is the last known location that she visited in Broome prior to her disappearance.
If anyone has seen Sara Lee DAVEY , or has information regarding this persons whereabouts, please contact 1800 333 000
*Please see Hayley Dodd's page for an update on Sarah - click here
Sara-Lee Davey died after attack but no proof of sailor's guilt, coroner finds
Updated
A 21-year-old woman who went missing in 1997 died after a violent confrontation with a Navy sailor at Broome wharf, the West Australian coroner has ruled.
However, coroner Barry King said there was not enough evidence to find that Sara-Lee Davey was killed by Richard Edward Dorrough, who left a suicide note in 2014 in which he confessed to killing three people.
Ms Davey, from One-Arm Point, was drinking at a bar with friends in Broome in January 1997 when she met Mr Dorrough, 19, who was on shore leave.
The inquest heard the pair caught a taxi to the wharf where HMAS Geelong was moored and Mr Dorrough tried to bring Ms Davey on board.
The pair were stopped by Able Seaman Dean Mildenhall, who was on security duties and has since changed his name to Dean Fraser.
The court heard Mr Dorrough then said he was going to take Ms Davey to the end of the wharf to have sex with her and the pair walked out of sight behind a building.
This was the last time Ms Davey was seen by a credible witness.
Her body has never been found.
"However, it is also possible that, during or after the confrontation, the deceased accidently fell from the wharf into the sea and was unable to swim to land.
"In these circumstances, I am unable to find to the appropriate standard of proof that Mr Dorrough killed the deceased."
Mr Dorrough denied any wrongdoing to police and was never charged over Ms Davey's disappearance.
In 2000, Mr Dorrough was sentenced to five years' jail for deliberately running over a pedestrian in Queensland, but was released the following year.
In 2009 while living in the Perth suburb of Osborne Park, Mr Dorrough was implicated by DNA evidence in the murder of 29-year-old prostitute Rachael Campbell in New South Wales in 1998.
He was tried for the murder of the sex worker in 2010 but was acquitted.
In August 2014, Mr Dorrough suicided and left a note for his partner saying that he had killed three times, but did not name the victims.
The note prompted WA police to conduct a fresh investigation into Ms Davey's disappearance.
Mr King found the cause of Ms Davey's death could not be determined.