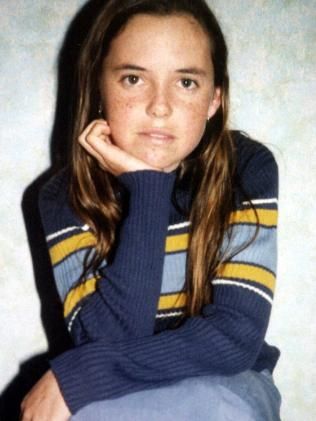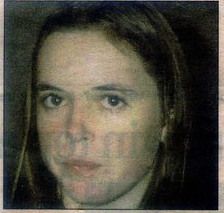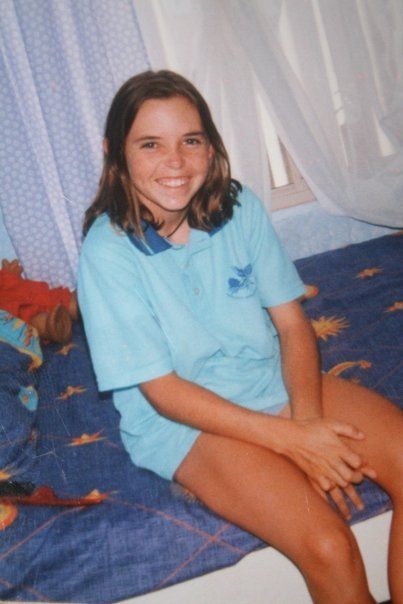 Above - Hayley aged 14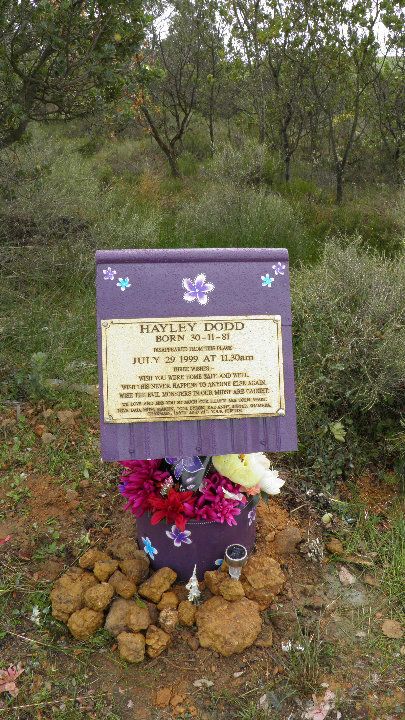 This is a message from Maggie Dodd, Hayley's Mum -
I would like to inform families who have a loved one missing that a memorial has been built in Mandurah W.A for all missing persons.
People can have a plaque placed there with the name of their loved one. We have placed one there for our daughter Hayley, it reads
Hayley Dodd - Missing without a trace 29 July 1999 - Badgingarra 'A little flower lent not given to bud on earth and bloom in Heaven.'
Hayley's plaque was the first to be placed there in July 2006 marking 7 years since we last saw her. Another plaque has now been placed there for Sylvia Davidson, who disapeared in the early 1950's, by her daughter.
The idea of the memorial is to give people like us who do not have graves to go to somewhere to put a flower on a birthday, a quiet place to sit and reflect, to shed a tear and say a prayer.
The Memorial is located on the beautiful foreshore in Mandurah beside a dolphin fountain for all who pass to see. Maybe someone will pass by and see the plaques and maybe have that bit of information we need.
*******************************************************************
I am the mother of Hayley who disappeared in 1999, she has still not been found. We have had many privately organised searches but alas in vain. I thought it was just our police who try to stop any progress, looks like they're all buffoons.
It has now been 8 years since Hayley Marie Dodd vanished without a trace, the latest development was the discovery of some items of female clothing found by two farmers in 2005 which they reported to the Moora police station, whom in turn neglected to take any action. After the farmers reading a new true crime book called the Devils Garden - The Claremont Serial Killings, they wondered if any action had been taken regarding their information; after contacting the author Debi Marshall, to their dismay it was found that Moora police did not investigate their find, and actually lost any record of this report. After this hitting the media the Police went to the site and took away the clothing for testing which will prove inconclusive, due to the elements of time.
***************************************************************************
Name: Hayley Marie DODD
Age: 17 years
Hair: Long brown
Eyes: Grey
Build: Slight
Height: 155cms

Circumstances: Hayley made a telephone call at 10.30am on Thursday 29/7/1999 and was given a lift by a lady to the North West Road, Badgingarra, WA. She was then sighted by a motorist on the North West Road walking towards the farm where she was going at 11.35am on the same day. That was the last sighting of her. At the time of her disappearance she was wearing, light brown hiking boots, blue denim jeans, black v-neck top, grey men's jacket with a hood, silver sunglasses and carrying a light brown backpack with the word " EQUIP" on the flap. Major Crime Investigation Unit are seeking public assistance with their investigation of the disappearance of Hayley Marie Dodd in 1999 from Badgingarra.


On Thursday July 29, 1999 Hayley Marie Dodd, 17 years, travelled to the Dandaragan area on foot with the intention of staying at a friends farming property on the North West Road between Badgingarra and Moora, approximately 18kms from the Badgingarra Townsite. Hayley never arrived at her intended destination. Police investigating her disappearance are now wanting to speak to :

- The occupants of shiny blue/green sedan travelling east along the North West Road just after 12.00pm on Thursday July 29, 1999

- The occupants of an older army style furniture truck travelling west along the North West road just after 12.00pm on July 29, 1999.

- 4 to 5 youths on a property close to the North West Road who were asked directions by a female driver just after 12.00pm on Thursday July 29, 1999.
Geraldton News
Western Australia
Hayley's killer might have memento: police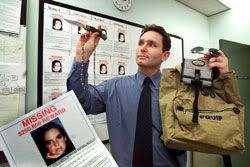 Clues: Det-Sgt Eddie Rowe with replicas of the bag, knife, necklace and sunglasses that Hayley Dodd had with her when she disappeared. PICTURE: BARRY BAKER


Episode 19 - New Dimensions
Missing Siblings
Broadcast 6.30pm on 31/10/2002 ABC TV

What would you do if someone you loved suddenly disappeared without a trace? Thatís the heart-breaking scenario faced by the sisters of missing Perth girl Hayley Dodd. As time passes, Hayley Doddís sisters, Rae Ann and Toni, have been forced to accept the worst; that their fragile sister has fallen victim to a serious crime.


GEORGE NEGUS: Right now, in the aftermath of the Bali bombing, there are any number of them bearing probably permanent spiritual and emotional scars. The brothers, sisters and parents too, of course, of siblings missing, presumed dead. In this same horrible context Jane Cunningham recently met a couple of incredibly brave young women living with a terrible burden virtually impossible to share with anyone else.

JANE CUNNINGHAM: In the vast loneliness of country Western Australia, it seems that you can disappear without a trace.

NEWSREEL: Volunteer searchers and a ten-person police task force failed to find any trace of the shy 17-year-old. Hayley Dodd disappeared whilst hitchhiking near the midwest town of Moora in July 1999.

TONI STEPHENSON, HAYLEY DODD'S SISTER: I didn't want anyone to see me cry or that I'd been hurt so much. I was angry at the same time - "How can someone do that? Whoever's done something to her, if they see it on TV or anything, they won't see me crying, they won't see me hurt or anything. I won't let them get to me."

JANE CUNNINGHAM: It's been more than three years since Hayley Dodd vanished. Her heartbroken family have been waiting this long for answers. They still wait today. There is no absolute way to convey the depth of the grief felt by the families of missing people, but if you're watching this in a room with people you love, imagine if one of them, without warning, completely disappeared. And imagine the pain of never knowing why.

TONI STEPHENSON: It's a pain that you can't discuss - Unless you've been through the pain yourself, you can't describe it. No-one else can say, "I can feel what you're going through," unless they've gone through it themselves. They can try and imagine what the pain is like, but they can't imagine what that is, living day in, day out not knowing where she is, not knowing what she's been doing, what she would be doing now if she was here. Would she be married and have children, or would she be going to school, or would she be going to uni or have a job? What would she be doing? Would she be travelling round Australia? You wonder all the time.

JANE CUNNINGHAM: As time passes, Hayley's sisters Toni and Rae Ann have been forced to accept the worst, that Hayley has fallen victim to a serious crime. They have all but given up hope that they'll ever see her alive again.

TONI: Every time they find a body, on TV or anything, I always just hope that it is. People say, "Why do you hope it's your sister? "Don't you want her to come home?" But I know she's not coming home, so for her body to be found is more important.

JANE CUNNINGHAM: Do you ever sort of think about what might have happened?

RAE ANN DODD, HAYLEY DODD'S SISTER: Oh, sometimes I do. When I see people being raped and stuff on the news, that makes me think about it. That makes me upset to think people can do that to other people - especially when they've done it to your sister, if that's what's happened.

TONI: I cry myself to sleep at night at least twice a week, because I'm just, like, I want my sister back.

RAE ANN: We usually go down to her wishing well. I wish she'd come back safe and sound, but not much chance of that happening. And I don't really wish that much at the wishing well.

If you have any information that you think might help trace Hayley please go to http://www.wa.crimestoppers.com.au/reporting/section or call Crime Stoppers on 1800 333 000 (Tasmania 1800 005 555)


It has now been three years since Hayleys disappearance and it is believed that Hayley has become the victim of a violent crime. A reward of $250,000.00 has been granted by the West Australian State Government for information that may bring Hayley Marie Dodd back to her family and friends, and which leads to the apprehension and conviction of the person or persons responsible for her disappearance.
If you believe this may be you, police are appealing for you to come forward as no matter how trivial or insignificant your information may appear to you, for police it may be hold the vital link in assisting us to solve this disappearance. Police are asking people to cast their minds back to the day of the disappearance on July 29, 1999. The news at the time was about the tragic deaths of 13 young Australians on a Swiss Canyoning adventure holiday when a wall of water swept them away to their deaths. Maybe that tragedy could trigger a memory that can help police.
Last seen:Wearing light brown hiking boots, blue denim jeans, black v-neck jacket with a hood, silver sunglasses and carrying light brown backpack with the words EQUIP on the flap

Concerns are held for her welfare and safety. For further information contact Det Sgt Rod Wilde 08 9223 3645.

Police consider new information in missing teen case
Mid west WA police are investigating new information from a woman who may have been the last person to see missing teenager Hayley Dodd alive. The 17-year-old vanished three years ago when she left Dongara to hitchhike to a friend's farm in Badgingarra. A reward for information on her whereabouts has recently increased to $250,000. Detective Sergeant Eddie Rowe says a woman revealed she saw Hayley walking on the isolated North-West Road towards Moora the day she disappeared. He says the woman also saw a shiny blue-green car and an army-style truck travelling along the road that day, and later asked some youths at a property for directions to Moora. "All of this information is new to the investigation and we'd call upon the owners or drivers of those vehicles to come forward so that we can eliminate them from our inquiries, and for those people if they remember on this day a woman with her daughter travelling in the Badgingarra area to come forward so we can also eliminate them in our inquiries," he said.

- Police Media Release

New lead in six-year search for missing teenager
4:32 PM April 15 2005

Detectives investigating the disappearance of teenager Hayley Dodd in the Wheatbelt north of Perth six years ago, have impounded two vehicles belonging to a Geraldton man. Hayley Dodd, 17, was hitchhiking near Badgingarra, about 200 kilometres north of Perth, when she disappeared in July 1999. She was last seen on the Badgingarra to Moora road. Major crime detectives have visited Geraldton for the second time in eight months, and have impounded two vehicles found on a local property. Detective Sergeant Rod Wilde says the vehicles belong to a new person of interest in the case. "It's a long investigation and we're continuing to follow every lead that we get," he said.Forensic tests will be done on the cars next week.
Source: ABC & Geraldton News, WA

Answers sought over copies of murder victim video
12:42 PM April 23 2005

Western Australia's Government has demanded answers from the Justice Department following claims that a police tape of a murder victim was copied within prison and sent to the mother of a missing girl.
The department this week seized police tapes from Robin David McCartney, which included disturbing images of the body of his victim Lalita Horsman. He was allowed access to the tapes because he is appealing against his conviction over the 1999 murder. It has now been revealed one of those tapes may have been copied and sent to the mother of 17-year-old Hayley Dodd, who disappeared in the same year. McCartney is a suspect in the investigation into her disappearance. The acting director of WA Prisons Ian Johnson says a report on the incident is being prepared for the Government. "I've been in contact with the Commissioner of Police because I feel there are some issues that need further investigation," he said. Serial killer David Birnie is among a number of inmates to be questioned and have video tapes in his cell confiscated, as the department investigates how many copies of the police tapes were made.
Source: ABC

http://www.modnet.com.au/~firefrog/lalitahorsman.htm

5th Dec 99
By REBECCA HEWITSON

THE Cape Burney man who murdered Geraldton woman Lalita Horsman showed little emotion as he was sentenced to life in prison yesterday. Justice Henry Wallwork told Geraldton Supreme Court the initial charge of wilful murder against Robin David Macartney (47) had not been proved by the Crown.
He said there was enough evidence to prove Macartney killed Miss Horsman, but not that he had intended to. He was found not guilty of wilful murder, but guilty of murder. Macartney was sentenced to life in prison, but a minimum sentence to be served before parole will be set in Perth Supreme Court on September 14. Macartney had opted for the trial to be heard by judge alone, which led Justice Wallwork to spend three days going over evidence in the role of judge and jury after an eight day trial finished last week.
http://www.optusnet.com.au/news/story/abc/20050422/11/regional/wa/geraldton/1351048.inp -

Saturday, December 17, 2005. 1:00am (AEDT)
Family of missing teen welcomes further Murdoch investigation

The family of a Perth teenager who disappeared six years ago has welcomed a police review of a number of high profile cases to determine whether there are possible links to convicted killer Bradley John Murdoch.

Forensic specialists have begun comparing unidentified DNA recovered from serious crime scenes with Murdoch's profile, as officers from the specialist crime squad examine Murdoch's criminal habits and methodology.

Superintendent Jeff Byleveld says police in Perth have closely followed the case and Murdoch's criminal profile is now being carefully scrutinised.

"We've been looking at him for some time and of course the result this week confirms we should be doing that," he said.

The cold cases being investigated include the Claremont serial killings, the disappearance of 21-year-old Sarah Lee Davey from Broome and teenager Hayley Dodd, who vanished from the roadside while hitchhiking near Badgingarra in 1999.

Hayley's mother Margaret says the Peter Falconio murder and her daughter's disappearance have a lot of similarities.

"He was in open space, nobody about, he committed that crime - nobody's seen anything, they've never been able to find the body," she said.

"That's exactly what's happened to Hayley.

"You don't know where he's been and you know he could be responsible."

She has welcomed the review saying she wants to know whether Murdoch had anything to do with her daughter's disappearance.

"It's very hard because we watch the news all the time," she said.

"We're always thinking well maybe, perhaps they've got something to do with Hayley's disappearance or you know anything like that and it makes it particularly hard.

"All we want to do is find Hayley."
Killer 'confessed' to Hayley Dodd murder - prisoner claims
POLICE are investigating a startling breakthrough in the 11-year hunt for missing teenager Hayley Dodd, amid claims a convicted killer confessed to his involvement in her murder.
The Sunday Times can today reveal the Special Crime Squad has received new information about Hayley's suspected abduction and murder, one of WA's most mysterious cases.
A released prisoner has come forward claiming Robin David Macartney confessed to killing the 17-year-old.
Macartney, who is serving a life sentence for the murder of Lalita Horsman in Geraldton in December 1999, has long been considered a suspect in Hayley's disappearance, but police have been unable to pinpoint his precise movements on the day she went missing.
The released prisoner claims Macartney, who is known by his middle name David, told him he had killed Hayley because she would not have sex with him.

In an earlier conversation it is claimed Macartney told the former inmate he knew the whereabouts of Hayley's body.
In a copy of the former prisoner's statement to police, made to Det-Sgt Geoff Buck on August 27 this year and seen by The Sunday Times, the released prisoner also claims:
* He found a file of newspaper clippings about Hayley and two articles stuck on the wall of Macartney's Casuarina Prison cell while snooping when Macartney was in hospital in 2009.
* A photograph of Hayley's mother, Margaret, was uncovered in Macartney's cell with holes in her face that appeared to have been made with a pen. The word "bitch" was scawled above her name.
* He overheard Macartney discussing Hayley's disappearance with at least two other inmates at the jail, each time recounting that he had been different distances from where Hayley was last sighted on the day she disappeared.
The Sunday Times has strong information that police and prison authorities conducted at least two raids of Macartney's cell in recent weeks and that items had been seized from his living quarters.
While police said the cell raids were not related to the Hayley Dodd case, Mrs Dodd said detectives had confirmed to her they had been investigating the new claims for about two months and had searched Macartney's cell.
Mrs Dodd, who visited Macartney in jail in 2005 after he contacted her saying he had information about Hayley's disappearance, said she was only alerted to the heightened police investigation after inquiries made by The Sunday Times.
Police contacted her again on Friday asking her not to comment publicly on the latest claims.
But she described as "disturbing" the account that Macartney had news clippings of Hayley in his cell.
Hayley vanished after she hitched a ride from Dongara, where she was working as a roustabout, on July 29, 1999. She was last seen walking along North West Rd, near Badgingarra, about 200km north of Perth.
Police are convinced Hayley was abducted and murdered, though her body has never been found.
Ms Horsman, 27, was suffocated and her body dumped in the sand dunes of a Geraldton beach five months after Hayley disappeared.
The former prisoner, who was released from jail this year, claims that he spoke with Macartney on several occasions about Hayley's disappearance after a TV news report on June 28, 2009, named him as being a suspect in the case.
"I ask(ed) him, 'What happened, how come they accused you of murdering Hayley?'," the former prisoner said in a statement.
"He said, 'I was accused of it because they accused me of killing the girl in Geraldton and they thought I killed Hayley before I killed her'. He said, 'But I do know where the body is because the person who killed her told me where her body is'.
"I said, 'That can't happen. I think you should tell the police where the body is so the mother can have closure to this'. He said, 'No, that would spoil my appeal'."
In the statement, the ex-prisoner said: "It troubled me what David said to me, no one would know where the body was unless he was the murderer, that's what I thought."
He said, while Macartney confessed to knowing where Hayley's remains were, he did not detail the location.
The man claims that Macartney gave him his cell key so he could clean up before he returned from hospital where he was having treatment for bowel cancer.
"On his wall he had pictures and news items cut out of the newspaper about Hayley Dodd," the statement said. "There was only two on the wall, they were from 2009."
Inside the cell, the prisoner says he found two plastic files with newspaper clippings about Hayley's disappearance and other cases involving Dannie Wright, who was convicted for raping and murdering Chinese student Jiao Dan in Innaloo in October 2007, and American Dennis Maher, who was exonerated after serving 19 years in jail for raping three women in 1983.
"The red folder was all about Hayley," he said. "I saw some clippings had red ink around them.
"There was one picture of Margaret Dodd and it had holes in her face. It looked like the holes were made with a pen. The word 'bitch' was scribbled above her name."
The prisoner said, when he heard the prison guards coming, he returned the files to where he found them and never spoke to other prisoners about the find.
He said he told Macartney that he would give him an opportunity to go to police, but if he had not contacted them by June then he would.
"I'm telling the police this now as he didn't tell the police himself and the family needs to know and they need to get Hayley back," the statement said.
Mrs Dodd said three people had now come forward with similar stories about Macartney confessing to an involvement in Hayley's disappearance.
"One person could be lying, two perhaps collaborating but three people . . . there is no doubt Macartney is saying these things," she said.
Det-Insp Casey Prins, officer-in-charge of the Special Crime Squad, declined to comment.
A Department of Corrective Services spokesman said he was unable to comment or release information about operational or security issues regarding individual prisoners.
A $250,000 reward has been offered for information leading to the conviction of those responsible for Hayley's disappearance.
Margaret Dodd: Why weren't we told about Macartney development
HAYLEY Dodd's heartbroken mother says she will never give up on finding out what happened to her daughter, despite an 11-year lapse since the teenager's disappearance.
Margaret Dodd said her family had painstakingly mounted independent searches for Hayley, desperate for answers amid concerns that police had bungled the investigation.
They also called for a coronial inquest, but a date is yet to be set.
Hayley was 17 when she was last seen walking along North West Rd near Badgingarra in the WA wheatbelt on July 29, 1999, after picking up a lift while hitch-hiking.
Mrs Dodd said she was angry that police had not kept her abreast of developments in the case, including the latest man to come forward with a claim convicted killer Robin David Macartney had confessed to being involved in Hayley's disappearance.
She said police had only confirmed the development to her when she questioned them after being alerted by The Sunday Times.
"Whoever is responsible for Hayley disappearing is still out there and I still desperately want them to be caught," Mrs Dodd said. "I get annoyed. Police should be telling me everything. I shouldn't be hearing it from the media."
Macartney, who is serving a life sentence for the murder of Lalita Horsman in Geraldton in December 1999, has long been considered a suspect in Hayley's disappearance. But police have been unable to pinpoint his precise movements on the day she went missing.
Mrs Dodd said she did not believe police had done everything they could to rule Macartney out of their investigation into Hayley's disappearance.
In 2005, Mrs Dodd and her husband Ray visited Macartney four times in Casuarina Prison after the killer requested a meeting, claiming he had information about Hayley's case. During the meetings, he denied having anything to do with Hayley's disappearance but named a person whom he believed had not only killed Hayley, but was also responsible for Ms Horsman's murder.
Macartney also sent Mrs Dodd a copy of a police videotape, which showed graphic footage of the police recovery of Ms Horsman's body, to which he had controversially gained access in preparation for an appeal against his conviction.
Mrs Dodd severed contact with Macartney.
"I felt like he was playing with us, trying to give us hope but not coming through with any genuine information," she said. "I don't sit there and cry anymore. I listen to the information and then try to see if there is any truth to it ...We want to know where she is, we need to know."
WA Police declined to comment on Mrs Dodd's claims of police bungling.
Bone mystery raises hope for missing teen Hayley Dodd
Megan Kelly -
- Central Midlands & Coastal Advocate
February 24, 2012 - 1:52PM
The mother of a missing teenager believes a bone found near Badgingarra could be human remains.
Margaret Dodd's 17-year-old daughter Hayley vanished in 1999 after she hitched a ride from Dongara, where she was working as a roustabout.
She was last seen walking along North West Road near Badgingarra.
In desperation, her family hired a cadaver dog to search for her body in June last year and despite nothing being found at the time, the dog identified a location.
The bone, dug up at the Badgingarra site on Friday, was handed it in to Moora police.
Sergeant Phil Cartledge said the piece of bone was immediately transferred to State Pathology which will determine if the bone is part of human remains.
The special crime unit will continue with their enquiries.
"At this stage the Moora police are not involved in the enquiries," Sergeant Cartledge said.
There have since been reports of police confirmation that the bone found is from a sheep but Mrs Dodd said she was still hopeful the bone might be Hayley's.
Mrs Dodd said she was mistrustful of police and would not believe the bone was from a sheep until she receives the forensic report and a report from an anthropologist.
"As soon as the police saw the bone they just said, 'No, it's a sheep's'," Mrs Dodd said.
"One of the searchers said the bone he found didn't look anything like a sheep's, according to a chart he had, and another one of the searchers' uncle is a butcher."
"They sent him a photo of the bone and he said it wasn't a sheep's bone."
Mrs Dodd said she had investigated her daughter's disappearance after "disgusting" treatment from the police and a lack of help.
Convicted rapist Francis Wark found guilty of murdering missing teenager Hayley Dodd
Updated
A convicted rapist has been found guilty of murdering missing 17-year-old Hayley Dodd, more than 18 years after the girl vanished while walking along a remote road in Western Australia's Wheatbelt region.
Francis John Wark, 61, was found to have lured the teenager into the borrowed ute he was driving on July 29, 1999, and killed her in the course of a sexual assault.
Wark owned a property in Badgingarra, near where Hayley was last seen walking along North West Road.
Her body has never been found and her family and friends never heard from her again.
Many of them packed the Supreme Court for Monday's verdict, some wearing yellow flowers to honour Hayley and all other missing people in Australia.
They all sat silently as Justice Lindy Jenkins delivered her guilty verdict.
In her 200-page decision, Justice Jenkins said it was a "sad but inescapable" conclusion that Hayley was dead and that Wark was responsible.
Wark was not charged with Hayley's murder until 2015, when he was serving a 12-year jail term in Queensland for physically and sexually assaulting a 31-year-old woman he had picked up on a remote road in the state's north.
Justice Jenkins, who presided over Wark's seven-week trial last year, said based on evidence about the Queensland crime she was satisfied Wark had "a propensity to pick up a lone female hitchhiker and to violently and seriously assault her so that she could not resist his sexual assault".
Single earring the vital clue
A crucial piece of evidence during his trial was the discovery, during a 2013 cold case review, of a single earring embedded in the fabric of a car seat cover seized from the ute in 1999.
The earring matched drawings done by Hayley's friend, of earrings she had bought two days before she vanished, and was believed to have been wearing when she was last seen alive.
Wark's laywer Darryl Ryan had suggested the earring may have been planted by police, who were under pressure to solve the crime, or that it could have come from someone else who had been in ute before Hayley's disappearance.
However Justice Jenkins rejected both of those submissions.
"It is not a reasonable possibility that the earring found on the seat cover was left there prior to 29 July, 1999, or that it belonged to anyone other than Ms Dodd," Justice Jenkins said.
Wark's trial was also told that during his Queensland crime, he had demanded the victim give him an earring, telling her "I want to keep it."
Justice Jenkins said that evidence along with the discovery of Hayley's earring led her to find "the accused [Wark] is a person who would be likely to take an earring as a trophy from his victim".
Another vital piece of evidence at Wark's trial was the DNA analysis of a single 18-millimetre strand of hair, found during the cold case review, in the debris taken from the ute.
Mr Ryan had highlighted that male DNA was also found on it, meaning there was a possibility it had not come from Hayley.
Justice Jenkins appeared to agree, finding that while it was possible it was Hayley's hair, she was "not persuaded" that it was.
Prosecutors had argued Wark should be guilty of wilful murder arguing he intended to kill Hayley, but Justice Jenkins said she was not satisfied beyond a reasonable doubt that was the case.
The crime of wilful murder no longer exists in Western Australia, but Wark was tried under the laws that were current in 1999, when wilful murder was still distinguished from the crime of murder.
Wark has always denied anything to do with Hayley's disappearance, claiming that at the time he was doing his weekly "ritual" of shopping in Moora, about 50 kilometres away from Badgingarra.
Justice Jenkins said while the timeframe of the murder was "extremely tight", Wark did have "the opportunity" to "encounter" Hayley on his journey back to his property, murder her and dispose of her body.
Wark will face a sentencing hearing next week, to allow Justice Jenkins to determine what minimum term he should serve before being considered for release on parole.
Family still searching for body
Margaret Dodd campaigned for 18 years to get justice for her daughter and her family, but was too upset after the verdict to comment.
Hayley's sister Toni Dodd said the family did not think this day would ever come, but they now wanted Wark to tell them where Hayley's body was.
"We didn't just lose a sister, we lost parents as well," Ms Dodd said.
She said the family would always support changes to the law so that killers who do not reveal the location of their victims' bodies do not get parole.
Ms Dodd said it had been "horrible" sitting through the seven-week trial last year.
"We had to sit through it to know every detail," Ms Dodd said.
"We want to know what's happened, to try to figure out why, try to figure out if there are any clues as to where she is and why did he do it."
Heartbreak in futile psychic search for murdered teen Hayley Dodd
The mother of murdered teen Hayley Dodd has vowed to rethink future searches for her daughter's remains after a site identified by a psychic failed to deliver clues to her final resting place.
The psychic believed 17-year-old Hayley's body was buried five kilometres away from her killer's home, off a quiet stretch of road in Badgingarra.
Margaret Dodd says specially-trained dogs had also picked up a scent in the area.
Her grandchildren even helped dig for an aunty they never met and machinery was brought in to progress the search.
"This spot has come up time and time again basically because this woman truly believes Hayley is there," Mrs Dodd said.
"What choice did we have, we started digging."
Hayley went missing while hitchhiking to a farm in Badgingarra in 1999.
Francis John Wark was convicted of her murder, but won't reveal where Hayley's body is.
The latest search drew a blank and Mrs Dodd has vowed not to undertake another because of the heartbreak it had caused her family.
The only exception would be if Hayley's killer reveals where she is buried.
"It put me really really down, it's messed around with my daughter's head," she said