What's going on in the Outback?

I want to do something I have never before done on my site. Over the last year or so I have become increasingly alarmed at the number of men who have gone missing in the Northern Territory, on the Stuart Highway around Alice Springs. I am taking the unusual step of issuing my own personal traveller's warning to persons travelling in this area, as I believe that harm may have come to the people who are missing. PLEASE NOTE - I have no association with any law enforcement agency or media agency. This warning is something I feel I need to do, as I believe it is now a matter of public safety. I have no proof that harm has come to any of these men, but it is something that I believe has gone beyond coincidence and I can no longer sit back merely note these disappearances without trying to do something to protect any future travellers along that road.
All I can say is TAKE CARE. Be extremely alert when travelling, try to avoid travelling alone, ensure your vehicle is in excellent mechanical order, and if your vehicle does break down then be extremely cautious about accepting a lift from anyone who stops to offer assistance. Don't assume a mobile will work out there, don't assume because you're a guy you will be safe, don't assume that someone offering you a lift is genuinely helping.
Police warning to outback travellers
Thursday, 8 September 2011 11:16am
SA Police would like to remind motorists and tourists the far north of South Australia is a remote and an unforgiving place to unprepared travellers.
Recently a 45-year-old South Australian man nearly lost his life after he became fatigued and disorientated while riding a motorbike on route to Birdsville.
Had it not been for the efforts of locals, and Emergency Services the missing man would have died.
Police, National Parks and Wildlife Service would like to remind all travellers contemplating trips to remote areas to be prepared and plan your trip very carefully.
Visitors in the Simpson Desert are required to have a Desert Parks Pass that provides information about what to take and what to do in an emergency. These passes can be collected from National Parks and Wildlife Service on 1800 816 078.
Motorists should travel as a group, have appropriate communications between vehicles/bikes such as UHF radio, plus either HF or a satellite phone, and an EPIRB. (emergency positioning indicating radio beacon)
Travellers to remote areas should provide a communications travel plan with relative or friend which would include regular check-ins, vehicle details, who is travelling, and a detailed itinerary.
If travellers fail to call in, the contact person can then alert the appropriate authorities.
Travellers should carry vehicle spare parts including extra fuel, enough food and water for the trip, plus at least 3-4 days food and water supplies for emergencies.
Missing person searches by Police, Emergency Services and volunteers, involving aircraft and other resources are difficult in remote areas and both costly and time consuming. All travellers and holidaymakers to the far north and remote areas of the State are reminded to act responsibly by planning and preparing their trip carefully as conditions can change unexpectedly.
Missing WA man's ute found in NT
January 4th 2008
Northern Territory police are looking for a 34-year-old man whose ute has been found abandoned on the Stuart Highway, about 120 kilometres south-east of Darwin.
The parents of Brenton Simon Stoddart reported him missing to Canningvale police in Western Australia eight days ago. They had not seen him since December 22.
The ute is damaged and police say they think it ran out of fuel.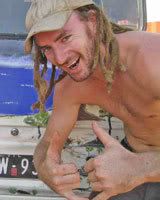 Brenton Stoddart - Missing from Stuart Highway December 2007. Abandoned Ute.
Brett McGillivray - Missing from Attack Creek, Stuart Highway April 2006. Abandoned Toyota Camry.
Robert Nivison - Missing fom Alice Springs, January 2007, missing with black Jeep. TRAGICALLY LOCATED DECEASED 2010
(look at the resemblance between the two men!)
Jamie Herdman - Missing from Daly Waters, Stuart Highway, December 2006. Abandoned Nissan Urvan.
Oswal Ormand - Missing from Barkly Homestead near Stuart Highway, January 2007. Abandoned Datsun Ute.
Stanislav Dobias - Missing from Attack Creek, Stuart Highway, September 2005. Abandoned campsite.

Peter Falconio, missing from Barrow Creek, Stuart Highway, 2001. Abandoned Kombi.
*****************************************************************
*If we continue to work backwards, there are others who have gone missing in this area over the years. As most are travellers it's often difficult to pinpoint exactly where they went missing.
*Lubos Gencur, missing from Alice Springs December 2004.
*Jennifer Lane, missing from Alice Springs March 2004
*Andrew Johnson, missing from Stuart Highway, Elliot in 1994. Abandoned vehicle.
*Ivica Sinozic, missing from Alice Springs 1982/1983. Abandoned vehicle.