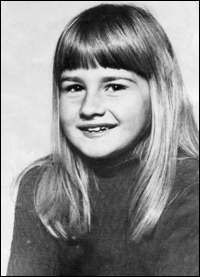 Eloise WORLEDGE
Date Of Birth: 1967
Age at Time of Disappearance: 8 years old
Distinguishing characteristics: White female. Blonde hair
Last seen - at her home in Beaumaris, Victoria, January 12th/13th 1976
Circumstances of Disappearance
8 year old Eloise Worledge disappeared from her home in the Melbourne suburb of Beaumaris, Victoria on January 12, 1976.
Her brother raised the alarm about her disappearance when he noticed she was not in her room at 7.30am. He later told police he heard "robbers" who kidnapped his sister, but was too scared to say anything at the time because he thought they would take him too. There was no sign of a struggle.

Investigations revealed no signs of forced entry or a struggle. Police believed Eloise was lured from her bed by someone she was familiar with and simply left the house via the front door, which had been left unlocked. Another possibility not discounted was Eloise may have been abducted by a prowler known to be in the area at the time. A speeding car down the Worledge's street at 2am was reported by a neighbour. Bark from a tree outside her window was found on her bedroom floor. A small hole had been cut in the flyscreen in her window, but forensic tests revealed it had been cut from the inside. Police believed it was too small to have been used by the abductor. Because scientific evidence found it unlikely that Eloise was taken through her open bedroom window, both parents were initially treated as suspects.
Despite the biggest missing-person's search in Victoria's history and despite a $10,000 reward posted in 1976 that remains unclaimed, no trace of her has ever been found. Homicide cold-case detectives began reinvestigating the case in 2001.

Twenty-seven years after Eloise Worledge was snatched from her bed in the dead of night, her mother yesterday said that the family had long ago accepted the eight-year-old's disappearance as a mystery.
Speaking after coroner Frank Hender ruled it was impossible to identify who was responsible for Eloise's disappearance, Patsy Worledge said the family had "come to our own form of closure years ago".
Eloise Anne Worledge was taken from her home in Scott Street, Beaumaris, in the early hours of January 12, 1976. A flywire screen on her wind-out window was partially cut and rolled upwards and the window was fully open.
Her abduction sparked the biggest Victorian missing person's search in history. Despite a recent 12-month re-investigation of new leads, a homicide squad detective confirmed the case still baffled police.
Detective Senior Constable Robert Nazaretian told the Melbourne Coroners Court that despite Eloise's father, Lindsay, being the prime suspect at the time of her disappearance, a 2001 investigation found no evidence to implicate either of Eloise's parents as the culprit. And new investigations of known sex offenders, including a teacher and a librarian at Beaumaris Primary School, failed to uncover any new evidence, he said.
Outside court, Ms Worledge said the family had been "devoted to learning from our experiences, to healing and accepting the mystery"."And it is indeed a mystery. And we don't actually need to know," she said.
Lindsay Worledge was not present at the hearing.
Senior Constable Nazaretian said evidence suggested someone had staged the scene to look as if the flywire screen was cut from the inside to avert suspicion from people connected to the Worledges.
The motivation to cut the screen from the inside by an intruder with no connection to the household seemed inconceivable, he said. But entry, exit or both was most probably made through the front door, which Ms Worledge said she had left wide open, Senior Constable Nazaretian said.
The court heard that both Lindsay and Patsy Worledge had been having affairs at the time and Mr Worledge was depressed about their looming separation. He was to move out of the house the day Eloise went missing, a fact Senior Constable Nazaretian described as "striking in its timing".
He said that in 2002 Ms Worledge told police that at the time of Eloise's disappearance she believed Lindsay Worledge "was involved in the disappearance as a means of prolonging the inevitable and as a way of spiting her". Mr Worledge denied involvement in the abduction and a lie detector test proved inconclusive, the court heard.
Convicted sex offenders interviewed when the case was reopened included a teacher and a school librarian at Beaumaris Primary, as well as a man who coached at the Beaumaris junior soccer club. But police could not uncover any evidence of their involvement in Eloise's disappearance, or any evidence linking sex killer Raymond "Mr Stinky" Edmunds to the crime.
Suspects at the time included Ms Worledge's two female friends and her sister, Margaret Thomas, but a reinvestigation of their police interviews found the links baseless.
Giving an open finding, Mr Hender said Eloise was a shy girl who would not have voluntarily left home with a stranger. He said significant information given to police included a neighbour's account of hearing a child cry out and a car door slam at 2am on the night of the disappearance.
"It is not possible on the evidence to find who were the person or persons responsible or when and how Eloise met her demise but her disappearance and presumed death remains suspicious," Mr Hender said.
This page has been visited
times