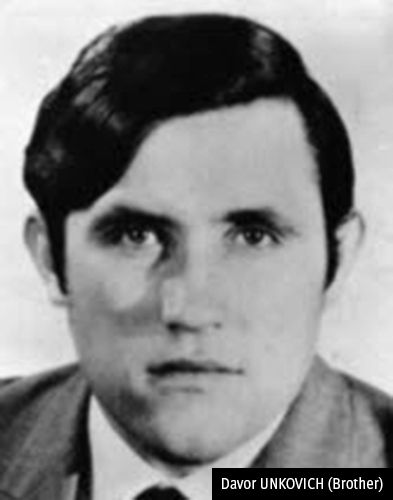 Missing since:

Thursday, October 19, 1972

Last seen:

Adelaide SA

Jurisdiction:

SA

Year of birth:

1942

Age now:

74

Gender:

Male

Height:

172cm

Build:

Stocky

Hair:

Brown

Complexion:

Fair

Reward offered:

$200,000
Circumstances:
Missing presumed murdered.
On 13 October 1972, Ante Unkovich, then aged 30 years, and his brother Davor Unkovich, then aged 25 years, arrived in Adelaide having travelled by car from Perth. Both men were born in Yugoslavia but had been living in Perth for some time.
It is believed they travelled to Adelaide to complete a business deal with a Yugoslavian man. Prior to leaving Perth the brothers unsuccessfully tried to illegally purchase a handgun.
At about 11:15am on Sunday 22 October 1972, Davor Unkovich was found lying face down in shallow water at Maslin Beach. He had been shot a number of times. Davor was last seen alive on 19 October 1972 when in company with Ante Unkovich. Their Holden Torana sedan was later located abandoned in Adelaide. It contained clothing belonging to both of them.
The murderer of Davor Unkovich has never been identified.
Ante Unkovich's whereabouts is unknown and police suspect he has been murdered also.
If you have information that may assist police to locate Ante Unkovich please call Crime Stoppers on 1800 333 000.