Derek "Des" BATTEN
Peter TUNSTEAD
James TUNSTEAD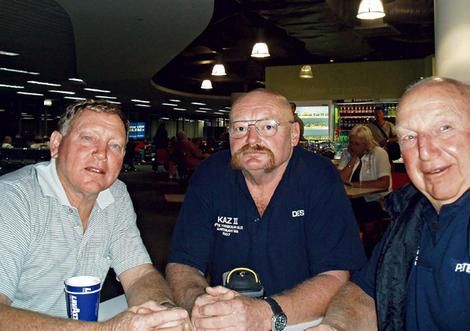 Fate unknown ... (from left to right) James Tunstead, Des Batten and Peter Tunstead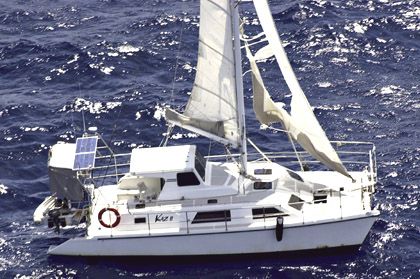 Families hope for missing yachties
April 23, 2007 - 11:13AM - SMH

The son of one of three men missing from a yacht found off the north Queensland coast beleived the sailors may have made it to an island and are waiting to be rescued.

The families of three men who disappeared from a yacht off the north Queensland coast have refused to give up hope the sailors will be found alive despite police preparing a report on their deaths for the coroner.

Relatives of skipper Des Batten, 56, and brothers Peter and James Tunstead, aged 69 and 63, all from Perth, will launch their own search for the missing men today.

Rescue authorities yesterday said there was no hope they would be found alive.

The trio are believed to have gone missing from their 9.8-metre catamaran, Kaz II, eight days ago.

The yacht was found unmanned and adrift on Wednesday about 160 kilometres off Townsville after leaving Shute Harbour at Airlie Beach in the Whitsundays on Sunday morning.

The men had intended to sail the catamaran back to Western Australia.

Police yesterday called off the search and rescue operations about a week after it is believed the men disappeared.

However, the families of the men today will charter boats to continue scouring the north Queensland coastline.

"Please everyone, keep having positive thoughts for us," Peter Tunstead's wife Fran told ABC Radio.

"Say your prayers for us, for them - for Jimmy, for Peter, for Des - because they need that."

James Tunstead's son Shane Webber today said the search would concentrate on islands off Airlie Beach, where the men may have swum to.
"That's our hope. That's where we're going to concentrate today,'' Mr Webber told ABC Radio.

"I was a little bit disappointed that the official search only lasted two-and-a-bit, three days.''

There are several theories about what happened to the men. One is that the they fell overboard in rough seas. Another is that another vessel came alongside and they boarded it, either willingly or unwillingly.

But Mr Webber did not believe the men met with foul play.

"Maybe they've all got knocked over by the boom, or something happened at the back of the boat when they were fishing because we know they were fishing at the time by video footage we've seen from the Townsville police,'' he said.

"That's about the only theories we can come up with at the moment.''

Townsville Detective Inspector Warren Webber said that, despite extensive investigations, the case remained a mystery.

He said police would now prepare a report for the coroner.

"We can all come up with various ranges and hypotheses and theories as to what may have happened," he said.

"But at this stage our investigations concentrate on just determining exactly what facts we have. We will obviously draw some conclusions from that information and that information will ultimately be provided to the coroner."

The findings of the police inquiry will be handed to Queensland's coroner to determine whether a full inquest into the men's death is warranted.

When the Kaz II was boarded, its engine was still running, a laptop computer was found switched on and navigational equipment and plotting gear laid out.

The men's clothes were found folded in neat piles on the rear deck, as if they had gone swimming.

The only sign of damage was a shredded sail.

One theory is the men fell overboard in rough seas.

Another is that another vessel came alongside and they boarded it, either willingly or unwillingly, as if they had been attacked by pirates.

But Townsville Chief Superintendent Roy Wall ruled out foul play.

"They were all known to each other for some time, all good friends," told the Nine Network this morning.

"There's certainly nothing that's come forward at this stage that would indicate anything other than a tragic accident."

He also ruled out an apparent attack by pirates.

"I think that's stretching it a bit too far - we've had no information or reports of piracy off that part of the Queensland coast," he said.
AAP
Family believe missing sailors kidnapped
April 24, 2007 - SMH

Relatives of the skipper of a mystery yacht found off the coast of north Queensland believe the three missing crew members might have been kidnapped.

Hope Himing, niece of Derek Batten, 56, said today there were many unusual circumstances surrounding the yacht, which was found adrift off the coast of Townsville last Wednesday, that suggest foul play.

Emergency service crews found the engine running, computers turned on, food on the table and the GPS system operating but no sign of the boat's crew.

"It just doesn't all add up," Ms Himing said today.

"If it was bad weather why would their fishing line be out?

'It just doesn't add up'

"Why would their clothes be piled up [and] if it was that bad that it would have knocked three experienced sailors off, why wouldn't they have put on their life-jackets?

"It just doesn't add up for us."

Ms Himing said her family dismissed police suggestions that her uncle - known to the family as "Des" - and his crew members - brothers Peter and James Tunstead, aged 69 and 63, all from Perth - were washed overboard in bad weather.

She said she strongly believed that the 9.8-metre catamaran, KAZ II, was boarded, and the trio might have been kidnapped.

"The fenders were out on their yacht, and the only reason you ever put them out is when another boat comes aside or if you come to rest against a wharf," she said.

"It looks like they've been boarded."

Ms Himing said she held grave fears for the trio's safety, but believed they were still alive.

She said the families would continue to search Airlie Beach and the surrounding islands until they had closure.

Spiritual contact

Ms Himing said she and her mother had both felt spiritual contact from Derek, whom they believed was still alive but fighting for his life.

"My mum and I are both Spiritualists. My mum's had a really strong feeling from Des that he's somewhere dark and he can't see and I don't feel that he's dead either,'' Ms Himing said.

"I don't think he's got a lot left in him but I actually don't think he's dead, and so everything we can do to get (people) out there looking again is a huge thing.''

Ms Himing said the families of all three crew members felt that authorities called off the search too quickly, and said James Tunstead's son, Shane Webber, had already told them he would continue his own search until he found something.

"The police have dropped interest very quickly and dropped the search ... we feel hugely let down about this,'' Ms Himing said.

"They've spent days longer looking for other people in situations like this, so why have they called this one off so quickly?''

Ms Himing said the lack of closure was the most painful part of the situation.

Not knowing

"The hardest thing for us now is waiting and not knowing,'' she said.

"You can deal with a bad accident (where) they've passed away because you know, but when you don't, and to have so many questions hanging over it... it's very difficult.''

Queensland police said in a statement last night they would continue to keep "a watchful eye'' for the three missing men.

"Despite the search being officially suspended, a Queensland Police Service aircraft will continue to monitor in an effort to locate the bodies of the missing three men,'' the statement said.

But police said medical advice was that the chances of survival would be "highly unlikely''.
AAP

Tuesday, April 24, 2007. 7:17pm (AEST) - ABC
Police investigate report of radio call from missing yacht

Queensland police say they are investigating a report of a radio call from the yacht found floating empty off the coast of Townsville last week without its Western Australian crewmen.

The yacht's discovery last week sparked a massive air and sea search but three crew members are still missing.

Police say a marine rescue volunteer has reported hearing from a crew member on Sunday evening to give the boat's location but there was no distress call.

A police spokesman says it shows the boat was okay and within the search area on the evening of Sunday, April 15, the night the three men were thought to have gone missing.

He says police cannot be sure the call came from the crew of the yacht but it is very likely.

Searchers have meanwhile spent another fruitless day looking for the three missing Western Australians.

The families of Derek Batten and brothers Peter and James Tunstead spent the day searching with help from water police.

They will continue searching at first light tomorrow

Mystery of the three men lost at sea
Frank Robson
April 11, 2008 - 9:17AM - SMH

A previously unseen home video recorded just before three mates vanished from their sailboat off Queensland shows the men fishing and joking as they embark on the adventure of a lifetime. But only hours after leaving Airlie Beach in the Whitsundays, bound for West Australia, the crew of catamaran Kaz II disappeared, leaving the vessel to sail on untended for several days before it was discovered 80 nautical miles off Townsville.
A year later, the fate of skipper/owner Derek "Des" Batten, 56, and brothers James and Peter Tunstead, 63 and 69, remains one of Australia's most vexing maritime mysteries.
Police believe they were victims of a freak accident that left them all in the water as the catamaran sailed away around noon on April 15, 2007. Others favour darker theories, suggesting the trio were kidnapped or murdered by "smugglers" after happening upon a crime in progress.
With a coronial inquiry into the mystery scheduled for June in Brisbane, the wives and relatives of the sailors speak for the first time about their ongoing ordeal in tomorrow's Good Weekend. They show writer Frank Robson (currently cruising aboard his own sailboat) the poignant home video shot by James Tunstead, and explain why some of them will never accept that all three men could have fallen overboard and drowned.
Robson also spoke with an anonymous radio operator who insists he received a radio message from Kaz II hours after the time when police theorise the crew "came off" the boat. If the operator is right, it further deepens the mystery and suggests the world may never know what really became of the unfortunate Kaz II sailors.
Wife criticises police in 'ghost
ship' probe
August 5, 2008 - 6:10AM
The wife of one of three men who mysteriously disappeared from a yacht off the north Queensland coast has questioned whether the police investigation into the case went far enough.
Frances Tunstead, whose husband Peter was among those who disappeared from the 9.8 metre catamaran Kaz II today told an inquest she did not understand why forensic officers who investigated the vessel after it was towed to Townsville in April last year did not check for fingerprints.
State coroner Michael Barnes is conducting a week-long inquest in Townsville into the disappearance of Mr Tunstead, 69, his brother Jim Tunstead, 63 and skipper Derek "Des" Batten, 56.
Queensland authorities launched a massive search operation involving up to 10 aircraft after the yacht was found floating unoccupied off the coast of Townsville on April 20 last year.
However, no trace of the men was ever found.
A large contingent of relatives has travelled from Western Australia for the hearing.
Mrs Tunstead told the inquest the first person to inspect the vessel after the disappearance, Emergency Management Queensland rescuer Corrie Benson, found a bottle of spirits lying on the floor of the cabin indicating there may have been a struggle.
"I'm just amazed that they didn't take any fingerprints in the cabin and they didn't do any testing at all," she said.
She also questioned whether the search for the men, which ended on April 21 on advice from a survival expert that the men could not still be alive, lasted long enough.
The official search was resumed two days later and the families of the men also launched their own search operation but were unsuccessful.
The officer investigating the case, Detective Sergeant Graham Patch, told the inquest he initially questioned why no fingerprints were taken but had been guided by forensic experts who indicated there was no sign the men met with foul play.
He also said there would have been little chance of finding useable fingerprints because they would have been subjected to sea conditions for several days.
"It's not as you see it on TV - you spray a bit of this and there's your criminal," Det Sgt Patch told the court.
"It's a lot more complicated than that."
However, he also ruled out any suggestion the men staged their disappearance and said there was no "suspicious transactions" in their finances.
"There is nothing whatsoever to indicate they staged their disappearance," he said.
The inquest was told Mr Batten had purchased the vessel with his wife Jenny in 2006 and he had enlisted his neighbour Peter Tunstead and his brother Jim to sail it back to Perth.
They began planning the trip about 10 weeks in advance and each underwent additional training in the lead up to the voyage.
Des Batten had more than 25 years experience with boats and had volunteered with Fremantle Sea Rescue for a year-and-a-half and was well versed in safety procedures.
He had also promised Frances Tunstead he would not take any risks and the trio did not plan to sail at night for most of the voyage.
All three were relatively healthy for their age, their families said.
Earlier, counsel assisting the inquiry Julie Wilson told the court it may not be possible to determine the men's fate.
"It may be that exactly what happened to these men will remain unknown," she said.
The inquest continues today.
AAP
<![if !vml]>
<![endif]>