Anthony (Tony) John JONES
Last seen: Townsville, QLD 3/11/82
DOB: 1962
Eyes: Green
Hair: Brown
Height: 175cm
Build: Slim
Complexion: Fair
Peculiarities:
Circumstances: Anthony Jones left Townsville to hitch hike to Mount Isa, he has not been seen since 3/11/82.


Anthony John Jones of Perth, Western Australia, had been travelling in Queensland since September 1982. He hitch-hiked from place to place, meeting his brother from time to time at pre-arranged points. After visiting Brisbane, Mackay and Airlie Beach, Anthony John Jones left Townsville on 28 October 1982, to travel to Cairns, having arranged to meet his brother at Mount Isa about a week later. He was known to have been in Townsville again on 03 November 1982 when he telephoned his home in Perth and indicated his intention of travelling to Mount Isa. He has not been seen or heard from since that time, and it is suspected that he has been murdered. Any member of the public with information which could assist Police is asked to contact crimestoppers on 1800 333 000
MISSING - SUSPECTED MURDER
ANTHONY JOHN JONES
$250,000 REWARD
REWARD:
The Minister for Police and Corrective Services has approved a reward of $250,000 be offered for information which leads to the apprehension and conviction of the person or persons responsible for the disappearance and suspected murder of Anthony John Jones.
INDEMNITY FROM PROSECUTION:
In addition, an appropriate indemnity from prosecution will be recommended for any accomplice, not being the person who actually committed the crime, who first gives such information.
The allocation of the $250,000 reward will be at the sole discretion of the Commissioner of the Police Service.
CIRCUMSTANCES:
Anthony John Jones of Perth, Western Australia, had been travelling in Queensland since September 1982. He hitch-hiked from place to place, meeting his brother from time to time at pre-arranged points. After visiting Brisbane, Mackay and Airlie Beach, Anthony John Jones left Townsville on 28 October 1982, to travel to Cairns, having arranged to meet his brother at Mount Isa about a week later. He was known to have been in Townsville again on 03 November 1982 when he telephoned his home in Perth and indicated his intention of travelling to Mount Isa. He has not been seen or heard from since that time, and it is suspected that he has been murdered.
Any member of the public with information which could assist Police is asked to contact:
the Homicide Investigation Group, Brisbane, Phone (07) 3364 6122;
any Police Station; or
Crime Stoppers, Phone 1800 333 000.
Office of the Commissioner of the Queensland Police Service
BRISBANE
R ATKINSON
COMMISSIONER
*******************************************************************************
Twenty years ago, two young brothers left their home city of Perth to travel around Australia. One was cycling, and the other hitchhiking. They would split up from time to time, but would always meet again in another town. In early November, 1982 they both telephoned their parents from Townsville and informed the family they were heading west to Mount Isa. Once again, the older brother, Tim, set off on his bike, while Tony Jones continued to hitchhike. Tim was the first to arrive in Mount Isa, where he waited for his brother, but Tony was never heard from again. Many years later, a third brother, Brian Jones, wrote a book about the family's search for Tony.

Brian Jones: The family got very worried when they hadn't heard from Tony. He was to meet his brother in Mount Isa, we thought within a couple of days, but when those couple of days passed, and there was still no word from him, we started to get worried. And then when we checked with his girlfriend, she hadn't heard from him, and that was unusual. So we waited I think about eight days, before we finally got so worried that we thought we ought to report him as a missing person. Scott Wales: Why was it you actually waited that long, was it just in the hope that well it was just an oversight on his part? Brian Jones: Well he was hitchhiking, you know, his brother had gone ahead, they had been together in Townsville for about a week or so, and then they split up. His brother was riding a pushbike and had intended to ride out to Mount Isa; Tony himself was hitchhiking, and of course we weren't sure how long would it take to hitchhike from Townsville to Mount Isa? I mean if he got a lift overnight he could be there in 24 hours, but we weren't sure, we didn't know that part of the world too well, and so we gave him the benefit of the doubt, and assumed he's just having some difficulty getting a lift. Scott Wales: So it was unusual that he hadn't made contact, but given his circumstances, you thought just to be patient at that stage? Brian Jones: Yes, well, the two boys had been on the road for about three weeks, you know one's hitchhiking, one's riding, and their means of communication was either to call the family, either my sister in Sydney or my Mum here in Perth. And every couple of days they were making phone calls to find out where the other one was. They would report in and that's how they kept in touch with each other. And then they'd meet up at various towns along the way. So the pattern had been set: phone calls every two or three days, and then suddenly, no more phone calls. He'd also been calling his girlfriend regularly, and suddenly that stopped. And then the most crucial thing was we discovered that he was almost broke, you know, he's living off the dole, and he just about used up the last of the previous cheque, and on the last phone call, his mother put $150 into his bank account, and his custom was, go to the bank almost every day, or every other day, draw $5 or $10, and on that day, 3rd November, he's discovered Mum's just put $150 into his account. Scott Wales: And hasn't taken anything out. Brian Jones: And he's never touched it. They were the crucial things, not using the money, not going to the bank, not making any phone calls. We knew something was wrong. Scott Wales: As the months went by, there would be reports of sightings of Tony that led to nothing, and leads and possibilities that went cold. Brian Jones believes the lack of any solid evidence early was because the initial investigation by the Queensland Police was poor. It took 16 years of family pressure before the disappearance came before a Coronial Inquiry, which was cancelled because police records were found to be incomplete and inconsistent.

Another inquiry just earlier this year, decided that Tony Jones was murdered by person or persons unknown, sometime around November 3rd, 1982.


Missing man case criticised
Townsville Bulletin, Thu, 21 Feb 2002, by Kylie Stockdale

A Townsville coroner has criticised a police investigation into the disappearance of a Perth hitchiker who vanished from NQ almost 20 years ago.

In handing down his findings from a coronial inquest into the 1982 disappearance of Anthony "Tony" John Jones, Coroner Ian Fisher yesterday said police should have treated the investigation with more urgency in the period immediately after Mr Jones was reported missing.

He recommended guidelines be put in place to ensure the investigation of missing person cases similar to Mr Jones's were treated with more urgency in the future.

It was noted such guidelines may have already been established in the lengthy period since the case started. Mr Fisher said he was satisfied Mr Jones, 20, was murdered on or about Nov 3, 1982. He ordered police continue their investigations into the disappearance.

The inquest heard Mr Jones phoned his family from a Bowen Rd public phone in Townsville about 7.30pm on Nov 3 and told them he would hitchhike to Mt Isa within the next two days to meet up with his brother, Tim.

Tim Jones, who was the only family member at the inquest, said his brother "vanished off the face of the earth" after the call. Yesterday he said he was pleased with the coroner's findings. He said some family members would be happy to know the investigation would continue.

He said the family's refusal to let police dismiss Tony's disappearance helped highlight flaws in the missing person investigation procedures and paved the way for improvements to be made. Tim said some family members had also helped establish Missing Persons Week, which had helped locate many missing people.

Coroner Fisher said all missing person cases should be lodged with a coroner after they remained unsolved for one year. He said the Coroners Act stipulated that procedure and it should be upheld.


Police re-open cold case
JESSICA JOHNSTON - Townsville Bulletin
November 3rd, 2007
EXACTLY 25 years ago, a fun-loving young man called his family from a Townsville phone box and then disappeared without a trace.
Anthony John Jones (Tony) was just 20-years-old when he vanished, presumed murdered, exactly 25 years ago today and his family is still desperately seeking answers.
They have pressured police into re-examining the cold case, in hope the tragic mystery will be unravelled and their loving son and brother will finally be laid to rest.
Tony's older brother Brian this week described his long running frustrations with the police investigation.
From the very start, he said their handling of the case was a comedy of errors.
With the help of private investigators and dogged determination the family has come far closer to unraveling the mystery.
Tony was from Western Australia and had been hitchhiking around Queensland since September 1982, meeting his brother Tim who was cycling at pre-arranged points.
Tony went missing from Townsville on or about November 3, 1982 after he called his mother from a phone box on Bowen Rd in Rosslea.
He had planned to meet his brother Tim in Mount Isa about a week later, but was never seen or heard from again.
At a coronial inquiry into Tony's disappearance in Townsville in 2002, coroner Ian Fisher recommended police investigations continue.
Mr Fisher said he was satisfied that the missing person was dead.
Brian recently obtained transcripts and exhibits from his brother's inquest and has been urging police to follow new lines of inquiry using DNA technology.
"The documents highlight decades of police bungling, including the failure to follow up leads," Brian said.
"And even the coroner's admonition to pursue these leads in 2002 appeared to have been neglected, some of the leads are now ten years old.
"Other information has been lost, ignored or never recorded.
"For months now I've been lobbying police to explore a few new lines of inquiry."
Brian wants Queensland Police to eliminate the possibility that Tony's remains are among 140 or so cases of the State's unidentified human remains.
Inspired by a recent Victorian missing persons case – where a coroner slammed the State for not cross referencing missing people with unidentified remains, Brian has been lobbying for Queensland to do the same.
Brian said a taskforce had been set up in Queensland to pave the way for DNA matching of family members of missing persons with the unidentified remains.
He said only 70 per cent of the task had been completed and the family was still waiting, despite a proposed completion date of April 2006.
Brian said he wanted police to dig out the Lochiel evidence (a 1983 stamp, envelope and letter from a person using the name Lochiel that said Tony's body was buried in the Fullerton River between Cloncurry and Julia Creek).
Brain wants DNA evidence from the letter analysed.
A $250,000 reward has been approved by the police minister for information leading to a conviction.
Tony was the inspiration for National Missing Persons Week, launched in 1988.
His case was also instrumental in the State Government overturning legislation to make it easier for families of missing persons to obtain a death certificate in 2005.
Townsville CIB officer-in-charge Detective Senior Sergeant Graeme Eaton confirmed officers were re-investigating the case.
"It was always ongoing, it was never a closed case," Det Sen-Sgt Eaton said.
"We are reviewing the case to see if we can make any progress.
"We will collate the evidence and review it over the next couple of months.
"For completeness or thoroughness, we review all these cases on a regular basis.
"Once it's reviewed we would follow any leads we hopefully get."
Search on for murdered hitchhiker's remains
Posted October 11, 2011 10:40:36
The brother of a man who disappeared while hitchhiking in north Queensland 29 years ago is hoping a police search today will find his brother's remains.
Perth man Tony Jones was last seen in Townsville on November 3, 1982 and a coroner later found he had been murdered.
Last year, the Queensland Attorney-General ordered a second inquest based on new evidence.
The search will centre on Cloncurry in the state's north-west.
Mark Jones says his family has had little information from police in the past three decades and he is hoping for answers.
"I would suggest that maybe this might be 29 years too late but you never know," he said.
"[There may be] remains there or whether there's some sort of metallic evidence or something that's just been buried there and has managed to survive."
Cold-case clue hunt
JESSICA JOHNSTON | October 11th, 2011 - Townsville Bulletin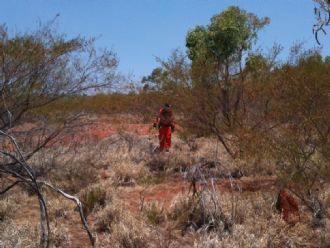 ALMOST three decades after Tony Jones disappeared in one of the region's most baffling cold-case mysteries, police will today search a site near Cloncurry in a bid to uncover information in relation to his disappearance.
Tony was just 20 years old when he disappeared on November 3, 1982, while hitchhiking from Townsville to Mount Isa.
Today, his family hopes to find closure as seven police officers and a key witness search a site outside of Cloncurry, in one of the most significant breakthroughs in the case in recent years.
His elder brother Mark Jones, who arrived in Townsville from Sydney yesterday, said he hoped any small clue may be uncovered which could shed light on the fate of his brother who is presumed murdered.
"Realistically speaking, it would have to be really lucky for them to find something 29 years on from when he was first reported missing," Mr Jones said.
"To find remains would be an amazing result, but even a clue at least, something to follow up on that could perhaps confirm he was there, or disprove that in some way.
"My hope is that if they don't uncover anything, they return to the Cloncurry police station and search for the crucial evidence that was handed in there."
The evidence in question came to light after a Cloncurry grazier noticed a campsite on Crown land several weeks after Tony was reported missing. At that time, the grazier, and his friend who was a police detective, collected various items at the site including camping equipment and a letter addressed to Tony Jones from his mother.
There appeared to have been signs of a scuffle or a body being dragged through the dirt. The evidence was believed to have been logged at Cloncurry police station, but Mr Jones said it had since disappeared.
The detective involved in gathering the evidence has since passed away, but the grazier, who now resides at Bushland Beach flew to Mount Isa yesterday to lead police to the site today.
Numerous flooding wet season are also likely to have interfered with evidence.
Tony was last seen at the Rising Sun Hotel on November 3 and called his family in Perth from a nearby phone box to indicate he was hitchhiking to Mount Isa to meet another brother, Tim.
He never arrived and his movements are a mystery.
The inquest into his death and presumed murder was reopened last year and hearings are expected to be held early in 2012. Mr Jones said his family just wanted closure.
"Either Tony got a lift as far as Cloncurry that night and decided to pitch his tent on the outskirts of town, or he came to grief earlier and this person had some belongings and he was the one who pitched the tent," he said.
Mr Jones said he would go back to the site where Tony was last seen in Townsville, to see if he could unearth any clues.
"While I'm here I will take the opportunity to retrace his steps a bit and visit the memorial tree planted for him," he said.
Evidence lost in missing man cold case
16:49 AEST Wed Oct 12 2011
The family of a hitchhiker who went missing in north Queensland nearly 30 years ago remains haunted by missed opportunities in the case, after a new search failed to uncover any trace of him.
Perth man Tony Jones was 20 when he disappeared in November 1982 while walking between Townsville and Mount Isa.
His body has never been found but a coronial inquest in 2002 determined that he was probably murdered.
Frustrated by what it saw as numerous uninvestigated leads, the Jones family petitioned the Queensland attorney-general in 2009 to reopen the inquest.
Mr Jones' brother Mark travelled to north Queensland this week, as police searched an area on the outskirts of Cloncurry, where a grazier believes he found Mr Jones' abandoned campsite.
The grazier says he turned campsite items over to police at the time and tried to pursue the matter, but was shoved from one police section to another.
As the years passed he grew frustrated that his tip-off was apparently never acted on, and contacted the Jones family directly.
This led the coroner to instruct police to examine the campsite this week.
Mark Jones told AAP on Wednesday the search had turned up nothing, as he expected.
"There have been fires and floods through there, which you would expect over that period of time," he said.
He hopes the police will now turn their attention to the police station where the items were turned in.
The grazier has told him they included a letter to Tony from their mother.
"The mother lode is there somewhere, or it was there, but I guess given they have had this lead for 12 months now, they haven't been able to track any record of that evidence," Mr Jones said.
However, the search has not been totally fruitless.
While in north Queensland, he did a radio interview about the case and then received a phone call from a woman who claims she saw his brother in the area before he vanished.
The woman also says she reported it to police at the time, only to be fobbed off by officers who didn't want to do the paperwork, Mr Jones said.
"To think that they got two good leads, first to even get them, and then to find they have apparently not been dealt with in the proper fashion, is just amazing," Mr Jones said.
"We just wonder how many there were.
"We wonder how many bits of the puzzle have just been squandered.
"It's pretty mind boggling."
Mr Jones said he would return to his Sydney home still dogged by the feeling of injustice.
"To me it's become much more like a regular sort of death than a missing person scenario," he said.
"It was in the early days all about the weirdness of not being able to have a funeral, but that's all sort of passed, for the most part.
"The only thing that's still an issue is the fact that it feels so disrespectful to Tony to leave all these loose ends hanging in the air.
"Police did the minimum in this investigation but we could have walked away from this a decade ago."
A coronial hearing will probably be held next year.
Searchers find no new clues in Tony Jones case
JESSICA JOHNSTON | October 12th, 2011 - Townsville Bulletin
EIGHT police officers and four SES volunteers have failed to find any evidence near Cloncurry relating to the baffling disappearance of Tony Jones.
Sources said four floods and three bushfires had likely obliterated any clues left at the site in the 29 years since the young Perth man disappeared while hitchhiking between Townsville and Mount Isa.
A former Cloncurry grazier, who now lives at Bushland Beach, identified a 50sq m site beside the Cloncurry River where he claimed to have collected camping gear and a letter addressed to Tony Jones from his mother shortly after the disappearance.
He claims to have handed the items in at the Cloncurry police station, however they have gone missing.
But despite yesterday's dead end, Tony's brother Mark Jones, who travelled from Sydney to be in the region where his brother was last seen on November 3, 1982, said the family would not give up.
Mr Jones said he hoped police would now focus on finding the items.
"We have confidence in the State Coroner to proceed in the best fashion," he said.
"The 30 year anniversary is coming up next year. be improved in the future.
"Perhaps former investigators could play more of a part."
Mr Jones said he had worked with a private investigator from Perth to help uncover clues and he had urged him to never lose hope.
"I still hope somebody will say something, come forward with vital information," Mr Jones said.
"It's not so much about justice, it's been too long for that, it's more out of respect for Tony, tying up loose ends to put him to rest."
Northern Region Crime Coordinator, Detective Acting Inspector Mick Walker said searchers yesterday scoured a 400sq m patch of bushland at the intersection of Quamby Rd and the Barkly Highway for six hours but nothing was recovered.
over the years, and police had sought former town plans of the Cloncurry area to pinpoint development in the zone.
He said the witness had been interviewed and his statement would be sent to the Queensland coroner, who had reopened the inquiry into the case.
Insp Walker said investigations were still continuing in a bid to recover the alleged evidence handed in to Cloncurry police.
Missing Perth man's family want answers
AAP, The West Australian
July 10, 2013, 12:51 pm
In September 1982, backpacker Tony Jones called home to Perth from a phone box in the north Queensland city of Townsville.
The 20-year-old told his mother Beres he was about to travel inland to Mount Isa to meet his brother Tim.
But Tony never arrived. In fact, he was never seen or heard from again.
More than 30 years after that call, his father Kevin struggles every day with all the things he doesn't know about what happened to his boy.
Now 88, he's still waiting for the Queensland Coroner's office to reopen the inquest into his son's death.
"My wife died in 1990, eight years after it happened. All this worry about it . . . certainly hastened her death," Kevin Jones said.
"For that reason, amongst other reasons, we've fought to the finish to try to get some response."
The disappearance of Anthony "Tony" Jones is one of the most baffling cases in Queensland's history.
The high-profile case sparked National Missing Persons Week, which marks its 25th year this month.
A coronial inquest in 2002 could only conclude Tony's death was "at the hand of a person or persons unknown" and police investigations should continue.
It did however, reveal several bungles in the police investigation, including lost paperwork and physical evidence.
The inconclusive finding wasn't enough to quell the Jones family's dogged determination for justice.
In September 2010, Tony's brother Brian mailed then-Attorney-General Cameron Dick a pair of his own shoes so he could "walk in the shoes of a victim of crime".
A day later, Mr Dick asked State Coroner Michael Barnes to reopen the inquest so leads that had not been fully investigated could be exhausted.
The coroner's office had hinted at several dates for the inquest, but more than three years on, it hasn't been reopened.
The family says the office has advised that because Tony disappeared so long ago, there is no urgency for the inquest to go ahead.
But Kevin, who fears he won't live long enough to find out what happened to his son, or at least know everything possible had been done to find out, begs to differ.
"I wouldn't say I expect anything, but I'm still hoping," Kevin said.
"The chances are getting slimmer and slimmer over the years, but it's so important. You can never let up on these things."
In another blow for the family, Mr Barnes retired this month, leaving it up to his successor Terry Ryan to determine when the inquest will be held.
"The matter continues to be under active investigation," the coroner's office said. "The timing of the inquest will be determined by the new State Coroner in due course."
The two-line response is nothing new for the Jones family.
Kevin said the family had been fighting a lacklustre attitude from authorities since Tony went missing.
"Everything pointed towards foul play, but (the police) had the hide to tell my wife he'd still be home for Christmas," Kevin says.
"We've had to plead with them to get any action."
Kevin said he put money in Tony's account to give to Tim when they were reunited in Townsville and knew something was wrong when he never arrived.
"You know your own kids," he said.
"We knew he wouldn't let his brother down."
Tony's brothers Mark and Brian have been in frequent contact with the coroner's office to have the inquest reopened, as promised.
Mark said there was still a lot of evidence yet to be tested in a courtroom.
Among that is a claim from an elderly grazier that he uncovered an abandoned campsite that included a letter addressed to Tony from his mother, and statements from key witnesses that had never been presented.
Mark said his family could feel the clock ticking.
Not only is his dad getting on in years, but also crucial witnesses are dying, or have already died.
"It seems cruel in the extreme for Dad to know in the latest years in his life that there's an inquest pending," he said.
"The fact they know the facts of this case but are choosing to be so lacking in communication, compassion and urgency, is appalling."
The family only became aware Mr Barnes had retired after being informed by AAP, despite having contact with the coroner's office just last week.
"As angry as we are at being kept in the dark, we can only hope that the incoming coroner brings a sense of purpose to this inquest," Mark says.
The Office of the State Coroner's last annual report shows 328 cases that were more than two years old were still waiting to be heard at the end of 2011/12.
The Jones family wants answers about just one case - before it is too late.
Tony Jones' family say they have crucial evidence to solve cold case