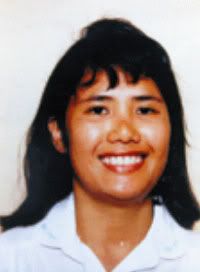 Name: Annabell STRZELECKI
Date of Birth: 1969
Hair: Shoulder length straight black
Build: Thin
Height: 150cms

Circumstances:
Annabell Strzelecki was last seen at her home address at Clare, SA on Saturday 6 June 1998
Rewards up to the amount shown will be paid by the Government of South Australia, at the discretion of the Commissioner of Police, to anyone who provides information leading to the apprehension/conviction of the person or people responsible for the disappearance and suspected murder and/or leading to the location and recovery of the victimís remains.
REWARD $200,000
Annabel Strzelecki
Missing presumed murdered
On 5 June 1998, Annabel Strzelecki (28 years) met with friends at her residence in Clare. She has not been seen by them since. Mrs Strzeleckiís husband states she left the house late on the night of 5 June 1998 in company with two friends after a confrontation with him.
Mrs Strzelecki disappeared under suspicious circumstances and police suspect she has been murdered. Suspicion surrounds her husband who died in 2000. Further information is sought in this matter, including information that would lead to the recovery of Mrs Strzeleckiís remains.
Anyone with information is asked to contact Crime Stoppers on
1 800 333 000
Filipina Still Missing in Australia
ó Dee Dicen Hunt
http://cpcabrisbane.org/Kasama/1999/V13n2/Annabel.htm
Annabel Sabellano Strzeleckiís husband says he has not seen his wife since she left home in the early hours of June 6, 1998 supposedly in the company of a Filipina and a man who he had not met before that night.
The couple had lived in the Clare, South Australia area since 1989. They married in the Philippines when she was 19 and Jim Strzelecki, a former opal miner, was 63.
Major Crime Detective Inspector John Peake said the missing womanís disappearance was out of character. "The fact she has still not yet been discovered tends to show that she could have met with foul play. But thatís not to say she isnít out there alive and well and doesnít want to be discovered."
Annabelís friends say she was totally devoted to her two children, Rachel 5, and Richard 7, and she would not have left the marriage without taking them with her. The children are being cared for by relatives in Adelaide.
Reporter Penelope Debelle in The Age described the church service organised by Annabelís friends thus: "At the service of remembrance at the Clare Uniting Church, a purple cloth was draped from the cross and on to this women pinned large black tears.
"One black tear we weep upon the cloth of sorrow. One black tear for all those women who have come to this land dreaming of a better life, only to find a nightmare.
"Filipino women from all over the district came to the service. The cultural bonds are strong and the Reverend Tony Eldridge says the women support each other."
"She was very gentle and a good mum," said a close friend. "She was a very generous person. She didnít have a lot, but what she did have she always wanted to share."
According to data collected by the Centre for Philippine ConcernsĖAustralia (CPCA), Annabel is one of six Filipinas gone "missing" in Australia since 1980.
We still do not know the whereabouts of Azucena "Asing" Pollard who in 1987 was reported by her husband, Harry, to have run away from their home in Tumbarumba, NSW taking their baby son with her. Nenita Evans of Melbourne, Victoria also disappeared in 1987 and Jean Angela Keir of NSW was last seen in February 1988. The police investigated the possible link between Jeanís disappearance and the violent death in 1991 of Rosalina Keir, the second Filipina wife of Thomas Keir. Due to lack of evidence, he was acquitted of Rosalinaís murder and no evidence of Jeanís situation came to light.
CPCA data lists Rosalina Keir as one of sixteen Filipino women murdered in Australia since 1980 in whose cases the perpetrator or suspect was their nonĖFilipino spouse, de facto partner, fiance, boyfriend or employer. Three children were also killed.
Editor's note - I found this amazing article detailing Annabel's life -
http://www.google.com.au/url?sa=t&source=web&cd=8&ved=0CEMQFjAH&url=http%3A%2F%2Fjournals.upd.edu.ph%2Findex.php%2Fkasarinlan%2Farticle%2Fdownload%2F361%2F333&rct=j&q=Annabell%20STRZELECKI&ei=VdhlTfeOLMSGcemS3I4M&usg=AFQjCNF8REkmUb3HQwAVzBT5yG0sTpxkOA&cad=rja
Many thanks to the author and I'd encourage you to read the whole piece.
ANNABEL STRZELECKI
Annabel Sabellano Strzelecki was born in 1969 in the Philippines. She was the youngest child in a large and impoverished family. Annabel met Wlodzimierz .Jim. Strzelecki through a newspaper advertisement. Her friends said Jim was also writing to several other Filipino women. They married in the Philippines in 1989. Annabel was nineteen, and Jim Strzelecki was sixty-three. They had two children. On June 6, 1998, Annabel Strzelecki disappeared from her home in Clare, South Australia. She was twenty-eight years old. Jim told the police four different stories about Annabel.s disappearance. During the weekend of June 17-18, 2000, Jim Strzelecki committed suicide. Police investigations into Annabel Strzelecki.s case continue (see
KASAMA 2000; Hunt 1999).
Newspaper Representations of Annabel
Toward the end of June 1998, articles about Annabel Strzelecki.s disappearance began appearing in Australian newspapers. The media coverage was generally sympathetic, and interviews with Annabel.s friends remained a central feature. Three major themes were articulated:
the representation of Annabel Strzelecki as a .Filipino bride,. her portrayal as a devoted mother, and shifting images of Jim Strzelecki and their marital relationship, depending on whether his perspective or that of Annabel.s friends was presented.
Haran.s (1998)
Sunday Mail article portrays Annabel Strzelecki as a .Filipino bride. and a good mother. In addition, he hints at Jim Strzelecki.s exercise of control in their relationship:
Ms. Strzelecki, a
Filipino bride, 28, vanished from her Clare home . [O]ne
of her close friends, Lillian Lane, said: .She was a wonderful mother and
a devoted wife. She would not walk out and leave her children ..
The pair
married nine years ago in the Philippines
. Problems between the couple
started toward the end of last year when .Annabel began to express herself
.. [Mrs. Lane said,] .She was the sort of woman who was totally devoted
to her children.and I don.t believe she would consider taking them away..
(Haran 1998, 17) [emphasis added]
Debelle (1998) illuminates these themes in her poignant account, .Tears for Annabel,. in
The Age. Debelle relied on the accounts of Annabel Strzelecki.s friends. She describes Annabel.s disappearance as .the latest chapter in a sad story of broken dreams. (Debelle 1998, 7). The caption FILIPINO BRIDES appears directly above the headline. In media discourse, Filipino bride is an abbreviated version of .mailorder bride,. both of which are used synonymously with Filipino woman (see Saroca 2002). The repetition of the term .Filipino bride. in the text bolsters the notion that Annabel was a .mail-order bride..She is also portrayed as a devoted mother who loved her husband despite his harsh treatment. Jim Strzelecki emerges as an uncaring man who dominated his wife:
Annabel Strzelecki, a
Filipino bride . disappeared three months ago .
Annabel Sabellano came to Australia in 1989 to marry Jim Strzelecki
.
Annabel . struggled against the odds to build a home . .She was very
gentle and a good mum . She tried to be happy for the children,. [friends
said] . Strzelecki was hard on Annabel. He resented her having outside
friends and would . [order] her home to cook his lunch. He seemed to
regard her as being there to do his bidding and she was entirely reliant on
him for money . Strzelecki said publicly after Annabel disappeared that
. the marriage was not happy and he did not want her back. (Debelle
1998, 7) [emphasis added]
Debelle (1998) is describing relations of abuse. However, like Haran (1998), she stops short of actually naming Strzelecki.s behavior as domestic violence.
In her Northern Argus article, Hannagan (1998) does not even refer to Strzelecki.s violence. While Annabel is again depicted as a good mother and wife, Jim Strzelecki is represented as a kind and considerate husband:
[Olive] said although Annabel was only 28 and a naive girl from a rural
area of the Philippines, she loved her husband . and adored her children
. .She was a good and devoted wife and mother and loved her husband
even though there was a great age difference .
She used to say he was kind
and generous, and was very pleased that he agreed that she could take the
children back home on a holiday this year
.. (Hannagan 1998, 1) [emphasis
added]
Jim.s violence is again hidden in Pudney.s (2000) report in the Advertiser about Strzelecki.s suicide. Two years after disappearing, Annabel Strzelecki remains a bride:
An elderly man suspected of murdering his young
Filipino bride has been
found dead in his home at Clare . Annabel Strzelecki . was 19 when
she
moved from the Philippines in 1989 to marry Mr. Strzelecki
, then 63. (Pudney
2000, 11) [emphasis added]
Although Haran (1998), Debelle (1998), and Pudney (2000) portray Annabel Strzelecki as a .Filipino bride,. they also undermine the notion. All three refer to the length of her marriage. Annabel was not a newly married woman or a woman about to marry, whom we commonly refer to as brides. She had been married for nine years and can hardly be called a bride. The reporting here raises several questions. First, when does a Filipina cease to be a bride? Other women in similar situations are not described in the same way, and after marriage men are not referred to as grooms. Second, why do journalists persist in labeling Filipino women as brides when they do not fit the description? Third, how does a single event come to define a woman.s entire existence? Annabel.s life had a richness and significance beyond meeting her husband through an advertisement, a form of what is popularly called the .mail-order bride. trade. The term stigmatizes Filipino women, and the women themselves find the word offensive. Moreover, there is no corresponding term for the men who meet Filipino women through introduction agencies and advertisements. Journalists did not label Jim Strzelecki a .mail-order groom..
Annabel.s Story
Olive and Charles shared Annabel.s story with me. They were the first people to meet Annabel when she arrived in Clare, and they helped her adjust to life in a new country. The three became good friends. Given their close relationship, journalists sought to interview Olive and Charles about Annabel.s disappearance. One of the most glaring aspects of Annabel.s relationship with Jim Strzelecki was the forty-four-year age difference. The age disparity was a key feature of the media reportage. A situation in which a sixty-threeyear- old man can go to the Philippines and marry a nineteen-year-old woman indicates profound power inequalities of sexism, racism, and class. To understand why Annabel married Jim, it is necessary to grasp the hardship of her life in an impoverished peasant family in rural Philippines and how a .kind. foreign man promised her a better life. Annabel desired the happiness she thought would come from establishing her own family away from the insecurities of her daily life.
Olive explains,
Because she.s the youngest in the family they used to ask her to help them
look after the children so they can go to work . [W]hen I ask her, .Why
did you have to marry him? He.s too old for you. You are too young for
him .. [S]he said, .Well this is my life .. She has a big family, that the
sisters and brothers have their children, and she just used to look after
them and they were not giving her anything . [W]hen this man came along
. he bought her clothes and bag . She.s young, but then this man showed
to her everything that he could in the Philippines, his fineness, his
generosity . I remember Annabel telling me, .Oh he.s like a millionaire
there. He.s giving money to everyone .. But I can tell that Annabel has
married him not for his money . All I can see on her is to raise her children
and be happy with her husband. (August 1999)
Newspaper images of Annabel as simply a young .mail-order bride. who married an elderly Australian man fail to capture Annabel.s dreams and longings for love in a caring marriage. They do not provide a nuanced account of Annabel.s life. While Annabel Strzelecki saw her .better life. as finding happiness in a loving family with her husband and children, Jim Strzelecki.s idea of a better life was a wife who would obey him absolutely and attend to his every need. Charles makes this clear:
[R]estricted life Annabel got out here. It was very restricted doing
everything . She had to conform to his beliefs and his ways . It was quite
obvious she never had any say in anything. (August 1999)
For example, Jim Strzelecki believed that televisions and telephones emitted poisonous rays, and he refused to have these appliances in the house. He thus denied Annabel and their children access to modes of communication that most Australians take for granted. Olive and Charles described the extreme abuse Annabel experienced in her marriage. Although they reveal a long history of domestic violence, they did not name it as such. This failure to name domestic violence was also a feature of the media reporting. In some cases, Strzelecki.s violence was invisible. Hannagan (1998) further misrepresented Annabel.s relationship with Jim Strzelecki by misquoting Olive. Olive told me she did not say that Annabel had said her husband was kind and generous and had agreed she could take the children to the Philippines for a holiday. Violence was a large part of Annabel Strzelecki.s life with Jim Strzelecki. While it is central to her story, violence does not feature strongly in newspaper accounts of Annabel.s disappearance. It is absent, silenced. By not identifying or downplaying this violence, even sympathetic journalists misrepresented the reality of Annabel.s life. According to Charles and Olive, Jim Strzelecki was cruel and domineering. He tried to control Annabel.s every move. Annabel.s suffering was enormous:
Charles: He would expect her . to walk into Clare and walk back out
again . and they.d walk from the caravan park to Clare, which is . three,
four kilometers.
Olive: With a baby.
Further, Jim Strzelecki dominated Annabel.s interactions with their children. He did not allow her to make important decisions regarding them. His cruel treatment of their children and his refusal to permit Annabel a say in their upbringing were an increasing source of conflict in their marriage. Strzelecki saw any challenge to the harsh rules he imposed on his family as a threat to his authority, as Olive recounts:
She tried to avoid argument all the time . she preferred to be quiet. But
then as the children were growing older and needing more, like playing
outside with other children . attending parties also of other children so
they could enjoy their [childhood], and playing with toys . he disliked it
. Annabel told me, .It.s [my daughter.s] birthday yesterday .. So I
bought some books . and a teddy bear . And I gave each two dollars also,
and [Annabel.s children] were so happy. And Annabel was happy. After
that I could see Annabel was always very unhappy. And they had an
argument. [He] came to see me, .I don.t want you to give any gifts to my
children . I don.t want you to give them books or toys . I will be the one
to choose the books that my children will read .. He said to me, .Don.t
try to destroy my marriage.. (August 1999)
Even before their mother.s disappearance, Annabel.s children were subjected to what Irwin and Wilkinson (1997, 17) term a .reign of terror. living in a domestic-violence environment.
3 Strzelecki used the children to control Annabel.s behavior and movements. An incident that occurred not long before her disappearance illustrates this:
Charles: Annabel wanted to go back to visit the Philippines. And he would
let her go initially but she had to leave the two children behind. This is .
an insurance .
Olive: [Annabel.s mother] . advised her . not to leave . the kids because
of his . relationship with his children [from the previous marriage]. So
Annabel was very . determined to take the two kids . she even went to
this Australian friend to help her file an application for a passport for
the little girl. (August 1999)
Annabel Strzelecki.s stand against her husband was unsuccessful. She disappeared before she could take her children back to see their relations in the Philippines.
As part of his violent regime, Jim Strzelecki subjected his wife to social and emotional abuse. He made Annabel constantly accountable for her movements and tried to isolate her from friends. Strzelecki played psychological mind games in his attempts to confine Annabel in their house. He went to extreme lengths to make Annabel feel guilty for wanting contact with other people:
Charles: Another time she came here . and Jim walked in the back door
. He said, .I wanna be with you. I might die any minute and I want you
to be there when I die.. No reason in the wide, wide world why he should
die, but these are the things he used to say.
Olive: Yeah, because she asked permission to go out. And he said okay.
But after that, when she got home, they fought. He would disagree again
of that .
Charles: [H]e . collapsed one night on the floor . after a while he just
jumped up. He.d only feigned it. What he wanted to do was to find out
Annabel.s reaction; if it was for real life, just what would she do? This is
the type of thing he would do. (August 1999)
Despite her husband.s abuse, Annabel established a wide network of friends. This contact gave her the courage to challenge his authority in an attempt to improve her life and the lives of her children. As Annabel struggled to do something about her oppression, Strzelecki.s violence intensified as he tried to maintain his control over her:
Charles: He couldn.t make friends and he more or less wouldn.t let her
have friends . this is probably her downfall when she started seeing a little
bit more to life than what she.d been putting up with .
Olive: Well she was looking for a better life, to have a real family life in
bringing up her children . I even told Jim before, .If you choose the books
that your children read and you want everything to be done within your
own principle, what is the role of your wife then?. So those are the reasons
why Annabel was having problems already with him. He never gave her
freedom to choose. Never gave her freedom to decide for her children.