Steven "Feno" FENWICK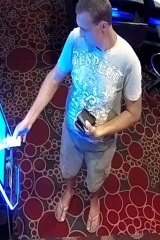 Mr Fenwick at Wests Nelson Bay the day before he disappeared.
Missing since:
Wednesday, January 30, 2019
Responsible jurisdiction:
Circumstances
Steven James Fenwick was last seen on the 30th of January 2019, in Fern Bay NSW. He was possibly headed in the direction of Corraba Oval, Stockton. Steven has not been seen or contacted family or friends since and Police hold grave concerns for his welfare.
Anyone with information which may assist in locating the whereabouts of Steven is urged to call Crime Stoppers on 1800 333 000.
'Troubling' Facebook messages may assist murder probe to find suspected murder victim Steven Fenwick
May 8, 2019 - SMH
Friends of suspected murder victim Steven Fenwick hope a series of social media posts about the 33-year-old's disappearance could help police solve the baffling mystery.
The disability pensioner, who was reportedly last seen at Stockton, has been missing for more than three months.
Despite the absence of a body, police believe Mr Fenwick may have been killed and someone tried to make it look as if he had drowned.
Officers from Strike Force Kummari returned to bushland in Stockton in Newcastle on Tuesday morning near where Mr Fenwick was reportedly last seen.
Detective Sergeant Jeff Little, who is heading up the homicide investigation, remained tight-lipped as he and other officers headed into bushland near Corroba Oval, off Fullerton St, with two people and a camera crew.
Detective Little said he was unable to comment on who the people assisting police were.
But Mr Fenwick's friends told the Newcastle Herald on Tuesday they hoped a series of "troubling" Facebook messages made not long after the disappearance, which had since been forwarded to police, might hold the key to helping unlock the mystery.
Kylie Wurth, who has known Mr Fenwick for more than 10 years, said he would not have gone swimming alone. "It just wasn't the kind of thing he would do, he would have known better," she said. "He was caring, loveable and always put others before himself."
Mr Fenwick was reportedly last seen at Corroba Oval as he waited for his girlfriend, Samantha Melville, to return in the early hours of January 31.
His mobile phone and clothes were discovered in sand dunes near the southern end of Stockton beach.
But detectives believe the clothes may have been planted by whoever murdered Mr Fenwick in a bid to make it look like he went for a swim and drowned.
It's understood some of his belongings have never been found. Police also want to speak to the owner of a bike found in bushland off Nelson Bay Rd at Fern Bay.
It's believed Mr Fenwick walked with Ms Melville, from a relatives house at Fern Bay to Corroba Oval, where she left him to walk to a nearby house. When she returned about 2.30am, he was reportedly gone.
The last confirmed sighting of Mr Fenwick was on CCTV getting off a bus as he travelled to Fern Bay from Salamander Bay. He got off at the Nelson Bay Rd stop about 1pm on January 30.
Police have released CCTV of Mr Fenwick at Wests Nelson Bay, in the hours before he caught the bus.
Anyone with information should call Crime Stoppers on 1800 333 000.
NSW Police - January 15 2020
The NSW Government has today announced a $500,000 reward for information regarding the disappearance and suspected homicide of a man missing near Newcastle almost 12-months ago.
Steven 'Feno' Fenwick, aged 33, was last confirmed seen exiting a bus on Nelson Bay Road, Fern Bay, NSW about 1pm on Wednesday 30 January 2019, he hasn't been heard from since.
Numerous searches and public appeals have been conducted since then, with detectives from Newcastle City Police District establishing Strike Force Kummari to investigate the circumstances surrounding his disappearance.
Today, the NSW Government has announced a $500,000 reward for information which leads to the arrest and conviction of those responsible for Steven's suspected homicide.
Strike Force Kummari Officer in Charge, Detective Sergeant Jeff Little, said it's hoped the reward will bring some fresh information forward to detectives.
"As we approach the 12-month mark of Steven's disappearance, we believe there are people out there who can fill in the blanks with his final movements," Det Sgt Little said.
"It's been a year of uncertainty for the Fenwick family, and we want to get the answers Steven deserves."
As the one-year anniversary nears, Steven's mother Debbie has once again reached out for any information which may lead to finding Steven.
"Every day without answers is another day of heartache and confusion – we just want to know what happened," Ms Fenwick said.
"Please, if you know anything which may help detectives, it could make a world of difference."
As investigations into Strike Force Kummari continue, anyone who may have information about Steven's disappearance is urged to contact Newcastle Police Station on (02) 4929 0999 or Crime Stoppers.
Anyone with information that may assist investigators is urged to contact Crime Stoppers: 1800 333 000 or https://nsw.crimestoppers.com.au. Information is treated in strict confidence. The public is reminded not to report crime via NSW Police social media pages.
Mystery remains a year after disappearance