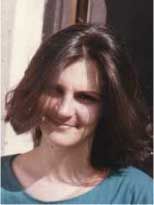 | | |
| --- | --- |
| Name: | Christine Somogyi (alias Torzsok) |
| Age: | Born 1965 |
| Description: | |
| Height: | 160cm/168cm? |
| Hair: | Light Brown, short |
| Eyes: | Grey |
| Build: | Slim (51kg) |
| Complexion: | Fair |
| Ethnic Origin: | Caucasian |
| Peculiarities: | Has a facial tick. She is diagnosed with schizophrenia. |
| Clothing: | Not Known |
Circumstances
Christine Somogyi (aka Christine Torzsok) was last seen at the Congress medical clinic in Alice Springs, NT on 8 March 1999 with stab wounds to her arm. She was reported missing by her sister on 23 June 1999. Extensive police investigations have failed to turn up any information about Christine Somogyi, despite numerous sightings in the Central Australia region.
Christine was last seen by South Australian Mental Health authorities in February 1999 and has not touched her Bank of South Australia account since her last known withdrawal in Alice Springs on 18 March 1999. Centrelink payments to her bank account have not been withdrawn.
Christine SOMOGYI moved from Adelaide in SA to Alice Springs in the Northern Territory around 1997-1998. She gave birth to a child in Alice Springs in early 1999. Christine frequented Aboriginal Camps in the Alice Springs area and made close friendship with the Aboriginal people. She was last seen at one of these camps. She has made no contact with her family since her disappearance.
If you are able to supply any information regarding the above mentioned person or his whereabouts since the date of disappearance, please contact:
THE NT MISSING PERSONS UNIT ON 08 8922 3548
CRIME STOPPERS ON 1800 333 000
OR YOUR NEAREST POLICE STATION