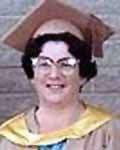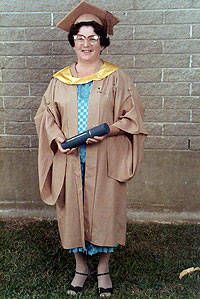 Shirley Schmidt
Missing since December 15, 1985 from Paluma, Queensland, Australia
Classification: Endangered Missing
---
Vital Statistics
Age at Time of Disappearance: 56 years old
Height and Weight at Time of Disappearance: 152 cm/ 4' 11"
Distinguishing Characteristics: White female. Brown hair; brown eyes. Stocky build. Olive complexion.
Medical Conditions: Diabetic
Clothing: Floral summer dress
---
Circumstances of Disappearance
Shirley left for a morning walk along a rain forest road at Paluma. She was setting off from her weekender cottage along a 5 km route she had taken for the past eight years. She was never seen again.
Thick jungle, abandoned mines and the depths of a dam were scoured in a 120-man search.
She left behind her husband and four children - but no clues.
---
Investigators
If you have any information concerning this case, please contact:
Queensland Crimestoppers
1800 333 000
What happened to our mum?
By VIKKI CAMPION
17 Dec 2005 - Townsville Bulletin

WHAT is not known about the presumed death of Shirley Schmidt haunts those left behind most.

This week, 20 years ago, she left for a morning walk along a rainforest road at Paluma in a floral summer dress.

The 56-year-old diabetic was setting off from her weekender cottage along a 5km route she had taken for the past eight years.

She was never seen again.

Thick jungle, abandoned mines and the depths of a dam were scoured in a 120-man search.

She left behind her husband and four children - but no clues.

Her case continues to frustrate police, who even in their retirement remain baffled.

Shirley's surviving family are convinced somebody knows something and they are pleading for answers.

Through tears her daughter Leah James, of Townsville, told her family's theory this week.

"We are still searching for closure and we feel that closure may come if her walking a misty road and a vehicle knocking her - and a panic - and a disposal of the body ... ," she said.

"If that is the right scenario then somebody should know about it - if we could only find out.

"We are appealing for people to come forward.

"We are not looking for names, we are not looking for anyone to be reprimanded, we are just looking for knowledge."

On December 15, 1985, Paluma temperatures peaked at 33C.

Thunderstorms had been predicted for that afternoon but by then 26 volunteers were combing the site.

That number grew to more than 100 police, State Emergency Service personnel and local volunteers as well as a National Safety Council helicopter.

But after three fruitless days the search was called off.

The 152cm tall stocky mother with brown eyes and an olive complexion had vanished.

"It was just frustrating, we could not get a lead - there were no suspicious circumstances," now-retired search co-ordinator Inspector Fred Angus said.

"We did a thorough search, detectives interviewed everybody.

"It was difficult, we sectioned the area off and had people who were only 10m apart, starting at the side of the road and walked into the scrub.

"We were in danger of losing our searchers, the jungle was impenetrable.

"We had no sightings - nothing at all - the only thing I could put it down to was if she wanted to get lost, that was the place to go."

Insp Angus said there was nothing about her life that raised suspicion.

"It was unusual circumstances, we took into consideration all of the scenarios but she was not suffering from any major illness, she would not have got a lift with anybody."

There was a sombre mood as they searched which turned eerie as the mist rolled in.

"At 4pm every afternoon we had to suspend searching," Insp Angus said.

"Low cloud would roll down the street and you could only see 10 feet in front of you - it was quite eerie.

"Paluma did not have a big community, nearly everybody was interviewed, everybody was baffled.

"We covered everything. Even Forestry covered the tracks she did not normally walk.

"There was not a shred of clothing ... nothing, nothing at all. And it was thick jungle."

Insp Angus said he did not agree with the family's theory.

"It ended up going to the coroner for an inquest but I do not agree there is someone out there who knows something - there has been no inkling of any information at all," he said.

"You would not leave 100m from those tracks unless you did not make it back, it was that thick you could not get in without a machete. A cane knife - the wait-a-while was so thick you needed secateurs because you did not have room to swing a machete.

"But there was no reason for her to leave that I know of."

A coronial inquiry found four years after she went missing that there was no evidence Mrs Schmidt's disappearance was planned.

"I can find no cause for the disappearance," Coroner Ian Fisher said. "There is certainly no evidence to suggest that such disappearance was planned by Mrs Schmidt - only circumstances which would dissuade one from that view."

Insp Angus was 47 when he was put in charge of the search. At the time he said it was the most baffling he had seen in his 30 years in the force.

He has been retired for 11 years and vows that is still the case.

"There is no closure, that's the worse thing," Insp Angus said.

And two decades on Leah still feels it. It took her 18 years to return to Paluma.

"When she went missing I was six weeks off having a baby, a son," she said.

"They had my nephews staying with them that weekend. When she did go up her habit was to go walking.

"Although there was a concerted search at the time and a coronial inquiry did not come to any conclusions other than she is presumed deceased ... there are several scenarios as to what may have happened.

"On behalf of myself and other members of the family I ask that if there is anyone out there who has any further information that may assist in solving our mother's disappearance could they please contact the Townsville Police or myself," she said.