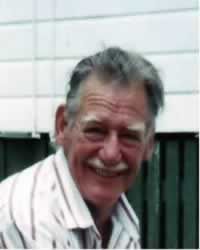 DOB: 1938
Hair: Grey
Eyes: Blue
Build: Slim
Height: 165cm
Date Last Seen: 17 July 2003
Place Last Seen: Kalbarri, WA

Circumstances:
O'BRIEN'S Blue Ford Falcon was located abandoned in the Kalbarri National Park on August 12th, 2003. Inquiries revealed that he is a reported missing person from Queensland (file # 62402 refers) and that he may be in a depressed state, possibly suicidal.

He was last seen and spoken to on July 17th 2003 near Lynton Station on the Port Gregory Northampton Road requesting a lift to Northampton. He was travelling alone and carrying a small plastic bag or tarpaulin. He requires medication for a heart condition.

Despite extensive inquiries by police his whereabouts are not known. Concern is held for his welfare.
Name: Ronald Joseph O'BRIEN Last seen: 04/07/03 Year of Birth: 1938 Sex: Male Eyes: Blue Hair: Grey Height: 165cm Build: Slim Complexion: Circumstances: MP stated that he was going fishing in Yeppoon and hoped to meet friends there. He has not been seen since. He was last seen and spoken to on 17/7/03 near Lynton Station on the Port Gregory Northampton Road requesting a lift to Northampton. He was travelling alone and carrying a small plastic bag or tarpaulin. MP arrested on warrant 26/4/03 re historical child abuse. His vehicle was located abandoned in Kalbarri National Park on 12/8/03