Richard Michael LEAPE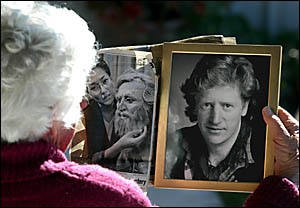 The last confirmed sighting of Richard was in George St central Sydney in 1993. His hair was shoulder length, sandy blonde. He is approximately 5ft 10ins - 5ft 11ins [177cm] tall, blue eyes.
DOB:
1956
HAIR:
Fair
BUILD:
Medium
EYES:
Blue
CIRCUMSTANCES:
Richard Leape was last seen at Surry Hills in 1993. Prior to this he had been living in Bondi and has connections in the Nepean district.

Name: Richard Michael LEAPE
Height: 178cm tall
Build: Medium
Hair: Fair
Eyes: Blue
Circumstances: Richard Leape was last heard from by his family in April 1993. He left his Bondi unit, leaving most of his possessions behind. It is totally out of character for him not to contact his family. There are fears for his safety and welfare.
Mother's torment
TEN years after the discovery of the skeleton of a 40- year-old-man, a Murwillumbah woman still questions whether it might be her missing son.