Poe LAY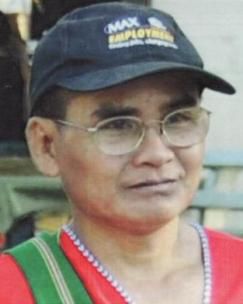 Personal Details
Last seen: Tuesday, 18 November 2008
Year of birth: 1952
Height: 150 cm
Build: Slim
Hair: Dark/Short
Complexion: Olive (Burmese)
Gender: Male
Circumstances
Poe was reported missing 20.11.2008 after leaving family home in Darwin. No contact has been made with his family since this time.
Burmese refugee missing in Darwin
Posted Sun Nov 23, 2008 8:02am AEDT
Northern Territory Police say there have been a number of possible sightings of a Burmese refugee, missing in Darwin's northern suburbs.
Police say 52-year-old Poe Lay did not return home on Thursday and his disappearance is out of character.
Officers have searched the Casuarina area and have combed bushland in Rapid Creek to find him.
Superintendent Dean Moloney says Mr Poe is around 150 centimetres tall and was last seen wearing denim shorts and thongs.
"We've received a number of calls of possible sightings in the Casuarina area, but each time police have been there to be able to check him out he has moved on," he said.
Superintendent Moloney says the man's disappearance is not being treated as suspicious at this stage.