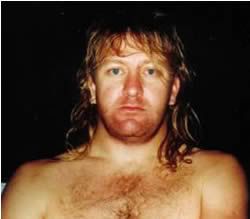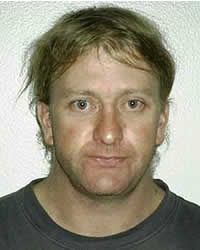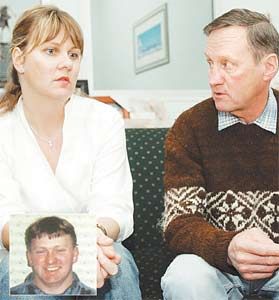 - Peter's family. Photo from the Daily Mercury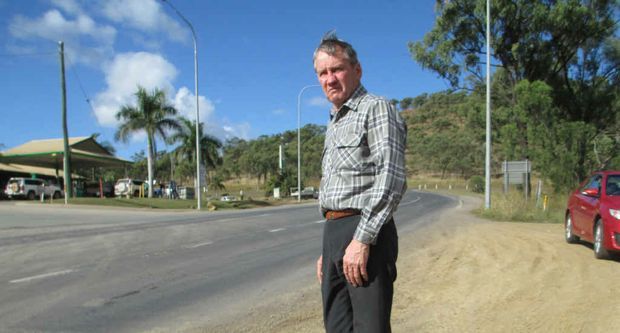 George Johnson at the intersection of the Peak Downs Hwy and the Suttor Development Rd where his son was last seen alive.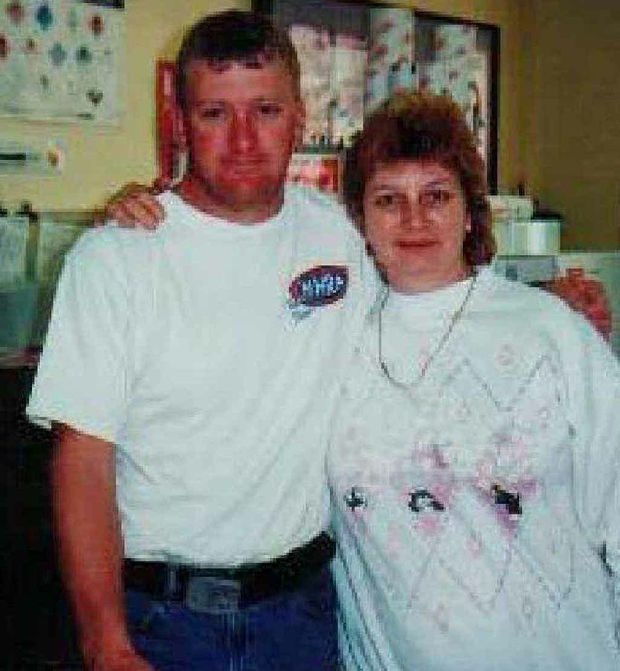 Name: Peter James JOHNSON Last seen: 2003 Year of Birth: 1967 Sex: Male Eyes: Blue Hair: Light Brown/Blonde Height: 175cm Build: Proportionate Complexion: Fair
Circumstances: Peter was last seen standing next to a vehicle on Peak Downs Highway, via Mt. Nebo, Mackay QLD. Peter has made no contact with his family or friends to this date.
Circumstances (2): Peter JOHNSON was last seen at 7:30pm on Thursday on 17th April 2003 possibly standing beside his parked vehicle on the road east of Nebo, (near Boundary Creek near Rockhampton, QLD). His vehicle was left locked at this location and Peter has not been seen since. The vehicle is a green Ford utility, Qld reg. number: 522EZX
Peter, if you're reading this, your Dad and Evelyn are desperate to know if you're alive. Please contact them to ease their minds, or send a message through this website.
Family told missing man is dead - The Daily Mercury
08.04.2006


TWO psychics have now told Peter James Johnson's devastated family he is dead.

Now they just want their missing son and brother's body returned to them so he can have a ''decent Christian burial''.

The Johnson family has lived with the mystery of Peter's disappearance since April 16, 2003, when the then 35-year-old miner was last seen at Glenden.

The discovery of Peter's iridescent green Ford ute on the Peak Downs Highway near Boundary Creek Bridge, 16km north of Nebo, sparked a full scale search after he went missing.

Although sceptical, Peter's father George Johnson said he visited acclaimed Sydney clairvoyant Debbie Malone in an effort to try and find answers and bring some peace to his family.

"I told her nothing but that I was searching for somebody,'' he said yesterday.
Almost immediately, she told him his son was dead and a group of four men were responsible for his death.

''She believes that he was bashed at the back of a hotel,'' Mr Johnson said.

Ms Malone had described one of the men as a ''pig shooter with a white four-wheel-drive ute with spotlights''.

''Apparently (she said) they're well-known and disliked in the area,'' he said.

Ms Malone said Peter was then ''wrapped in something'', put in the back of his ute and taken to a shed before his ute was returned to the roadside to give the impression he had wandered off into the bush.

She said Peter was killed ''in a shed where shooters gathered'' and that his body was in a mine shaft somewhere in Central Queensland.

Ironically, Mr Johnson said his daughter Evelyn had visited a psychic in Melbourne and been told a very similar story. ''That really threw me then,'' he said.

The family believes Peter met with foul play and that he had received a number of odd phone calls shortly before his disappearance.

Mr Johnson said they were appealing to the public for information and would consider offering a reward.

Even after three years, Peter's disappearance has never left the hearts and minds of the Johnson family.

''It's always there every day,'' he said.

A Missing Persons Bureau spokesperson said while all information was evaluated, psychic tip-offs were generally not considered.

Mackay police Sergeant Marcus Brown said cases as old as Peter Johnson's were managed by the Missing Persons Bureau until any new information was deemed worth distributing back to local police.

Anyone with information about Peter Johnson's disappearance should contact the Missing Persons Bureau on 1800 000 634.
Peter's family still needs closure
TWICE a year George Johnson travels to Mackay from his hometown in Birregurra, Victoria, to drive the Peak Downs Highway looking for his son, Peter.
"I visit different places - Nebo, Glenden, Moranbah - putting up notices and talking to people," Mr Johnson said.
Peter, who worked at Newlands Mine, Glenden, was last seen on April 17, 2003. He was 36.
His green Ford ute was found abandoned a kilometre north of Boundary Creek Bridge on the Peak Downs Highway.
In his gut Mr Johnson knows his son is dead but that doesn't give him closure.
"No, his disappearance is there every day," he said.
Missing Persons Week made it "especially hard" to deal with the unresolved loss of his son, he said.
Peter Johnson is one of 13 missing people that Mackay district police have on their files.
Superintendent Rowan Bond said the oldest was a 37-year-old file belonging to Marilyn Wallman, 14, who went missing while walking to school along Sologinkins Road, Rural View, on March 21, 1972.
Of the 13 cases, three are people who have gone missing at sea.
The most recent missing persons case in Mackay was resolved at the weekend.
Darrell John Last, 42, was reported missing after he did not show up for work last month. On Saturday he was found in Nambour.
Supt Bond said some people chose to go missing but he urged them to contact police to let them know they were okay.
"Someone cares enough about them to report them missing so they should contact police so we can tell that person who cares that they are okay."
Anyone with information regarding the location of a missing person is urged to contact Crime Stoppers on 1800 333 000.
There is a $10,000 reward for anyone who has information that could lead to the discovery of Peter Johnson or those responsible for his disappearance.
Father will never stop searching for his son
GEORGE Johnson wasted little time at the airport.
Dressed in a striped green jacket, black dress pants and polished shoes, Mr Johnson arrived in Mackay on Friday to continue a decade-long search for his son Peter's body.
Appearing uncomfortable in the tropical sun, Mr Johnson quipped he'd had a nice flight, and hurried off to his hire car to again travel west along the Peak Downs Hwy.
Peter, who worked at Newlands Mine, Glenden, was last seen on April 17, 2003. The then 36-year-old's green Ford ute was found abandoned a kilometre north of Boundary Creek Bridge on the Peak Downs Hwy.
Although initially suspecting Peter may have committed suicide, police now believe he met with foul play.
It's an opinion his father shares.
"When it first happened if I had the means at my disposal I'd have killed them," Mr Johnson said, speaking of the faceless men he believes murdered Peter.
"Now I'd say to them why. "Why and how could you do what you did to him?"
Mr Johnson has travelled from his home in Birregurra, Victoria, to Mackay nearly every year since Peter disappeared.
Ordinarily, Mr Johnson would post flyers with Peter's photo on them along the highway and at hotels between Eton to Moranbah.
But this year is different.
This year Mr Johnson has been given a new lifeline in his search to discover Peter's remains and "give him a proper Christian burial".
"Considering the minister for police has offered a $250,000 reward, we were hoping it might bring a bit of information forward," Mr Johnson said.
This year's flyer details the reward on offer, and the circumstances surrounding Peter's death.
"Surely somebody knows something about what happened to Pete."
Since the reward was announced in late 2012, police have told Mr Johnson and his wife Heather new information about their son's disappearance has emerged.
"We think the reward money might be bringing someone forward," Mr Johnson said.
Mr Johnson's visit coincided with the beginning of National Missing Person's Week.
Each year more than 35,000 people are reported missing across Australia.
During his journey, Mr Johnson stopped into the Retreat Hotel - one of Peter's favourite watering holes.
"He'd be sad that we're worried," Mr Johnson said.
"But he'd be glad we're coming up ... and we're not letting up until something is finalised."
PSYCHICS AGREE
GEORGE and Heather Johnson have received little information about Peter since he was last seen driving on the Suttor Development Road.
Other than a call from Peter to a family friend expressing concern someone was out to get him in the weeks before he disappeared, the family have little evidence.
In their search to find answers, they have employed the help of psychics and hypnotherapists.
A devout Christian, Mr Johnson said he used to think psychics were a "load of hocus pocus" before Peter's death.
But he said three different people with psychic abilities had told him similar stories, and he hoped police would now be able to use that information to apprehend Peter's killer.
"It blew me away," he said.
Queensland Police describe Peter's disappearance as a cold case, and a spokesman said no one had recently come forth with information.
"It remains an open and ongoing cold case investigation and the reward remains in place," the spokesman said.
Mr Johnson said the officer in charge of Peter's case was on leave, and he was unable to meet with him during his recent journey.
Anyone with information should contact Crimestoppers on 1800 333 000.
TIMELINE
PETER is last seen in his Ford Utility on the Suttor Development Rd near Lake Elphinstone (north of Nebo) at 10.40am.
The vehicle was later found 2km from Boundary Creek on the Peak Downs Hwy.
A FAMILY friend tells Peter's parents of a phone call during which Peter said: "I'm going to the west if I can keep away from the a***hole who's after me."
PETER'S father, George Johnson, visits psychic Debbie Malone in Sydney, who tells him his son is dead and mentions four men, a red dog and smoke. He later meets with a second psychic, who tells a similar story.
THE police minister announces a $250,000 reward for any information leading to the arrest and conviction of the person or persons responsible for the disappearance of Peter James Johnson.