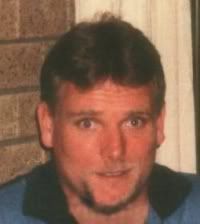 | | | | |
| --- | --- | --- | --- |
| | | Sex: | Male |
| Date of Birth: | 1971 | | |
| | | | | | |
| --- | --- | --- | --- | --- | --- |
| At time of disappearance - | | | | | |
| Age: | 31 | Height (cm): | 178.0 | Build: | Medium |
| Hair Colour: | Blonde | Eye Colour: | Blue | Complexion: | Fair |
| Nationality: | | Racial Appearance: | Caucasian | | |
Circumstances - Scott was last seen on Balranald Rd Ivanhoe on 11 October 2002. Scott had left the vehicle he was travelling in and was last seen running towards a property off Balranald Rd. Several searches have been conducted with a negative result. There are serious concerns Scotts safety and welfare.
Office of the Minister for Police
SYDNEY, 12th December 2006.
MURDER
ONE HUNDRED THOUSAND DOLLARS ($100,000)
REWARD
ON the 11th October 2002, Scott Donald NEVEN, aged 31years, was last seen on Balranald Road after leaving Ivanhoe, NSW. It is believed that NEVEN has met with foul play and is now deceased.
Notice is hereby given that a reward of up to one hundred thousand dollars ($100,000) will be paid by the Government of New South Wales for information leading to the arrest and
conviction of the person or persons responsible for the death of Scott Donald NEVEN.
The allocation of this reward will be at the sole discretion of the Commissioner of Police.
The urgent assistance and co-operation of the public is especially sought in the matter. Any information, which will be treated as confi dential, may be given at any time of the
day or night any Police Station or by telephone -
Police Headquarters telephone (02) 9281 0000, or
Crime Stoppers on 1800 333 000
THE HON. JOHN ARTHUR WATKINS, M.P.,
Minister for Police
Reward of $100,000 to solve death of Scott Donald Neven
A $100,000 Government reward is on offer for information leading to the arrest of those responsible for the death of Scott Donald Neven.
Mr Neven, who was born on 23 February 1971, was last seen on Balranald Road, Ivanhoe, on 12 October 2002.
An inquest held in July 2006 by the Deputy State Coroner found that Mr Neven died on or about 12 October 2002.
As no trace of Mr Neven has been found since, the Coroner could not make any findings over the precise place, date, manner or cause of death.
The Coroner ruled that Mr Neven met with foul play.
Consequently the Reward Evaluation Advisory Committee recommended the reward for information leading to the arrest of Mr Neven's killer.
Detectives investigating the killing of Mr Neven have conducted extensive enquiries but have exhausted all leads.
But they are convinced persons within the community have knowledge of the crime and may be persuaded by the reward to assist them.
Click here for more information on Scott Donald Neven on the NSW Police Force Missing Persons Enquiry System.
---
Do you have information that can help police with this case?
Any information you have about this is worth giving to police, no matter how small or insignificant it may seem.
You can provide information to police via any of the methods below:
Any information provided will be treated in the strictest confidence.
Your help may give police the clue they need to close this case and provide some comfort for the families of victims.

How to claim your reward
Contact Crime Stoppers or your local Police Station.
Identify yourself and indicate you have information about a crime and that you wish to claim a reward.
You will then be put in contact with a police officer involved in the investigation of that case.
Govt offers $100,000 for suspected murder info
Updated Tue Jan 30, 2007 7:32pm AEDT - ABC
A reward of $100,000 is being offered to try to solve the suspected murder of a man near Ivanhoe in outback New South Wales almost five years ago.
Scott Neven was on a pig hunting trip in October 2002 when he was last seen near Ivanhoe in far west New South Wales.
Sergeant Scott Wheeler says the 31-year-old Victorian was in a car with two friends when a fight erupted.
"It's alleged that Neven crawled under a wire fence and ran off into a paddock," Sgt Wheeler said.
"The others returned to the vehicle and left."
A coronial inquest held last year found Mr Neven died on or about that day, but it is still not known precisely how or where.
The New South Wales Government has announced a $100,000 reward for information leading to an arrest.
Investigations are continuing.
Renewed call for man missing near Ivanhoe
Posted Wed Aug 1, 2012 1:15pm AEST
Local police are using National Missing Persons Week to renew calls for information about a man who was last seen near Ivanhoe nearly ten years ago.
Police say Scott Neven, from Bacchus Marsh in Victoria, was travelling with friends in October 2002 when they had an argument.
Mr Nevan got out of the car about 20kms south of Ivanhoe, and hasn't been seen since.
Detective Inspector Mick Stoltenberg says anyone with information should contact CrimeStoppers.
"This was an extensive investigation that took place over several years, it's even been to a coronial inquest in NSW," he said.
"But unfortunately we still have not been able to reveal or find out exactly where Mr Nevan is."
Det. Insp. Stoltenberg said it's possible Mr Nevan is still alive.
"You can never discount anything," he said.
"But we're coming up to ten years down the track and there's been absolutely no sign at all of Mr Nevan still being alive.
"But I'm sure that family still lives in hope."