Glenyce Rae McGOWAN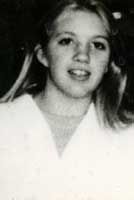 Responsible jurisdiction:


Age: 19 Years when missing Height: 155 cm Hair: Light Brown Eyes: Brown

Glenyce Rae McGOWAN 19 years old, was enroute to Tom Price from Perth, WA.
On the night of the 10th of December 1975, she camped at Nanutarra Road House, 370 kms north of Carnarvon. The next morning Glenyce had disappeared. There were numerous other people also stranded there that night due to the floods and Police would like to hear from any of those people also. Glenyce was often referred to by friends as Rae MCGOWAN. Despite extensive inquiries by Police and family and comprehensive media coverage, there has been no information regarding her whereabouts since then.
34 years on and family and friends of Glenyce Rae McGowan are still desperate to solve the puzzle surrounding her disappearance from a campsite up north in 1975.
Glenyce was born on the 28th of August, 1956 and lived with her family in Medina at the time of her disappearance. She was independent, outgoing and popular, as was reflected by the many friends she had. She was also an experienced traveller, having travelled both intrastate and interstate and always maintained regular contact with her family whilst away.
In December 1975 Glenyce decided to travel to Tom Price to visit her best friend who had recently become pregnant. She arranged to hitch a lift with a family friend who was driving to Port Hedland. They left on the 8th of December, 1975 driving a 1962 blue Ford Falcon station wagon.
Before she left, Glenyce sent a telegram to her best friend advising her she was on her way and she also told her father that she would be home before Christmas.
On the 9th of December, 1975 Glenyce and the family friend arrived in Carnarvon and spent three hours there, during which time Glenyce withdrew $40.00 from her bank account and made a couple of small purchases. The two then headed north and arrived at Nanutarra Roadhouse at 5:00pm.
Due to Tropical Cyclone Joan the road to Tom Price was washed out causing them to spend the night in the camping area adjacent to the roadhouse. They ended up sleeping in the car because the ground was covered in ants.
The following day – the 10th of December, 1975 the family friend continued travelling north towards Port Hedland alone as Glenyce had arranged to get a lift with a family at the campsite who were returning home to Tom Price. By coincidence, the family knew of Glenyce's friend. It was agreed they would leave Nanutarra at dawn on the 11th of December, 1975.
Glenyce was camped about 30 metres away from the family who were to give her a lift in the morning. She was sleeping on the ground in her sleeping bag.
When the family rose at about 5.00am the 11th of December, 1975 and went to collect Glenyce from her campsite they discovered that both Glenyce and her belongings were gone. They searched up and down the river for about an hour to no avail leading the family to think she must have left with someone else so they eventually departed Nanutarra for Tom Price.
En route, the family could not pass the Beasley River so were forced to camp there for another two days during which time they did not see any other vehicles pass. They arrived in Tom Price on the 13th of December 1975, but only realised that Glenyce was missing several days later when they visited her girlfriend. A missing persons report was lodged on the 19th of December 1975.
When last sighted on the 10th of December, 1975, Glenyce was wearing a long, blue cottton or cheesecloth skirt, an Indian style cream coloured, button-up top and a pair of strap on sandals. She had a small haversack, a green sleeping bag and an Indian style shoulder bag and was swimming and reading by the riverbank.
Her bank account has not been accessed since the 9th of December, 1975 in Carnarvon.
I
f you have any information about the disappearance of Glenyce McGOWAN or were
camping near the Nanutarra Road House, 370 kms north of Carnarvon in December, 1975 make a report online or call Crime Stoppers on 1800 333 000, where all calls are strictly confidential, and rewards are offered. Please quote Reference Number 5308.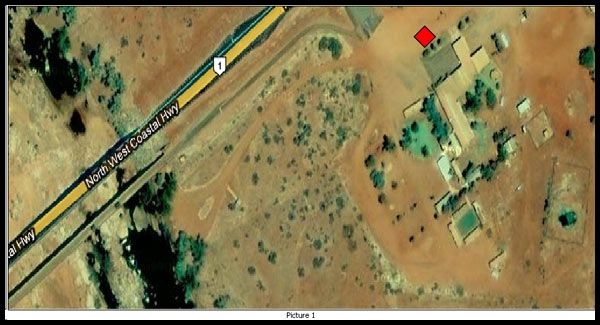 Aerial view of Nanutarra WA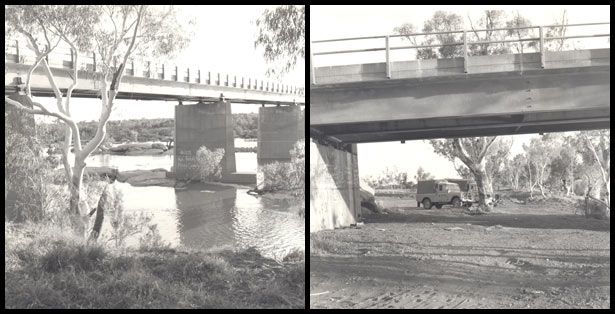 Nanutarra WA 1975

*Editor's note - I wanted to include this wonderful description of the remote roadhouse where Glenyce was last seen. Thanks to Mark Moxon, travel writer, www.moxon.net - Published with permission.

I reached the Nanutarra Roadhouse before dark. While the rain poured down I put up my sodden tent – with a little help from a neighbour in a campervan, who was from Geelong and had spotted my Victorian number plate, bless him – and cooked myself some pasta, before finding shelter outside the roadhouse café.

Roadhouses are strange places. Like airports, they're transit stations: nobody stays at roadhouses longer than they have to, and they're normally totally isolated. Truckers make up the bulk of the roadhouse trade, and as such these places manage to take the most bizarre qualities of European truck stops, double the prices, add some serious isolation, and come up trumps. You meet some interesting people at roadhouses, for sure.

Classic examples, and a common sight in these odd places, are the Japanese cyclists. In Australia, the distances of totally flat, boring scrubland are so huge, that cycling round Highway One is a bit like walking round the London orbital motorway: the interesting stuff is off the road, but the road itself is a drag. Enter the two Japanese cyclists I met at Nanutarra, soaked to the bone. It's dark by this stage, but they don miner's lights, making them look like a couple of modernist Daleks, set up their tents, and zip themselves up for what can only be a sweaty, cramped night. You've never seen such small tents, and looking at the way their torch lights swing around on the insides of their tents, it's as if two strange anthropoid chrysalises have landed in the camp area, and are communicating using some strange light code. All these cyclists ever seem to eat is noodles, all the way round the whole continent. It sounds like hell, and I feel nothing but complete admiration for those who pedal round Australia. It sure takes determination...

They're peaceful, though, roadhouses. Well, normally, they are; there I was, sitting by the café reading, and two coaches full of sixth-form schoolkids turned up, and for half an hour the place was chaos, with everyone bursting to the toilets, and buying cans of Coke and packets of crisps. It was a school trip, I assume, taking a quick stop en route. The peace when they left was palpable – even the road trains seemed quiet after that invasion, as Nanutarra settled back into the tumbleweed vibe of the truly isolated.