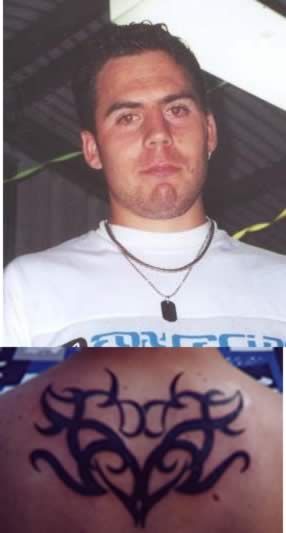 Jason has a distinctive tribal tattoo on his back
Name: Jason John MAZUREK
Age at time of disappearance: 20 years
Build: Medium
Height: 175 cm
Hair: Dark Brown
Eyes: Brown
Distinguishing Features/Other:
Jason has a tattoo on his left upper arm and a tribal tattoo on his back, a top left front tooth missing and an olive complexion.
Circumstances:
Jason Mazurek was last seen at Wrest Point Casino, Sandy Bay a suburb just south of Hobart, Tasmania on Sunday 15 September 2002 at about 2am. He was wearing stone wash blue jeans, white short sleeve button shirt and sandy coloured Colorado shoes. Despite door knocks, the best efforts of Police divers and extensive interviewing of family and friends by investigators, no trace of Jason has ever been found. Jason is now twenty-five years old, 175cm tall, medium build, with dark Brown hair, brown eyes with an olive complexion. His top front left tooth is missing.
"My name is Jodie & I am Jason's oldest sister, I am leaving this message in the hope that someone responds as we are at a loss as to where he might be or what happened. He was our only brother of 6 children and has missed out on so much in the 6 years he hasn't been with us, the arrival of two of my three children (he now has 2 neices and a nephew) & my grandfathers passing. Every birthday, christmas & special occasion that he has not been here has been a sad occasion instead of a joyous one.
Someone at the Casino that night must have seen something and we need you to come forward with any information no matter how small you may think it is, we as a family need closure.
He as a person was a generous, kind and extremely family orientated man which leads us to believe that he just hasn't dissapeared of his own accord.
Please Help us find our Son, Brother, Uncle, and friend - we miss him."


He'd been enjoying a night out with his sister, the last person to see him at the Casino. Security camera footage shows Jason in the foyer with his sister. Jason was living with his mother at Bushy Park but had been staying with his sister at Glenorchy. His family say it was out of character for him to be absent without first notifying them. He was a "family-oriented" person and "not one to get into trouble". Jason was hoping to join the Defence Forces; no reason for his disappearance has been determined. There are concerns for his safety and welfare.
The Police appreciate all reports; there's a Free call number 1800 000 634 or pass it directly to your local Police. There's also Crime stoppers on 1800 005 555 and Tasmania Police Missing Persons Unit on Hobart 6230 2606.