Mark RAY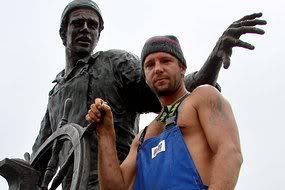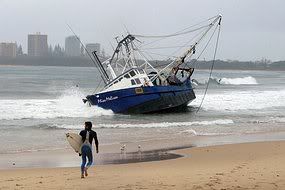 Hopes fade of finding missing crewman alive
Posted Thu Jul 24, 2008 12:03pm AEST - ABC

Bad weather is hampering the search for a fisherman missing from a prawn trawler off the Sunshine Coast in south-east Queensland.
Search coordinator Sergeant Kyle Bates believes Mark Ray fell overboard while he was at the helm of the prawn trawler 'Miss Melissa' about an hour before it ran aground on Mooloolaba beach at 7pm AEST.
Two other crew members were asleep below decks when the boat beached.
They swam to shore.
Sergeant Bates is not confident about finding Mr Ray.
"Unfortunately everything's against us at the moment," he said.
"The conditions are very bad also initial information is that he's not a very good swimmer, which doesn't go in his favour and we just don't know whether he's got any sort of means of flotation."
Water police, the coast guard, a helicopter and fishing boats are searching for the man in five-and-a-half metre swells and 80 kilometre an hour winds.
Wild seas hinder search for missing trawler crewman
Posted Thu Jul 24, 2008 10:47am AEST
Searchers are battling atrocious conditions in their quest to find a fisherman missing off the Sunshine Coast in south-east Queensland since last night.
Search coordinator Sergeant Kyle Bates says the 32-year-old man fell overboard from the prawn trawler 'Miss Melissa' off the coast of Mooloolabah between 5.45pm and 7pm AEST.
Earlier police reports said the man was the skipper of the trawler, but he was one of three crewman aboard.
Police says two crewmen sleeping below deck realised the man was missing when the trawler ran aground just off Mooloolaba Beach at about 7pm.
Sergeant Bates says conditions are dangerous with swells more than five metres and winds gusting at 80 kilometres an hour.
"Obviously weather is just atrocious at the moment in the area," he said.
"Crews last night were suspended due to basically dangerous conditions so we're trying to cover that area.
"Hopefully we'll try and get an aerial search in these conditions."
Sergeant Bates says the man is a poor swimmer and is not wearing a life jacket.
"We've got sort of a number of trawlers coming forward and wanting to assist," he said.
"I expect that's going to increase during the day and we've also got long-line fishing vessels and we've got local volunteer coast guard vessels and also a police boat from Brisbane."
Missing fisherman's family clings to hope
Ellen Lutton | July 25, 2008 - 4:16PM - Brisbane Times

Family members and friends have joined emergency services crews today in the desperate search for missing trawler fisherman Mark Wray on the Sunshine Coast.
Deckhand Mr Wray, 32, is feared dead but rescuers are still clinging on to "every shred of hope", according to Energex Community Rescue helicopter spokesman Colin Brown.
"I know his family and friends have been walking up and down the beaches with the surf lifesavers today and I think some of his mates are out there with their boats looking.
"Realistically the chances of finding him alive are pretty slim but we always hold out hope of a happy ending in these situations," Mr Brown said.
"I don't think families ever give up until they find their loved one."
Mr Wray fell overboard from the wheelhouse of the prawn trawler Miss Melissa during perilous weather on Wednesday night.
A large-scale search was called off yesterday after harsh weather conditions made searching extremely difficult for rescue crews. A scaled-down search was conducted this morning with surf lifesavers patrolling the beach shores and the Energex helicopter patrolling overhead.
It concentrated on the coastal region between Point Cartwright and north of the village of Teerwah.
Mr Brown said he expected the search would continue tomorrow but had grave doubts about whether it would continue to Sunday.
"There's no hard and fast rule for these sorts of missions but I would imagine that by Sunday the search could be drastically scaled back or even called off," he said.
Police believe Mr Wray may have disappeared from the trawler in three to four metre seas.
Two sleeping crewmen, who awoke when the boat ran aground, managed to escape and swim to shore.
UPDATE: THE search for a missing trawler fisherman will be limited to scouring the foreshores of Sunshine Coast beaches today.
Officials have virtually no hope of finding Mark Wray alive.
The 32-year-old deckhand is feared dead after falling overboard from the prawn trawler "Miss Melissa" in treacherous conditions on Wednesday night.
Water police said this morning the surface search had been called off but a foreshore search would continue involving vessels and a helicopter, weather permitting.
A huge search for Mr Wray was called off yesterday after treacherous conditions made the search almost impossible for rescue crews.
It is believed the missing man was wearing only a T-shirt and shorts when he fell from the 18m vessel about 7pm on Wednesday night.
See live video of the stranded trawler
Two other crew members were asleep on the vessel when the man went missing in heavy seas.
Mr Wray's pregnant partner and young daughter met police at the Mooloolaba coastguard office on Thursday and were comforted by family and friends while they were told there was a slim chance of finding the man alive.
A mammoth search, including three coastguard vessels, a police boat and several helicopters spent hours trying to find the missing man.
Huge seas pound coast
Sergeant Kyle Bates, of the Sunshine Coast Water Police, said conditions were "atrocious" for the dozens of searchers.
"Conditions have deteriorated out there, and in fact some of our searchers are becoming quite sick," he said.
"With the sea conditions we've got, the wind and everything like that, the probability of ... finding the person in the water considering they'd only have their head floating above water is very, very minimal."
The other two crew members aboard Miss Melissa yesterday returned to the vessel, which remained washed up on the beach at Mooloolaba, to salvage gear.
But the pair, who awoke when the boat ran aground, were too distraught to comment about the incident.
Police said Mr Wray was talking by telephone to his partner from the bridge of the Miss Melissa when the call was disconnected. His partner tried to call him back but there was no answer.
Police believe Mr Wray may have disappeared from the trawler in 3m to 4m seas before it ran aground.
There was a gap of about 90 minutes between when Mr Wray made the phone call and the trawler beached.
Prawn fisherman Doc Dooley wept yesterday as he spoke of his good friend and workmate.
"He's a top deckie ... he was an all-round loveable bloke," Mr Dooley said. "He was a straight shooter, he adored his little girl ... his daughter was the apple of his eye."