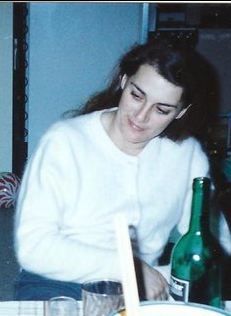 Above - Marcia's dog Ziggy Marcia in her younger years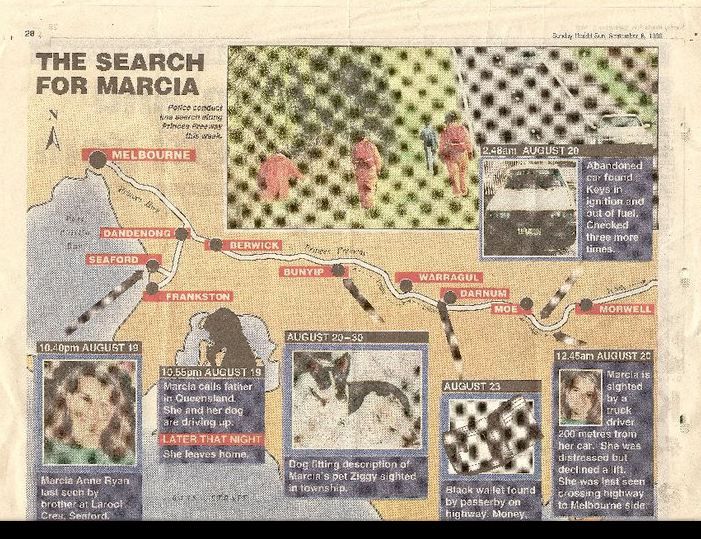 Name: Marcia Ann RYAN
Age at time of disappearance: 33 years
Build: Medium
Height: 160 cm
Hair: Brown
Eyes: Brown

Circumstances:
Marcia left her home in VIC in a tan Mitsubishi Sigma sedan Reg No. DUP002 to travel to QLD to visit her parents. She had a black and white Heeler/Border-Collie Cross. The car was found abandoned on the Princes Highway near Moe. Marcia's wallet was found at Darnum, 20km BEFORE the car which was found between Moe and Morwell. Marcia was last seen on 19 August 1996 in a distressed state by a truck driver but declined a lift and kept walking along the highway. She has not been seen since.

Anthony Ryan (brother of Marcia) wrote this for me -
She stopped in a cutting with steep cliffs upwards on both sides of highway. Definitely not a spot to pull over and get out of a car, let alone for a dog to have a run. I went there with a friend around midnight a couple of weeks later and I would not have pulled up there as it is quite dangerous from passing traffic at 100km hour.
I know the article says the keys were in the ignition but I am not sure this is correct as a few days after she went missing I had to break into the car AFTER going to Boronia, Seaford, Moe and Morwell police stations and requesting help to find her. The Morwell police lent me a coat hanger, I imagine if they had the keys they would have given them to me. St Kilda CIB didn't get involved until after I had broken into car and smashed the firewall behind back seat to check the boot in case someone had put her or the dog in there.
Marcia's dog Ziggy would not have left her side. They went everywhere together and Ziggy was never on a leash. Marcia and the dog were virtually inseparable. The area where the disappeared was searched relentlessly for weeks by the police, volunteers on foot, police on horseback and sniffer dogs. Meryl is correct in that where the car was found was not a safe place in that it was on the side of a highway in a cutting. She was walking east when the truck driver spoke with her yet about 1 km to the west, where she had just past, was a 24 hour service station that was well lit up. I have never been told by the police if the dog was with Marcia when the truck driver spoke with her. I am one of Marcia's brothers and put up the web page on Facebook in the hope that it would spark a memory. I can assure you she has not been forgotten by her family. Her mother died a few years ago now and one of the saddest thing is there was no closure on Marcia before hand. Her father still thinks about her all the time and we often discuss the events. Mum and Dad would not even sell her house for the 1st 10 years after she went missing. Dad still wont take her out of his will in the hope she will turn up.
The coroners ruling about 10 years ago that Marcia died on or around the night she disappeared really rocked my parents and I am sure took 10 years of my mums life. They expected an open finding as we have never seen or been told about ANY evidence that she met foul play.

My personal belief is that Marcia is still alive, somewhere. Her wallet was found in the median strip in Darnum (some 20k's before her car was left on the side of the road) and all her ID and bank cards. Nothing was missing. The description by by the finder of the wallet was the cards were spread in a line as though the wallet had been tossed out of a moving car. Not only that it was on the median strip so could have only been tossed out the driver's window. We know Marcia was the driver and on her own when she left the car, based on the truck driver that spoke with her.

The car was found just past a 24 hour service station, out of petrol.

I believe she made a decision in the drive from Seaford to QLD (to see mum and dad who were on their annual 3 month holiday there) she decided that she wanted to get away and discarded all ID and then her car. The only things she had with her that could identify her.

When we were many years younger we used to hitch hike together a lot. I feel she started to hitchhike towards NSW and was picked up between 1 and say 6am that morning by some young people heading towards NSW and told them she wanted to get away. They would have dropped her off on the NSW coast somewhere in the next couple of days and not said much as she may have requested they keep it to themselves. The publicity after she went missing was front page Sunday Herald/Sun and various articles over the next few weeks in sun, age in Melbourne and some QLD papers. Nothing was in the NSW press. There were sightings by people responded to her missing person reports from QLD, Tasmania and Victoria. The police investigated each to no avail. There were no sightings in NSW and I believe this was because there was no press coverage there....

I am still hopeful that one day she will come home alive and I used to get anxious for information at every press report when a body is found wondering if it is hers. The family will never forget Marcia and the events around that time. We have all played them through our minds a thousand times and all feel that if we had just done this or just done that then maybe she would still be here with us instead of wherever she is.
We have never found the dog either, but she would be long dead as she was about 10 years old at the time and starting to slow down. I always thought the dog would be spotted and jolt someone's memory.....

Marcia Is Missing. She May Not Be Coming Home
The Age
Friday October 4, 1996
THERE is now increasing concern that Marcia Ann Ryan may not be coming home. Her mother dreads this: her father refuses to accept it. But for 47 days, there has been no trace of the 33-year-old Seaford woman who disappeared as she drove from Melbourne to visit her parents in Queensland.
Her parents, John and Johanna Ryan, talk of their missing daughter in a mixture of tenses. They refer to her in the past tense and then, as if to make amends, they substitute "was" with "is," reinforcing a belief that Marcia might walk in the door and explain why she has been missing since the night of Monday 19 August - and why she did not call home.
They talk about their daughter under stress and great pain because, in doing so, they confront all the dreadful possibilities. But they know that publicity about the case may jog somebody's memory and help find Marcia.
The disappearance has baffled investigators who dug up the foundations of a highway overpass near Warragul looking for her body and have conducted some of the biggest searches since the murders of three young woman near Frankston in 1993.
Marcia's cream 1980 Mitsubishi Sigma sedan, registration DUP 002, was found by patrolling police at 2.48am on Tuesday 20 August. It had been abandoned between Moe and Morwell on the eastbound lane of the Princes Highway, near Newborough, and was almost out of petrol. The keys were in the ignition and the doors were unlocked. Neither Marcia nor her faithful dog, Ziggy, were to be seen.
Later, Marcia's wallet with her credit cards and BP fuel card was found by a motorist on a median strip, near Darnum, on the east bound side of the highway - about 20 kilometres from her car.
He left a message on Marcia's answering machine that he had found her wallet. VicRoads, believing her car had been stolen, left a message that the vehicle had been been found and that it would be impounded if she did not collect it. Her parents, meanwhile, were frantic with worry, but hoped their daughter had only been delayed and that she would turn up soon.
Marcia's brother, Anthony, then went to her house at Larool Crescent, Seaford. The 15 messages on her answering machine made clear that something had happened to Marcia.
In the following days, speculation covered the possibility of murder, abduction and suicide or that Marcia had been upset about something and had decided to disappear for a while.
But most of all, there is mystery as to how a strong young woman - and her dog - could disappear without trace. Dozens of callers have told police they have a seen a dog resembling the bob-tailed, black and white, healer/border collie cross that Marcia took with her. But there have been no confirmed sightings of Marcia.
The fact that at 11.40pm on 19 September, Marcia was spoken to near the scene of her disappearance adds to the mystery. A passing Safeway truck driver saw Marcia walking along the Princess Highway towards Morwell, about one kilometre before the Yallourn turn off, and about 1500 metres from where her car was abandoned. He thought she was in trouble and offered her a lift. But she told him to leave her alone. He did not see her dog and later described Marcia's condition as "distressed".
Marcia's response to the driver is viewed by police as one that any woman might give to a stranger offering help in the dark of night. But her refusal to accept help for safety reasons may have meant she was abducted and harmed as she continued walking along the road.
HER parents do not consider suicide a possibility and police have no reason to suspect it, although all options are still open. Her mother says Marcia would not do something like that to herself or to her family.
"She is the only daughter I have left," said Mrs Ryan, referring to her eldest daughter, Dianne, 20, who was killed on grand final night, 28 September 1980, in a car accident. Marcia, then 17, was in a vehicle behind her sister. "When Dianne died, a part of Marcia died with her," said her father.
The day she disappeared was stressful for Marcia. At 12.30pm she told her manager at work she was not feeling well. She went home to rest.
In the ten-and-a-half years she had been working at her uncle's transport company in Huntingdale, W. Thomson & Son, Marcia had hardly taken a sick day, apart from a period to recover from a thyroid operation.
"She was the most reliable worker you could wish for. Positive, proficient, an excellent worker in every way," Mr Bill Thomson said.
Before she left work, Marcia phoned her mother in Surfers Paradise to tell her that a boarder she had taken in four days earlier frightened her and that she intended to evict him.
Marcia bought the three-bedroom house four years ago, and only recently finished renovating it, with the help of her parents.
"She wanted to let the house to a couple of students while she was (overseas) and thought it would be a good idea to get someone settled in before she left," said her mother.
A boarder moved in on Thursday 15 August. But by Monday things had changed. The boarder was very quiet compared to Marcia, who found it strange to have someone in her house when she was so accoustomed to living alone, her father said.
In the rain that night, Marcia's brother, Mark, helped her put the boarder's belongings outside. The boarder handed over his house key peacefully to Mark, loaded his belongings into a car and drove away.
Later, at 10.45pm, Marcia rang her parents in Surfers Paradise and told them she was going to drive to Queensland to spend some time with them.
"The last thing she said to me was: 'Dad I just a need a break. Don't try to talk me out of it, I'm coming up and I'll see you in a few days'," her father said. She withdrew $50 from an automatic teller machine at Riversdale Commonwealth Bank and headed for Queensland. But police do not yet know from where she made the phone call to her father, except that it was not from her home.
Marcia's best friend, Theresa Lynch, spoke to Marcia four days before she disappeared. "She seemed happy, alive, as she normally does," said Ms Lynch.
Marcia liked riding her 500cc Ducati motorcycle, swimming, scuba diving and playing the flute. But she was also at times a troubled woman. As September approached each year, Marcia always remembered Dianne, the older sister she loved. She always called her parents to find out where they would be on the anniversary if she needed them.
Detective Inspector Paul Sherridan, head of the missing persons unit and Detective Inspector John Noonan, of Parkdale CIB, say Marcia was working through a number of problems but nothing to suggest she would harm herself. They speculate she may have taken time out and is still safe or she may have met with foul play. They do not know if anyone was in her car with her.
But police say they have to consider that Marcia may have been harmed because so much time has passed without her contacting her family or friends. Inspector Noonan believes several people must have seen Marcia walking along the busy highway that night but have not come forward because they may not have seen media reports requesting their help.
But as the investigation continues, the possible loss of their only surviving daughter has drained John and Johanna Ryan. As they sat one day last week in Marcia's house they talked of their daughter of IrishDutch extraction, who has "beautiful, big, Irish eyes" and who was planning for life.
Her mother recalls conversations with Marcia about her life as a single woman and telling her she was beautiful and should have no trouble finding a boyfriend. Marcia would say: "Mum, all mothers think that about their daughters."
Her parents talk at times as if Marcia will come back and then, as if she may not. Mrs Ryan said: "After losing one girl, you never, ever, think it can happen twice." She pointed to two old chairs in Marcia's living room: "We would like to throw them out but she would kill us when she gets back."
Then: "I have believed right from beginning that she is dead. I think somebody did something to her." Mrs Ryan's hope is that Marcia is being cared for by someone or, if she has been abducted, is unharmed.
Her father speculates that Marcia may be suffering loss of memory, or be too distressed or embarrassed by all the media attention to return home.
During the conversation with Mr and Mrs Ryan, detectives Jim Cooke and Carl Stella from the missing persons unit drop in. Mrs Ryan tells them she grows more hopeful that Marcia is alive because no body has been found, despite the extensive searches.
She asks Jim Cooke: "Do you think she is still alive . . . honestly?" There is silence, then Jim Cooke says: "It is possible."