Sarah MACDIARMID
7pm TV News VIC
Sarah MACDIARMID
Sarah MacDiarmid, 23, was last seen getting off a train at Kananook railway station in Melbourne's south about 10.20pm on July 11, 1990.
She was on her way home from a social game of tennis. Police found blood near her car in the station car park but her body has never been found.
$1m for leads on missing woman
By Andrea Petrie - The Age
February 6, 2004

A $1 million reward was posted yesterday to help solve the disappearance and likely murder of a woman who vanished from a Melbourne railway station 14 years ago.

Sarah MacDiarmid, 23, was last seen getting off a train at Kananook railway station in Melbourne's south about 10.20pm on July 11, 1990.

She was on her way home from a social game of tennis. Police found blood near her car in the station car park but her body has never been found.

A $50,000 reward was offered for information about her disappearance in 1990 with a further $25,000 by an anonymous donor. But homicide squad detective Senior Sergeant Charlie Bezzina said the Chief Commissioner and the State Government had decided to raise the reward to $1 million for information that led to a conviction.

It is the third crime in Victoria to attract a $1 million reward, following the unsolved murders of Jane Thurgood-Dove in 1997 and Vicki Jacobs in 1999.

"It's one of those investigations which causes some concern to the community and ourselves that we haven't been able to solve," Mr Bezzina said. "We've had a significant amount of information over the years but we're really targeting people out there who haven't spoken to the police or Crime Stoppers and given us that vital piece of information."
The strongest police theory is that a group of homeless drug addicts, led by a prostitute, jumped Ms MacDiarmid as she was about to get into her red 1978 Honda Civic, stabbed her in the back and stole her backpack.

The prostitute, who was convicted of manslaughter in 1985 after jumping on a man's chest while wearing a pair of stiletto shoes, died of a heroin overdose the year after Ms MacDiarmid vanished. At least one other member of the group has also died from drug use. The gang has now dispersed. Mr Bezzina said it was likely Sarah's disappearance was the result of an "opportunistic attack", a theory with which her father Peter agreed. Mr MacDiarmid said the train was about 20 minutes late, the car park had poor lighting and someone walking past might have thought she had money because she always wore good quality clothes.

He welcomed the increased reward and said he hoped it would revive awareness and entice someone to speak out. "One anonymous phone call is all it takes," he said. Fighting back tears, Sarah's mother Sheila said the family was finding it harder now to cope with the loss than when she disappeared. "I would love to know where my daughter is and I just want her back," she said. "Fourteen years is a long time."

Anyone with information about Sarah's disappearance can call Crime Stoppers on 1800 333 000.

The never-ending search for Sarah
July 11, 2004 - The Age

It is every parent's greatest fear; their child going missing and never being seen again. Denise Gadd reports.

For Sheila and Peter MacDiarmid it has been a long 14 years since their daughter Sarah, then 23, disappeared from Kananook station, near Seaford.

But today, for the first time since they moved to Queensland in May 1991, they will not make the journey to the station car park to mark the anniversary by laying flowers at the memorial to their daughter - a flame tree planted in the car park on the 10th anniversary of her disappearance.

Instead they will spend a quiet day at home. It will be hard for them, but the MacDiarmids visited the car park in February.

"We know that was the last area where she was known to be so we just said 'Sarah, we're back to where you last were, let us know where you are'," Mrs MacDiarmid said.

Not long after the night Sarah disappeared, they bought a golden labrador puppy to welcome her home. The two never met and the dog, Jenny, died a few months ago. It was a "huge milestone" for them both, Mr MacDiarmid said, because it was "another piece of distance" between them and Sarah.
Since moving from their Frankston home, the MacDiarmids have tried to get on with their lives despite the tragedy.

They were sad to leave Frankston, where they had moved from Pascoe Vale in January 1990. But after Sarah's disappearance, the MacDiarmids couldn't stay there. "Strange things happened. We had stuff thrown in the front garden and our car was graffitied, plus we kept wondering if she'd been put in the boot of a car and we kept thinking, 'is it that car?' so we had to move on," Mr MacDiarmid said.

They have kept in touch with Sarah's friends although, at one stage, they tried to put some distance between them.

"We were worried that they were young and we were a bad reminder of what had happened to Sarah but when they found out they said 'no way, you must never do that'," Mrs MacDiarmid said.

They never plan too far ahead. "We've learnt our lesson that you never know what's going to happen," her husband said.

The loss of their beloved daughter is more intense now than it was 14 years ago.

"Peter and I have been feeling it more of late. It's something that's catching up with us, probably because we're getting older and you get more uptight and frightened that you're never going to find out what happened."

Learning the truth is paramount to Peter, Sheila and their son Alisdair, who took his sister's absence hard. He loved the bagpipes but hardly played them after Sarah's disappearance. Then, for the 10th anniversary, he composed Lament to Sarah which he played to commemorate the planting of the memorial tree.

Sarah was last seen in the station car park about 10.20pm on July 11, 1990. She had been playing tennis with friends in the city. They caught the train home but her friends got out at Bonbeach. Sarah went on to Kananook, the nearest station to her parents' Skye Road home. The train was late.

She was seen getting off the train, walking along a ramp and down some stairs towards the car park, then the trail went cold.

Police found blood near her red Honda Civic but Sarah's body has never been found, despite the State Government increasing the reward to $1 million in February.

An inquest into Sarah's disappearance in May 1996 determined that she had met her death as a result of foul play but the exact circumstances were unknown.

The most popular theory, according to some police, is that Sarah was attacked by a group of homeless drug addicts, led by a prostitute, as she went to get into her car.

The original police investigator, Inspector Laurie Ratz, now the head of corporate security at Qantas in Sydney, has never been "red hot" for that theory.

"The homicide squad received a fair bit of information from different sources but nothing was ever confirmed. Things didn't add up. We didn't find a body and if it had been a random street kid/drug-related incident we would have found a lot more than we did."

Mr Ratz, who also led the investigation into the abduction and murder of Rosebud youngster Sheree Beasley, still keeps in touch with the MacDiarmids and says the unsolved case "enters my mind frequently".

Sarah's file is still active, according to another investigator on the case from day one, Senior Sergeant Charlie Bezzina from the homicide squad.

Information trickles in occasionally, some after the posting of the million-dollar reward, but it was only "repeat stuff".

"We didn't get much after the $50,000 reward was announced all those years ago so it's hard to say what conclusion one can come to," he says. "Are all the people who know about Sarah's disappearance dead? Are those who were involved so fearful of other people that they won't come forward?"

For Peter and Sheila MacDiarmid, finding the truth will help to put some of their demons to rest.

"There are still people out there who know what happened and it's good that when there's any publicity about the case, those people know that it's not a forgotten issue and that we're looking at them," Mr MacDiarmid said.

A help for them, to a point, would be if someone came forward and told police the location of Sarah's remains.

"That would be huge if it could be proved to be Sarah. That's what we want to know," he said.

"We don't know how we'd deal with it but at least we'd know where she was."

MISSING PERSONS - Marie Clare Magazine

Sheila MacDiarmid, 64, is a retired nurse who lives in Queensland with her husband, Peter. Her daughter, Sarah, went missing in Melbourne in July 1990.

"Each year, I make a pilgrimage to Kananook railway station in Melbourne. For me, it is the most depressing location in the world, yet also one of the most poignant. The station was the last place my daughter, Sarah, was seen alive and, 16 years on, with no idea what happened to her all those years ago, it's the only place I can go to remember her.

"'We're back at the place that you were last seen, Sarah. Let us know where you are,' I always whisper. But my prayers have never been answered. They probably never will be.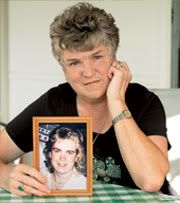 Sheila MacDiarmid

"Sarah disappeared on July 11, 1990. Ironically, it was one of the happiest periods in our family's life. After moving back and forth between Australia and the UK, we'd finally settled down, bought our first house in Frankston, Melbourne, and our son, Alisdair, had just celebrated his 21st birthday. We went out to dinner and my husband looked so content. 'We've made it,' he smiled, raising his glass to toast us. How wrong he was.

"A week later, Sarah donned her grey suit for her job in an underwriters office, picked up her sports bag and tennis racquet, told me she had a match after work and that she would catch the 9.10pm train home.
"She always called if she was going to be late for any reason, so I knew the minute she didn't arrive that something was wrong. I sent her brother to the station to look for her, but he couldn't find Sarah. When the last train came and went at 1am, I began to panic.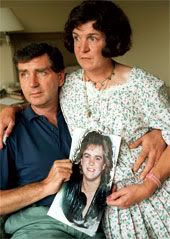 Peter and Sheila MacDiarmid long to discover what
happened to their daughter
"'Should I call the police?' I asked Peter. But, as a former police officer, he knew they'd just think we were paranoid parents and that Sarah was probably with her boyfriend.

"When I spoke to Sarah's friends the next morning, they told me she'd been on the correct train as promised. I'd never known such fear – I threw down the phone and screamed. Peter began to seriously panic, too.
"We sped down to Kananook station and saw Sarah's Honda Civic in the car park. 'That's funny,' said Peter. 'I never noticed rust on Sarah's car before.' But when we and the police had a closer look, we saw it wasn't rust at all – it was blood. Then we noticed blood on the ground as well – and drag marks leading into the bushes. And on the ground was a cigarette lighter belonging to Sarah.


"Later, witnesses said Sarah had got off the train and crossed the footbridge to the car park, where some people heard a woman shouting, 'Give me back my keys.'

"The next few days passed in a daze. There was a huge police search and the media camped on our doorstep. At night, we went to bed and were enveloped in a blackness quite unlike anything we had ever experienced.

"After two weeks, I went back to my job as a community nurse to try to keep my mind off things. People didn't realise I actually wasn't coping – it was all a front. The only person who really helped me was a 90-year-old patient called Nell. When her daughters were 10 and 11, she'd sent them to the beach to play. They never came home, and were later found murdered in the sand dunes. 'At least I knew where my girls were,' she told me.


"People think it gets easier with time, but it doesn't. Not knowing what happened wears you out. Even after 16 years, I still keep hoping that she will walk through the door. There's a $1 million reward for information about Sarah's disappearance, and we contact the police regularly in a bid to keep the case active. But I'm 64 now, and my greatest fear is that I will never know. It's living with all my unanswered questions that is the hardest burden to bear."

Sarah MacDiarmid has been missing for 16 years
Million dollars on offer in missing persons case
Updated Mon Jul 12, 2010 7:05am AEST - ABC
Victorian Police are still offering a $1 million reward for information that could help solve a 20-year-old suspected murder case.
The reward has been on offer for information on the suspected murder of Frankston woman Sarah MacDiarmid, for the past six years.
Tomorrow will mark two decades since 23-year-old Sarah MacDiarmid disappeared from the Kananook Railway Station near Frankston.
She was last seen walking through the carpark of the railway station around 10.20pm on the night of her disappearance.
Her family has set up a website called 'Not Alone' for families who are dealing with the suspected murder of a loved one.
Victorian police have launched a fresh appeal for information on the case and her father, Peter MacDiarmid, says he is hopeful of receiving some long awaited answers.
"We'd like to feel confident about it because maybe the person involved is dead or maybe somebody is feeling old enough and secure enough that they could perhaps even ring," he said.
"I don't care how long it's been, somebody knows."