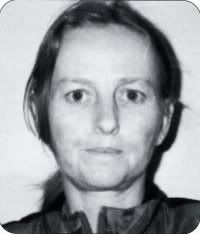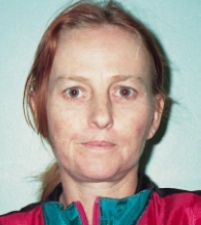 DOB:
1961
HAIR:
Light brown
CIRCUMSTANCES:
Michelle Mills last spoke to her family on 12th August 2000. She was last known to live in the Mudgee area of NSW. Michelle has not made any contact with family or friends since her disappearance and genuine fears are held for her safety.
Reported missing to: Mudgee Police Station.
Offi ce of the Minister for Police
SYDNEY, NSW 4 April 2007
MURDER
ONE HUNDRED THOUSAND DOLLARS ($100,000)
REWARD
MICHELLE MARIE MILLS, born 23rd July 1961, of Mudgee was reported missing on the 12th August 2000 and has not been seen since. It is believed that MILLS has met
with foul play and is now deceased.
Notice is hereby given that a reward of up to one hundred thousand dollars ($100,000) will be paid by the Government of New South Wales for information leading to the arrest and conviction of the person or persons responsible for the death of Michelle Marie MILLS.
The allocation of this reward will be at the sole discretion of the Commissioner of Police.
The urgent assistance and co-operation of the public is especially sought in the matter. Any information, which will be treated as confi dential, may be given at any time of the
day or night any Police Station or by telephone -
Police Headquarters telephone (02) 9281 0000, or
Crime Stoppers on 1800 333 000
THE HON. DAVID CAMPBELL, M.P.,
Minister for Police
A $100,000 reward is on offer to help solve the suspected murder of Michelle Mills in 2000.
Ms Mills, born on 23 July 1961, was reported missing from Mudgee on 12 August 2000 and has not been seen since.
Police believe the mysterious disappearance of Michelle Mills is most likely a case of murder, but her body has never been found.
The $100,000 reward will be available to anyone who provides police with information which leads to the arrest and conviction of the person or persons responsible for Ms Mill's death.
Police understand Michelle had some failed relationships and had been going through a difficult time in the lead-up to her disappearance.
However, investigators believe it is unlikely Michelle took her own life.
Police suspect Michelle may have been killed by someone over money troubles or a person she had lied to or stolen from.
She had only recently moved to Mudgee and she may have returned to Sydney before her death.
While it is unclear what led to Michelle's death, police strongly believe she was the victim of foul play.
Michelle's bank card was used for up to nine months after her disappearance.
These bank transactions, which occurred in Mudgee, Cowra and Blayney, could lead police to the killer or killers.
Police can only move forward with this investigation if someone provides new information.

A difficult childhood passed into an adult life of drinking and petty crime for Michele. But despite her unhappiness, she retained a close bond with her siblings and foster family, keeping in touch via phone. She last made contact in June 2000. Her foster mother Anne says she fears the worst ...

Michele was always very troubled, even as a little girl. I say "was" because she's vanished, and we believe she's been murdered.

In 1966 I fostered Michele and her brother Craig. She was six and he was four. They were from a family of seven children and Michele was the only girl.

Although the kids settled into our home in Sydney, Michele was always rebellious. As a teen — when we lived in Mudgee in north-western NSW — she started going off the rails.

She couldn't hold down a job, and would go away for months at a time. But she kept in touch, especially with Craig and her eldest brother Neville, and always rang on her birthday, July 23.

Michele had fair hair, green eyes and was only 140 tall. She hated being so short. She was the most beautiful-looking girl ... lovable and a character.

She later got mixed up with some rough types in Sydney.

In June 2000 she rang Craig to tell him she'd moved back to Mudgee and wanted to visit him in Sydney to see his new baby. But she didn't call back, not even on her birthday, and that's when we started worrying.

Michele was 40 when she was reported missing on August 1.

She often stayed at the Mudgee Riverside Caravan Park but some of her belongings were found at her last address in town.

We know she was drinking heavily, living off her pension and in trouble with the police. Michele's bank account was last accessed in March 2001, but police suspect someone else may have been using it and it's now been frozen. She hasn't contacted Centrelink since they stopped payments in July 2000.

All we expect to find now are her bones, but I still phone the police to see if there's any news. If Michele has died, I want to bury her properly — nobody should die and be lost forever.

Contact Detective Senior Constable Dana Wakeling at Mudgee Police Station on (02) 6372 8599.

- with thanks to WOMAN'S DAY magazine

After 7 years, missing becomes murder
Les Kennedy - SMH
April 20, 2007 - 2:54PM

Almost seven years after Michelle Mills disappeared from Mudgee, police now believe she was murdered.

And they believe her killer drifted through central western and southern NSW for nine months using her bank card withdrawing cash from ATM machines in a bid to make it appear she was still alive.

For years her case, which never made the media, was treated by police as yet another person who had gone walkabout in despair after the failure of a series of relationships.

But a recent review of the case by Lithgow detectives has led police to believe she was murdered some time after ringing her father in Queensland on June 23 to say she was thinking of moving to the Sunshine State.

The last sighting of her was nine days earlier on June 14, when she saw her doctor in Mudgee.

Today Police Minister David Campbell offered a $100,000 reward for information on her suspected murder.

Police said Ms Mills, 39, who was unemployed and receiving CentreLink benefits, was a relative newcomer to Mudgee at the time of her disappearance, having moved there just before Christmas in 1999 after living most her life on Sydney's northern beaches.

She had a number of failed relationships and had told her father she wanted to move on.

She regularly kept in touch with her family, say police, in particular her brothers in Sydney.

But after the calls stopped she was reported missing on August 12, 2000.

There have been no more calls since.

A review of her case revealed that her bank card was in use for almost nine months, only at ATM machines that did not have security cameras.

Withdrawals were made at teller machines first in Mudgee, then in Blayney, then Cowra and finally back in Mudgee where the card was captured by a St George Bank teller machine when the bank froze her account after realising the card was stolen.

"Police believe the mysterious disappearance of Michelle Mills is most likely a case of murder, but her body has never been found," Mr Campbell said.

"Her family deserves answers and those responsible for her death must be brought to justice," he said, in announcing the reward today.

"Police suspect Michelle may have been killed by someone over money troubles. She had only recently moved to Mudgee and police say she may have returned to Sydney before her death," Mr Campbell said.

Anyone with information are asked to contact police on the Crime Stoppers hotline 1800 333 000