Kerry Lynette MACKAY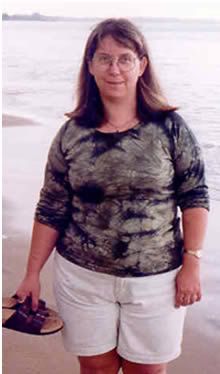 September 1st 2007 - Kerry's car has been located in the Durikai State Forest near Warwick, QLD. The remains of Kerry's pet birds were found inside the car but no trace of Kerry or her dog Grizzly have been located at this stage. Police are currently searching the forest near the car. The car had a flat tyre but was in otherwise good mechanical condition. No foul play is suggested.
Last Seen: 27 February 2003
DOB: 1963
Eyes: Brown
Hair: Brown
Height: 154
Build: Medium
Complexion: Fair
Peculiarities: None known
Circumstances: Kerry was last seen at the Wondai Road Caravan Park Chinchilla, Qld at 0715hrs. Kerry then attended Chinchilla showgrounds and collected her dog and four pet birds. Kerry was believed to be travelling to Dalby but has not been seen since. She was driving a white 1990 Toyota Corolla hatchback Qld Registration number 960FTH

April 18, 2003
QLD Police are seeking public assistance to help locate a 39-year-old Chinchilla woman who has been missing since February.
Kerry Lynette Mackay was last seen at a mobile park at Wondai Road, Chinchilla at 7am on Thursday 27 February 2003. She left a note for family members indicating that she was going to drive to Dalby and then onto Brisbane. Ms Mackay last withdrew money from an ATM at Dalby on February 27. An unconfirmed sighting was reported of her buying fuel in Moonie on February 27. However since then she has not accessed her bank accounts or contacted family. On March 31, there was an unconfirmed sighting of Ms Mackay about 3.30pm at the intersection of Vulture and Boundary Roads West End but further investigations failed to locate her. Ms Mackay suffers from a medical condition that requires medication and police have concerns for her safety and welfare. She is described as 154cm tall, medium build, with a fair complexion, brown shoulder length hair and brown eyes. She was last seen driving a white 1990 Toyota Corolla hatch back registration number 960 FTH. The car has a colourful side deco and rear black louvered sunshade. Ms Mackay was travelling with her large black stumpy tailed dog called 'Grizzly', two parrots and two budgies.
Anyone who has any information on Ms Mackay's whereabouts is asked to contact Crime Stoppers on 1800 333 000.
****************************************************************

On February 27, 2003, Lesley Lloyd's sister, 40-year-old Kerry Mackay, set off from Chinchilla, Qld, to drive the 700km to Lesley's house in Cunnamulla. She never arrived.

"The night before Kerry went missing, I spoke to her. She'd been staying in the caravan park at Chinchilla, while she looked for a house to buy. After she left the park to visit me, she picked up two birds and a dog from my ex-husband. He'd been looking after them for her while she was living in the park, so she had a full load.
She was driving a white 1990 Toyota Corolla hatch, registration plates 960 FTH. It's a long way to travel and she could have been planning to stay at the St George Caravan Park, but I'll never know, because she didn't get that far. The people who run the Moonie servo, where she asked for directions to St George, were the last people who saw her. She just vanished.
I know she didn't get to St George because she would've had to buy more petrol from there. We've put up posters all along the highway and we've advertised. The police held a search at the time, but found no sign of her. It's a flat stretch of road, you'd see a car if it had gone off the side, but there've been no signs of that. We thought she might have driven onto a property along that road but we checked and no-one said they'd seen her. Neither the car nor her dog have been found. I've been up and down that road heaps of times, it gives me a funny feeling doing it though — it's eerie. Kerry is very family-oriented, she'd always keep in touch and call. She hasn't touched her bank account or mobile since then. I was paying the mobile bill for a while — and I left a lot of messages on it for her. I even left a message telling her she had a new niece, born in December. My mind's going about 100 miles an hour. My son had a breakdown after Kerry went missing. He was very close to her, but he's back on his feet now. I get pretty stressed out sometimes that I haven't got any family to help with this except for my partner. If I saw her again, I'd probably have a heart attack, but sometimes I look down our street and wish her car would drive up into my driveway. "
- with thanks to WOMAN'S DAY Magazine