Inspector Ken Price, Rhett Bosler, Noel Wildash, Phillip Pembroke & Michael Hutchins.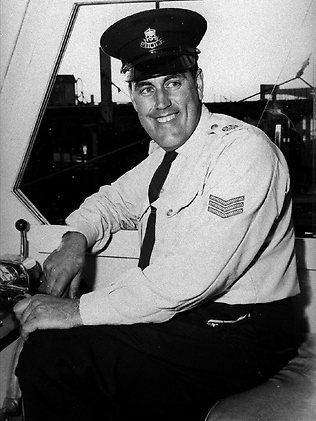 Inspector Ken Price Above - Ken Price, Rhett Bosler, Noel Wildash and Phillip Pembroke were the four passengers aboard the plane. Not pictured is pilot Michael Hutchins.
http://www.youtube.com/watch?v=Nm_A3bP_sto&feature=youtu.be
You Tube clip about the 2013 search for the plane
~ With deep appreciation and thanks to 'The Fox' for his account of Ken's story.
It was 9 August 1981, aircraft was a Cessna 210, VH MDX. I have lost track of the hours and days spent up in the Tops chasing that aircraft. Scooting through the treetops, wondering at one point whether the low RPM warning would win out over falling airspeed as the peanut in command was probably trying to work out how to tell his chief pilot ( if we were to be so lucky! - which in fact we were....) how he wrote off a perfectly good machine up in them thar hills.....

Barrington Tops is one of the most beautiful places in this country, and also one of the most treacherous. It has alpine terrain and flora on the plateau, yet venture off the ridges and you quickly get swallowed up by the deep plunging ravines and valleys. The Gloucester and Barrington Tops adjoin by a single narrow ridge and the area was heavily logged in parts. Where this occurred, vegetation regrowth has been strong and dense, accompanied by the evil curse that is lawyer vine. The range makes it's own weather and is notorious as a place that experienced aviators avoid like the plague when the weather is bad. Ken Price and the rest of the victims were doing a yacht delivery run from Sydney to Queensland. As part of the arrangement a plane was arranged to fly them back to Sydney. From memory they departed Coolangatta Airport for Sydney via the Scone track.

They become lost and disoriented in severe electrical storms and ended up over the tops. I have listened to the radio transmissions that took place between the aircraft and the controller at Williamtown and knowing that you are listening to someone one their way to their impending death is indeed an eerie thing. The Willy controller did everything he could to vector the aircraft out of danger and back to the safety of the coast, to no avail. At one point the pilot reported that the cabin had some smoke in it. At other times it seemed fairly clear that they had become spatially disoriented and stopped trusting the instruments, an almost always fatal mistake in aviation. The aircraft was last detected on the Willy radar at about the 3500 ft point which was about the high point of the area they were in. And that contact was the last contact that VH MDX and the souls aboard had with the world. Tens of thousands of hours were expended on that search. And still are.

I know that several of the volunteer organisations still devote effort each year to clearing areas that have not been searched, or areas where search records were inadequate from past searches. I understand there was another coordinated search on up there this weekend. No stone was left unturned in the search over the years. BHP supplied survey aircraft for a while that were equipped with magnetometers, in the hope that they would pick up the substantial remains such as a engine block, but with no joy. The RAAF Land Rescue Teams also used the searches as a training exercise, but one day, I have no doubt, some bloke will step out of a 4wd on some old timber track for a leak and kick something that will turn out to be MDX. And so, that is what happened to Inspector Ken Price of the NSW Water Police and why we had a vessel named after him.
Lost plane search resumes, 23 years on
Posted Thu Jan 22, 2004 10:17am AEDT - ABC
More than 20 years after it disappeared, a search is about to resume for a plane believed to have gone down in the Barrington Tops in the Upper Hunter Valley.
The Cessna, travelling from Coolangatta to Sydney, vanished on August 9, 1981.
Five people were on board, including Sydney Water Police Inspector Ken Price.
After the disappearance, 300 searchers combed the area but the plane was never found.
The chief of New South Wales Police Rescue at the time, Peter Anforth, says the steep country, large fig trees and dense bushland could easily hide the plane.
"People ... say there's never been anyone in there and the trees are so high and so thick and they say there's at least three canopies of vines running through these trees," Mr Anforth said.
A new search is scheduled for next month, with bushwalkers focusing on an area in the Barrington Tops west of Rawdon Vale.
New information may solve decades-old plane mystery
By Chad Watson - SMH
May 29, 2005
The Sun-Herald

One of Australia's most enduring aviation mysteries is a significant step closer to being solved, former Newcastle police rescue squad chief Peter Anforth believes.
Mr Anforth's close mate and colleague Inspector Ken Price was one of five people on flight VH-MDX 210 that went missing over the Barrington Tops on August 9, 1981. The others - returning from a fishing and sailing trip to Queensland - were experienced pilot Michael Hutchins and Sydneysiders Noel Wildash, Rhett Bosler and Philip Pembroke.
No wreckage or bodies have been found despite extensive searching. Mr Anforth, 76, acting on fresh information from the RAAF, believes he has finally pinpointed where the plane went down.
As a result, dozens of bushwalkers and State Emergency Service volunteers will spend this weekend scouring an area north-west of Mount Nelson in the Barrington Tops National Park.
"If it wasn't for poor health, I'd be there myself," Mr Anforth said. "It's tough country; the forest is so thick you are lucky to see a few feet in any direction. But I believe we have never been closer to finding them because this spot has never been looked at."
The 30-year mystery of flight to nowhere
IT is one of Australia's greatest aviation mysteries: What happened to Cessna VH-MDX and the five men who were aboard?
The single-engine aircraft disappeared from radar in bad weather northwest of Newcastle on the night of August 9, 1981. And despite Australia's biggest land and air search, not a trace has been found.
The 30-year quest for closure continues today when a team from the Bushwalkers Wilderness Rescue Squad heads into the Barrington Tops, where the plane is thought to have gone down.
Teams have searched sections of the 100sq km suspected impact zone every year since the plane disappeared, but search manager John Tonitto said inhospitable terrain made progress excruciatingly slow.
The plane was en route from Queensland to Bankstown when experienced pilot Michael Hutchins radioed he was having trouble maintaining altitude. John Gleave, who lost his friends Ken Price, Noel Wildash, Phillip Pembroke and Rhett Bosler in the crash, has no doubt the wreckage will one day be found.
"I think the families would like to finally say, 'Now we know what happened' and get that closure," he said.