Julie Leanne CUTLER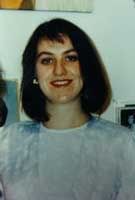 Julie Leanne CUTLER
Age at time of disappearance: 22 years
Build: Medium
Height: 162 cm
Hair: Brown
Eyes: Blue
Distinguishing Features/Other:
Circumstances:
Julie was last seen leaving the Parmelia Hilton Hotel WA at 12.30am on 20 June 1988 after a staff function. Her car was found 2 days later in the sea off Cottesloe Beach.



'Police decoy used in killer hunt sting'

-Bret Christian


Police hunting for the Claremont serial killer used a policewoman as a decoy, according to a report in a Sydney magazine.

The sting operation went wrong after the under-cover officer had been picked up by Cottesloe man Lance Williams and asked to be driven to Mosman Park, the report says.

Police then surrounded the car and took the driver in for questioning.

The report was written after a months-long investigation by ABC Radio presenter Liam Bartlett and published in Sydney's Sunday Telegraph magazine last weekend.

"Only the surveillance team knows if one of their members panicked and they're not admitting to anything," Mr Bartlett wrote.

Mr Williams denies he had anything to do with the killings and says police are looking at the wrong person.

He says he picked up the woman as a good Samaritan.

He is one of hundreds of people who have been questioned, but no charges have been laid.

Police were keeping Mr Williams, a 45-year-old public servant, under 24-hour surveillance.

In his report, Mr Bartlett makes a series of assertions, many of which have never been aired publicly, about the three Claremont murders.

He wrote that police have told the father of a fourth missing woman, 22-year-old Julie Cutler, that his daughter was probably the first victim of the Claremont killer.

Ms Cutler, a university student from Fremantle, vanished after leaving a staff function at the Sheraton Hotel in Perth at 9pm one night in 1988.

Her car was found in the surf near the groyne at Cottesloe Beach two days later. Her body has never been found.

The first girl to disappear from Claremont, Sarah Spiers, vanished almost exactly seven years ago in 1996.

The report also says that police found no offender's DNA on the bodies of the two women who have been found, Jane Rimmer and Ciara Glennon.

The bodies were exposed to the elements for too long.

The report says that certain items of clothing remain missing from the murder scenes of both the women whose bodies have been found, Jane Rimmer and Ciara Glennon.

It says police are convinced both women were killed close to where they were abducted, and on the same nights that they were abducted.

They were not murdered where they were found.

The report says Mr Williams is in his seventh month of stress leave from his government job.

He is living with his parents in Eric Street, Cottesloe, has suffered several bouts of depression and has had an extended stay in hospital.

Other sources say that police have spent more than $2 million investigating Mr Williams.

Trevor Rimmer, of Shenton Park, the father of Jane, is quoted as saying that it would be less worrying for his family if the police did not appear to have all their eggs in one basket.

He says he would like to see a more open approach.

His comments tie in with those of overseas investigators of serial killings, who say that in similar cases it is common for investigators to develop tunnel vision.

One overseas investigator has told the POST that that the geographic area where serial killings occur is not necessarily fixed.

It is common for serial killers to switch their activities to other states and even other countries when one location becomes too hot.

The overseas investigator told the POST that there was a high possibility that the Claremont murderer had been killing for many years before and was still operating.

It was likely he was the worst serial killer Australia had seen.

"He is highly organised, very, very clever and has his methods of entrapping and killing women down to a fine art," he said.

It was likely he had some sort of security or military training.

"I believe that many other women who are missing in WA or interstate are the work of the Claremont killer," he says.

He said that it was a myth that the same serial killers used the same methods once they had developed a technique.

"Western Australia has a notorious example of this, Eric Cooke."

Eric Edgar Cooke, who was hanged for murder in 1964, attacked 20 people, killing eight.

He used many different methods - attacking them in their beds with knives, strangling, shooting and running them down with stolen cars.

Many women have gone missing in WA in the past two decades, including another from Claremont.

Sarah McMahon (20) was last seen leaving the reticulation shop where she worked in Stirling Highway, Claremont, on November 8, 2000.

The white Ford Meteor she was driving was found in the carpark of Swan Districts Hospital some days later.



For the families of murder victims, or those who have disappeared, the pain never goes away.

As a journalist who has spent decades working with the families and friends of the missing and murdered I have spent countless hours listening to their hopes and fears.

And now that a man has been charged with murdering Jane Rimmer and Ciara Glennon the families of others who were murdered or disappeared around the time of the Claremont serial killings are also beginning to wonder if there will be new progress in their cases too.

The case of Sarah Spiers, who has long been regarded as the third victim of the Claremont killer, will continue to be a focus for the Macro Taskforce.

Additionally, the fact that the 48-year-old who has been charged with murdering Ciara Glennon and Jane Rimmer, has also been charged with other attacks on women as far back as 1988 has caused many other families to wonder if closure for them too may soon be at hand.

DNA from a silk dressing gown seems to have been the key to the Claremont charges. The garment, apparently dropped by an intruder who tried to rape an 18-year old Huntingdale woman in 1988 reportedly connects the same person to the murder of Ms Rimmer and Ms Glennon.

Former WA police officer, and now a private detective, Mick Buckley has been watching the growth of prosecutions based on DNA evidence in recent years.

"It's been a game-changer. The ability to go back to old DNA evidence and test it again and again as new techniques become available is a huge thing for detectives and cold case investigators," he said.

So who else will be looking at recent developments and hoping for a breakthrough in their particular family mystery - either through a DNA breakthrough or new evidence from a witness?

Undoubtedly the family of Sharon Fulton will be among them. The then 39-year-old disappeared in 1986. She was last seen on March 18 in Wangara around 9.30am. She was supposed to meet friends at 11am that day but didn't turn up and was never seen again.

A year later, in 1987, Sally Greenham disappeared from the streets of Perth leaving no clue as to what may have happened to her or where she may have ended up.

Missing Persons files say the Geraldton woman was last seen getting out of a car in Adelaide Terrace in the early hours of August 20, 1987.

Then there is the case of Julie Cutler who went missing in 1988. She disappeared after going to a work party at the Parmelia Hilton. Two days later her car was found upside-down in the ocean off Cottesloe Beach.

Superintendent Ron Carey, who investigated the case, said the back seat of the car had been washed out of the vehicle and was found on a nearby beach.

"If the back seat could wash out why didn't Julie's body if she was in the car? Why didn't her shoes, handbag or some other item of property wash up?" he said while being interviewed for the Channel Nine documentary "To Catch a Killer" ten years ago.

"I believe she was never in the car when it went off Cottesloe Groyne. I believe that Julie was murdered and that the body was buried or secreted somewhere else before the car was dumped in the ocean."

Julie Cutler's family, and those of Kerry Turner who disappeared in 1991, have called on police investigating the Claremont serial killings to have a fresh look at their daughters' cases too, according to The Weekend West.

Kerry Turner disappeared from Victoria Park on June 30, 1991, after a night out with friends. Her body was found in bush near Canning Dam a month later.

Detective Darren Bethel who was also interviewed for the Channel Nine documentary, described the last time Kerry was seen.

"Around 4am she left Pinochio's nightclub and caught a taxi but the driver dropped her off at the Causeway when she told him she had no money," he said.

"Witnesses saw her standing on the side of Shepperton Road for a couple of minutes when another vehicle stopped beside her. She hopped into this vehicle straight away and the vehicle left heading south on Shepperton Road.

"We have never located that vehicle and no-one ever came forward stating that they had picked Kerry up."

Then there are the cases of Lisa Brown, Sarah McMahon and Darylyn Ugle.

Lisa Brown went missing in 1998. She was a prostitute working the streets in Northbridge when she disappeared.

Chris Page, the Detective Senior Constable who investigated her disappearance as part of a cold case review, said the 19-year-old was extremely vulnerable at the time.

"Lisa had become estranged from her family. She had a couple of children that she didn't have custody of and she'd developed a heroin habit," he said.

"In addition she was walking the streets late at night dealing with and speaking to strangers.

"She had to have been one of the most vulnerable people in the community."

Sarah McMahon disappeared in 2000. Police say she left her work at a reticulation shop in Claremont on November 8 and drove to Bassendean after which she was never seen again.

In 2012 a man who was serving a lengthy sentence for attempting to strangle a woman was questioned about her disappearance but denied all knowledge of the case.

Darylyn Ugle disappeared in 2003. She had been working as a prostitute and was last seen leaving a friend's flat in Bulwer Street.

Five weeks later, in April 2003, her body was found by bush walkers under a burnt out tree close to Mundaring Weir.

Her mother Jessie also agreed to be interviewed for the Channel Nine program. Her comments paint a picture of the kind of suffering common to all the families of those who are missing or were murdered.

"Maybe when they find the killer, maybe I'll get a life again," she said.

"If your child died after she was sick, or was in a car accident and died, at least you know what happened.

"But to have someone snatch them off the side of the road and kill them, it's so hard to live with.

"You might be able to get on with your life day by day, but it's always at the back of your mind and never goes away.

"I always think about her."
Police hope for breakthrough in Julie Cutler cold case mystery with $250,000 reward