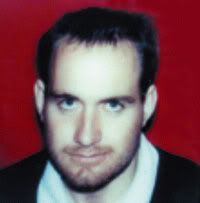 Date of Birth: 1966
Description : Caucasian, 175 cm tall, average build, fair complexion, short brown hair and blue eyes. Tattoo on his upper arm of the head of a wolf, and a tattoo of a dragon on his back.
Circumstances:
James Crocker was last seen outside the Royal Adelaide Hospital late evening on 27 May 1994.
Have you seen James Ronald Crocker?
FIFTEEN years ago, James Ronald Crocker had a big night in the city drinking with a mate. He hasn't been seen since.
Long ago, James's parents, Ron and Val, came to assume their son had met with foul play.
But there is no closure, with no body to lay to rest and an open police file with no fresh leads.
On May 27, 1994, James was out drinking with a mate. The two made their way to a Pirie St nightclub, where James stayed after his mate left.
About 9pm, the Richmond man, then aged 27, was so intoxicated that he collapsed on the footpath outside and was taken to the Royal Adelaide Hospital.
Around midnight, he signed himself out, leaving his watch behind, and walked down North Tce.
There have been no reported sightings of him since and his bank accounts have been left untouched.
James, who worked as a clerk for the ATO, never carried much money on him, rarely drove or caught taxis, preferring to rely on public transport.
In the days, months and years that followed, Mr and Mrs Crocker have done all they can to find any trace of their son.
They trawled city streets in the days after his disappearance and distributed thousands of pamphlets bearing his photo, asking anyone who saw something or heard someone talking about James's disappearance to come forward.
A clairvoyant's visions and a supposed sighting at a Sydney backpacker hostel have also come to nothing.
Senior Constable David Cram, of the Missing Person Investigation Section, said there had been several unconfirmed sightings over the years.
``Despite a nationally co-ordinated effort to locate James over the past 15 years, police have been unable to confirm James's whereabouts,'' he said.
JAMES CROCKER: Last seen May 27, 1994.
He signed himself out of the Royal Adelaide Hospital and was seen walking down North Tce.
Earlier seen drinking at a Pirie St hotel.
Caucasian appearance, 175cm, weighing about 64kg.
A fair complexion, with blue eyes and short, straight, brown hair.