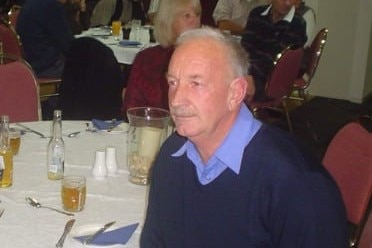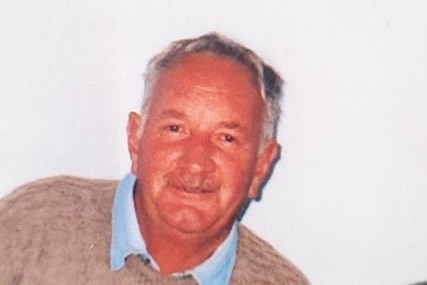 Ian Gray is missing from around Echuca, Victoria or Moama NSW. Last seen Bunnaloo NSW. Ian left his farm at 7.30am on Friday
morning, September 11th 2015 in his Rodeo ute - reg AG 46 AJ. It's a 2006 model white Holden. There is a white stock crate on the
back of the ute. Ian suffers from a medical condition and his family are very worried. His family are pleading for anyone travelling in
the Southern Riverina to the North or South from Echuca to Moama keep an eye out for him - "If you see him, if you can give him a
hug from all of his family that would be great too!"

If you've seen Ian please call 1800 333 000 or Echuca Police on 5482 2255
Missing since:

Friday, September 11, 2015

Last seen:

Bunnaloo NSW

Year of birth:

1949

Gender:

Male

Hair:

White
Circumstances:
Ian Gray, then aged 66, was last seen on 11 September 2015 at 7.30am leaving his residential address in Bunnaloo NSW. Ian left in a motor vehicle bearing NSW plates AG-46-AJ.
There have been several alleged sightings of Mr Gray since he was reported missing in both Victoria and NSW although neither Mr Gray nor his vehicle have been located by Police at this stage.
Police have serious concerns for the welfare of Mr Gray and it is out of character for Ian to not be in contact with his family whom he has a close relationship with.
If you have any information that may assist police to locate Ian please call Crime Stoppers on 1800 333 000.
September 14, 2015 3:45pm
Friends, family and police on both sides of the Murray River have spent the weekend searching for Bunnaloo sheep farmer Ian Gray.
Mr Gray left his Bunnaloo East property on Friday morning and has not been seen since.
He was driving a white 2006 Holden Rodeo ute, registration AG 46 AJ, with a distinctive white stock crate.
Detective Acting Inspector Trent Swinton of Deniliquin police said despite efforts of family to spread the word on social media, there had been no sightings since Friday morning.
Anyone with information is asked to call Deniliquin Police on 5881 9499, or Crimestoppers on 1800 333 000.
Ian Gray absent from stud celebration.
September 29, 2015 8:00am
Graythorn Stud marked 50 years as a registered stud sheep breeder on Friday, but stud founder Ian Gray was not there to celebrate.
Mr Gray (pictured) has been missing since leaving the property on Friday, September 11.
There have been some unconfirmed sightings of Mr Gray since, but his family and police are no closer to finding the 66 year-old.
Mr Gray's wife Helen said her husband's behaviour was out of character when he drove out the front gate of his Bunnaloo East property without saying goodbye just over two weeks ago.
She said she is hopeful he is ''still out there''.
''I think I would know if he wasn't,'' she said.
''We want him to know we all love him, there's no judgment, just come home.
''I can't explain why someone has not seen him.''
Mr Gray was last seen leaving his Bunnaloo property in a white 2006 Holden Rodeo ute at 7.30am. The NSW registration of the ute reads AG46AJ.
His wife said the difficulty was knowing where her husband may have gone, given that he was in his vehicle and had some money on him.
There have been reported sightings of Mr Gray as far away as Castlemaine, Wangaratta and north of Swan Hill, but none had been confirmed and there has been none since a week ago.
Last week there were four private plane flights — two from Echuca and two from a property at Tocumwal — that had attempted to find a sign of Mr Gray or his white Holden Rodeo ute, that carried a distinctive stock crate.
Deniliquin Police Inspector Steve Worthington said police are using all means available in an effort to find Mr Gray, and asked people to be alert.
''Unfortunately there have been no new updates,'' he said.
''Police have been utilising media, especially print, radio and television in New South Wales and Victoria to assist in getting information out to the public.
''Mr Gray's family is still desperate for anyone with information to come forward and police are very keen to follow up any information that people may have.''
Deniliquin Police said the NSW Missing Persons Unit is making inquiries into Mr Gray's disappearance.
At the time he left the property, Mr Gray was wearing jeans, a check shirt, blue jumper and Redback work boots.
He has short white hair, a white moustache and is about 193cm tall (6' 4'').
Insp Worthington said people can report information anonymously, by contacting Crimestoppers on 1300333000, or by contacting Deniliquin Police Station on (03) 5881 9499.
~ with Riverine Herald
Family of Ian Gray, who vanished six years ago, pleads for answers as police reopen case
By
Sarah Lawrence
September 5th 2021
As many families celebrate Father's Day today, Sarah Richards finds it one of the toughest times of the year as she thinks of her dad Ian Gray who has been missing for almost six years.
"All we hope is for Dad to come back or a phone call," she says.
Ian Gray has not been seen or heard from since but now the police investigation is being reopened.
Murray River Police have established Strike Force Kirkne to investigate the circumstances surrounding Mr Gray's disappearance.
Mr Gray, then 66, was last seen leaving his farm at Bunnaloo, just north of Moama on the New South Wales-Victoria border, on the morning of Friday, September 11, 2015.
The renowned sheep farmer drove off in a ute – a white Holden Rodeo 4WD with a stock crate on the back – bearing registration AG4 6AJ.
He also took about $3,000 with him but left his wallet, drivers licence and phone.
His wife was inside the house and their son Paul was on the verandah talking to his wife on the phone when Mr Gray filled up his car with fuel before driving off.
A skilled bushman
Helen Gray said she was happy the investigation was being reopened, as she refused to give up hope of finding her husband of 21 years.
"We had a call from the coroner last year saying they are reviewing the case. I guess this is the next step," she said.
Ms Gray has gone to great lengths to find her husband.
In 2017, she drove up the east coast of Australia putting up flyers anywhere she could, including free camps, general stores in outback towns, and with any stock agent she would find. Her car was also plastered with her husband's photo and information.
"There was one time someone contacted me thinking they had seen Ian at a free camp. Police went and interviewed the person, even his wife said he looked like this – but it wasn't him. I guess everyone has a doppelganger."
She also was supported by friends who did four private plane flights over the Murray region in the summer after Mr Gray disappeared.
"At the time in 2015, it was fairly dry, the dams weren't all that full and the Murray River was low as well.
"Police also checked all the cameras on the highway, checked bank accounts, checked Medicare records and reacted to any possible sightings."
Helen said her husband was a "bushman" who had the skills to be working on a remote farm.
"As a 14-year-old, he went droving. He just knows the country, terrain, back roads, all sorts," she said.
'At Christmas, I set an extra seat at the table'
Ms Richards said the hardest part was not having an answer to what happened to her loving father.
"At Christmas, I set an extra seat at the table with a fork, knife, plate and bowl, hoping he returns," she said.
"Every day you wake up hoping for more answers.
"I say to people, 'Unless you've been through or you're going through it, don't comment, because it's just too traumatising.'"