Harold HOLT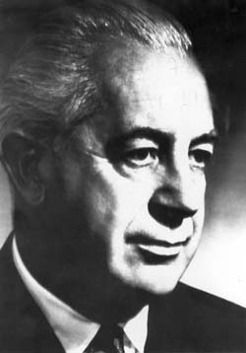 Holt, Harold Edward (1908–1967)
Harold Edward Holt (1908-1967), prime minister, was born on 5 August 1908 at Stanmore, Sydney.
'Young Harold' appeared to reach his nadir with the half-Senate elections on 25 November 1967. The government's share of the popular vote of 50 per cent in 1966 fell to 42.8 per cent at a time when hostile anti-Vietnam demonstrations were clearly unsettling him. Yet he ended the political year with a triumph. Immediately before the Senate polls, the government decided not to follow Britain in devaluing the currency. (Sir) John McEwen, deputy prime minister and Country Party leader, and a long-standing and good political friend, returned from overseas and publicly attacked the decision, thereby threatening coalition unity. Holt met McEwen in private on 12 December, warned him that, with a few expected Country Party defections, the Liberal Party could and would govern alone if McEwen continued to defy a cabinet resolution, and published a detailed rebuttal of the deputy prime minister's statement.
Despite a year of setbacks, Holt had won a crucial political battle. Worn out, he was not depressed when he left Canberra for the last time on Friday 15 December for a weekend at the family home at Portsea on Victoria's Mornington Peninsula. He intended to come back on Monday, fresh as ever because Portsea always worked a miracle cure, with plans for ministerial changes in the New Year and a major statement announcing a switch in foreign policy giving emphasis to European affairs.
Zara stayed behind in Canberra. Harold played tennis and relaxed with friends throughout Saturday. On the morning of Sunday 17 December 1967 he collected a neighbour Marjorie Gillespie, her daughter and two young men, and together they watched the lone English yachtsman (Sir) Alec Rose sail through the Heads. The party then went to Cheviot Beach where Holt changed into his swimming trunks, said that he knew the beach like the back of his hand, and, soon after midday, entered what everyone later agreed was a fierce and high surf. Harold was seen swimming freely out to sea when turbulent water suddenly built up around him and he disappeared. Help was called, a major rescue operation was mounted, and Zara and the immediate family arrived. By nightfall some 190 people were looking for the prime minister without expecting to find him alive. The search was scaled down on 22 December and officially terminated on 5 January 1968. Holt's body was never found.
A service attended by two thousand official guests was held at noon on 22 December in St Paul's Anglican Cathedral, Melbourne. An estimated ten thousand mourners and Christmas shoppers listened to the service relayed by loudspeakers. The overseas dignitaries included a tearful President Johnson, Harold (Baron) Wilson, the British prime minister, the Prince of Wales and senior representatives of twelve Asian nations. Archbishop (Sir) Philip Strong, the Anglican primate, spoke of 'fidelity' as the mark of the man's life and work, and dwelt on Holt's commitment to Asia, to the maintenance of freedom among free peoples and to the liberation of those living under tyranny. Memorial services were held on the same day or later throughout Australia and in other parts of the world.
Considerable speculation followed Holt's disappearance. Every summer, Australians of all ages do foolish things in the water, and drown. Some commentators, nevertheless, found it impossible to believe that a prime minister, who was not in fact a strong swimmer, who had a sore shoulder and who entered a dangerous sea, could have acted foolishly. His customary fearlessness, a desire to 'show off', the likelihood of his being stunned or dragged down by debris, a simple miscalculation: these explanations were considered insufficiently momentous to match the gravity of the event. Stories circulated that he was distracted by political troubles, or that he had committed suicide, fulfilling his own premonition of not living beyond 60. Those best placed in December 1967 to judge his state of mind remain adamant that Harold, the life affirmer, was in good spirits, and that he was already thinking of a time beyond politics at Bingil Bay, near Innisfail, Queensland, where he and Zara had a shack and a virtually private beach, and which he described as his 'Shangri-La'. The probability is that the prime minister was simply another statistic of an Australian summer.