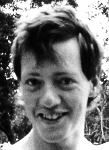 DOB:
1971
HAIR:
Red
BUILD:
Thin
EYES:
Green
CIRCUMSTANCES:
Graham Monk was last seen about 6:30pm on Saturday, 12 June, 1993. He left the Wallsend, NSW area and has not been seen since. He took no clothing with him and concerns are held for his welfare.

Reported missing to: Missing Persons Unit.
12 June 1993: Graham Monk, 20, of Wallsend, was last seen filling his car at Hexham. The black 929 station wagon was later found, with the keys still in the ignition, on Quarry Road, a seldom used dirt track, near Barrington Tops.