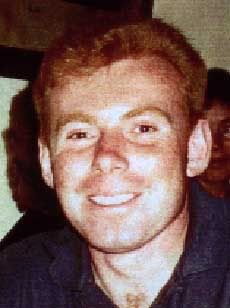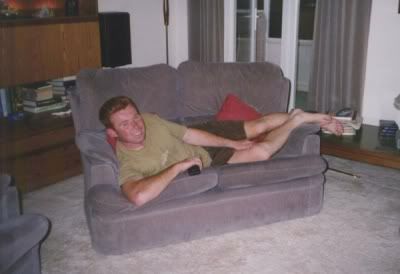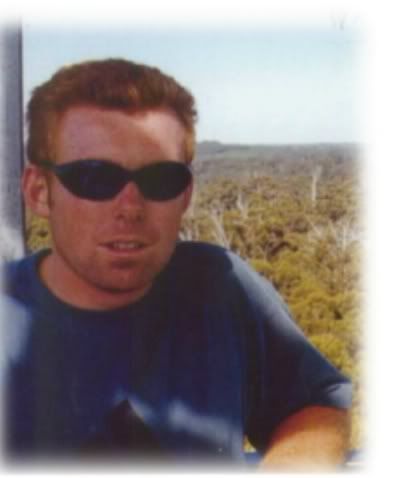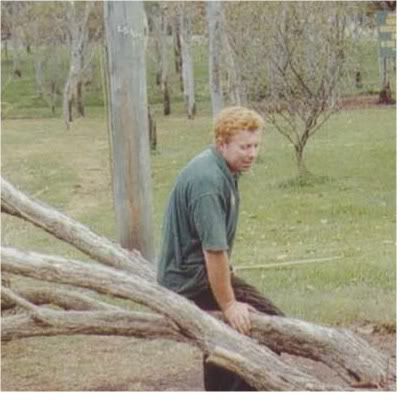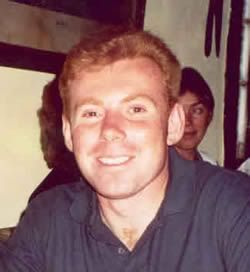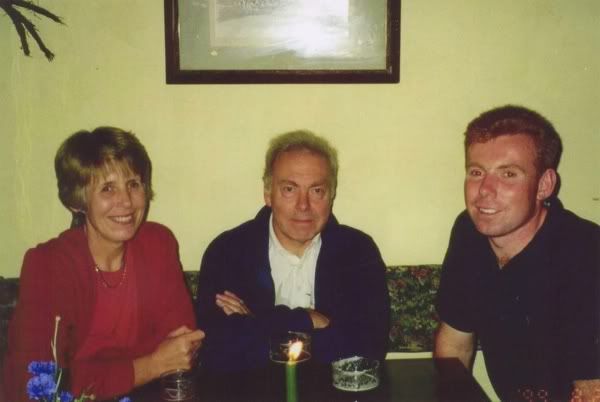 Steve and his parents, Lesley and Dave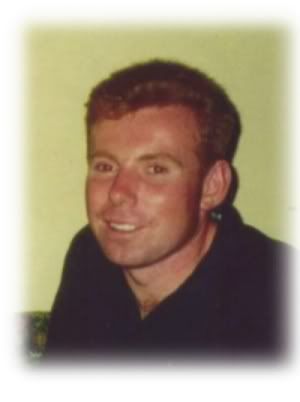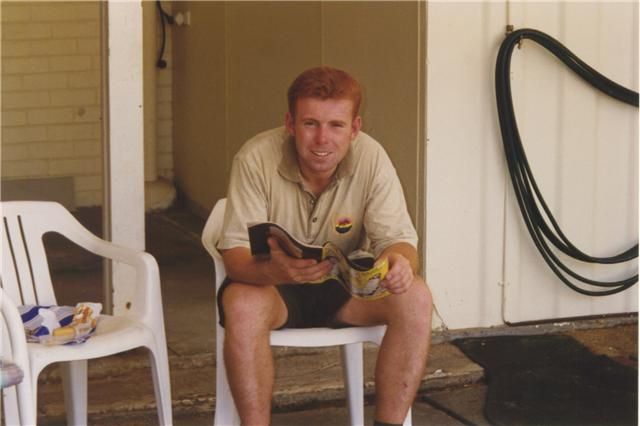 Steven Goldsmith on an Australian holiday with his parents David and Lesley. It was this visit that led to Steven moving to Australia permanently.
10 July 2010.
Steve - It is 10 years since we have heard from you, we miss you more than ever - wherever you are, whatever you're doing please contact us or Nicole to let us know that you are OK. Lots of love Mum, Dad and Ian
*0422 341 955** nicole@australianmissingpersonsregister.com
**************************************************************************************************************************************
July 2010 - Steve has been missing for ten years. Ten long years of not knowing but imagining the worst, for his family.
This is an appeal to the person who made the anonymous phone call a week ago - I live close by and would love to meet you for a coffee and talk about the information you passed on, I will keep your identity absolutely confidential, just an informal chat over coffee but I feel what you have to say could be vital. Please call me - Nicole - 0422 341 955 or nicole@australianmissingpersonsregister.com
I am in constant contact with Steve's parents and brother who are like family to me and they are desperate to know what has happened to their son, who they love so dearly and miss every day.
************************************************************************************************************
April 2008
Dear Steve
It is now almost 8 years since your last cheerful phone call from Australia to us here in the UK. Since then we've thought of you constantly, missed you terribly and hope that you are well and happy.
We check your page regularly on Nicole's website and notice that many others do too. If you, someone who knows you or maybe someone who knows what has happened to you reads this, PLEASE, PLEASE contact Nicole by telephone* or through her website** and she can immediately pass on any message.
All our love
Mum, Dad and Ian
*0422 341 955
Steven Goldsmith
D.O.B:
1972
Height:
175 cm
Complexion:
Fair
Eye Colour:
Brown
Hair Colour:
Ginger
Build:
Medium
Tattoo(s)/Marks:
Tattoos on both upper arms and on one shoulder blade. Has a slight limp when walking.
Last Heard:
At his residence, New Farm, Brisbane on or about 10 July 2000. When his friends did not hear from him in the following three weeks they reported him missing. Steven was employed as a tree surgeon in Toowoomba. He enjoyed fishing and camping.

Steven is originally from the UK and will have a British accent. His nickname is "Goldie". He walks with a limp due to an accident falling from a tree while he was working. Steve's tattoos are of an eagle and a skull with top hat.

There was an anonymous call made to Brisbane police about Steve's disappearance shortly after he went missing - please, please if that was you, please call them again and let them know any more info that you have. You can contact me instead if you like, totally anonymously. We don't need to know who you are, just where Steven is. Please e mail me - aussiemissing@internode.on.net or nicole@australianmissingpersonsregister.com

or mobile - 0422 341 955.

Steve, if you're reading this, I am in contact with your Mum and Dad every day and can pass on any message from you, it is breaking their hearts not to know where you are. If you don't want to talk to them, talk to me instead. Please, please, just let me tell them you're alive.

************************************************

Steve's mum Lesley would like to send this message directly to her son, who she misses terribly. Steven's parents have travelled to Australia from their home in the UK several times to search for their son.

"Hi Steve

If you (or someone who knows you) are able to read this, we hope you
are well and happy.

We think of you all the time and miss you very much. We'd love to hear that your're OK and if you're still climbing trees! If you don't want to contact us direct perhaps you'd rather send a message through Nicole on this website.

All our love from
Mum, Dad and Ian
plus your friends in Australia and the UK who often ask for news of
you. "



If anyone has any info at all about Steve's disappearance, PLEASE call Crimestoppers on 1800 333 000
AAP General News (Australia)
10-03-2000
Qld: British parents make plea to missing son to call home

The parents of a missing British man have made a desperate plea for their son to call
home, almost three months after he mysteriously disappeared in Brisbane.

Tree surgeon STEVEN JAMES GOLDSMITH was last seen by friends on July 5, and on security
cameras withdrawing cash from automatic tellers in Brisbane's west and inner-city on July
10.

His parents DAVID and LESLEY, who flew to Australia from England to launch a nationwide
public appeal to find their son, today said he had effectively vanished.

The 28-year-old red head was given Australian ...
(sorry, that's all I could find of this article!)
Missing man's family happy with Toowoomba visit
Posted Tue Jan 25, 2005 9:50am AEDT - ABC
A British family searching for their son who disappeared four-and-a-half years ago says they are glad they have travelled to Toowoomba.
David and Lesley Goldsmith say son Steven worked as an arborist on the Darling Downs after his arrival in Australia in 1995.
He was 28 when he went missing from his home in New Farm in July 2000.
David Goldsmith says their visit to Toowoomba gave them the opportunity to meet his close friends.
"Having spoken to both his friends we feel a bit more positive about Steven," he said.
"One of the problems that the police have was whether Steven was just an ordinary guy or whether he had some sort of alternative life in Fortitude Valley.
"I think we're far more positive now having spoken to his friends from Toowoomba that he was really quite a normal sort of guy."
Son still missing after 10 years
LAST Tuesday, on the day he turned 38, Steven Goldsmith ate, drank and celebrated with the people he loves.
Or that is what his family can only hope happened.
Steven went missing 10 years ago and, with the anguish of another anniversary, his parents David and Lesley Goldsmith are launching a desperate bid to finally shed some light on his disappearance.
The British migrant was working in Toowoomba when he said goodbye to friends and vanished on July 6, 2000.
A professional aborist who moved to Australia in 1996, the last definite sighting of Steven was on camera at an ATM in outer Brisbane, three days after he left Toowoomba.
The Goldsmiths will travel from Oxford, England, later this year to speak with police and again raise the profile of their son's case.
They will visit Toowoomba where they will talk with Steven's friends and meet with Nicole Morris, who runs the Australian Missing Persons' Register.
"Nicole has been a tower of strength to us since we made our first contact with her over four years ago," Steven's father David Goldsmith, in his first Australian interview in almost five years, told The Chronicle.
Mr Goldsmith admitted the lack of a breakthrough in the case had taken a heavy toll on the family.
"He has completely disappeared," he said.
"There has never been any positive response to media publicity and, while there have been a couple of reports to police, the informants were not found to be reliable.
"We hope that it being the 10th anniversary maybe just someone, somewhere will come forward with some new information."
In October 2007, a Coroner's report concluded Steven was "dead, although I am unable to make any finding as to the circumstances of his death".
While difficult to accept, Mr Goldsmith said knowing his son, he agreed it was unlikely Steven was still alive.
"We have no idea whether he's dead or alive but in view of the fact that he always contacted us by phone or letter very regularly we can only assume that something untoward has happened to him," he said.
The Goldsmiths will visit Australia in October.
Caller says missing man is alive
A FLICKER of hope has shone on the case of a missing Toowoomba man after almost a decade shrouded in darkness.
In the week of the 10th anniversary of Steven Goldsmith's mysterious disappearance, a Toowoomba health worker has made an anonymous phone call claiming to know the whereabouts of the 38-year-old.
She told The Chronicle she had met Steven in Normanton, where he was homeless.
The call was the first regarding the case since the months immediately proceeding Steven's July 2000 disappearance.
It came a fortnight after The Chronicle published the first interview in four years with Steven's father David Goldsmith, in which he revealed a trip to Australia from England was being planned in another desperate bid to locate his son.
Nicole Morris, the creator of the Australian Missing Persons Registrar, hailed the anonymous phone call as a long-awaited breakthrough in the case.
"This phone call is exactly what I want the anniversary to bring forth," she said.
Ms Morris said she expected Steven's family to take solace from the phone call considering it had been more than a decade since they had seen their son.
"It's one of those milestones where you have to ask how can it be 10 years." Ms Morris said.
"But it's just not right.
"Ten years is an atrocious amount of time for (the family) to wait."
Toowoomba CIB have forwarded the information from the anonymous caller to Normanton district police to be investigated.
Steven was living and working in Toowoomba as an aborist when he said goodbye to friends and vanished on July 6, 2000.
The last confirmed sighting of the British migrant was at an ATM in an outer Brisbane suburb three days after he left Toowoomba.
In October 2007, a coroner's report concluded Steven was "dead, although I am unable to make any finding as to the circumstances of his death".
This page has been visited
times.