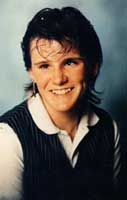 Responsible jurisdiction:
Circumstances
At about 7pm on the evening of Friday, 15 May 1992, 14 year old Radina Djukich left her home address in Edgefield Way, North Beach. She later spoke to her mother by telephone, the last contact between the two. Radina was reported as a missing person the following morning.
The person or persons responsible for Radina's disappearance have not been identified.
If you have information that may assist police to locate Raymond please call Crime Stoppers on 1800 333 000.

Missing since May 16, 1992 from Perth, Western Australia.
Date Of Birth: July 29 1977
Age at Time of Disappearance: 14 years old
Height and Weight at Time of Disappearance: 5'3" - 160 cm.
Distinguishing Characteristics: White female. Blue eyes, auburn hair.
Marks, Scars: She has a noticeable turned left eye.
Clothing: Blue jeans ("JAG" brand), red jumper and sports shoes.
Circumstances of Disappearance
Radina Djukich was reported missing by Ronald Joseph Buckland on May 16, 1992, six weeks after she was released into his care after an appearance in the Children's Court.
At the time, Buckland was on parole after serving part of a six-year sentence for breaking and entering. He had an extensive criminal record, including convictions for assault and armed robbery. In 1982, he had been declared an habitual criminal.
Buckland was not Radina's father in any legal sense, yet the Children's Court released her on a $1000 surety with the condition that she lived with Buckland and observed a 7pm to 7am curfew.
When she disappeared Buckland said she had run away interstate.
A year later, Buckland murdered his 18-year-old girlfriend, Vicki Robinson, after an argument, and buried her body in bush near Yanchep. He is serving a 20-year sentence for the crime.
In 1996, Buckland told police Radina had been murdered but denied responsibility. He led officers on an unsuccessful search for her body around the Star Swamp in the Perth suburb of North Beach.