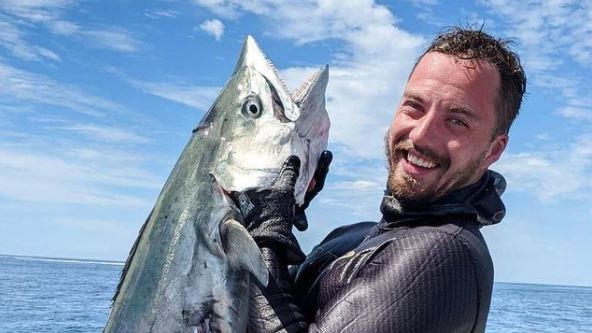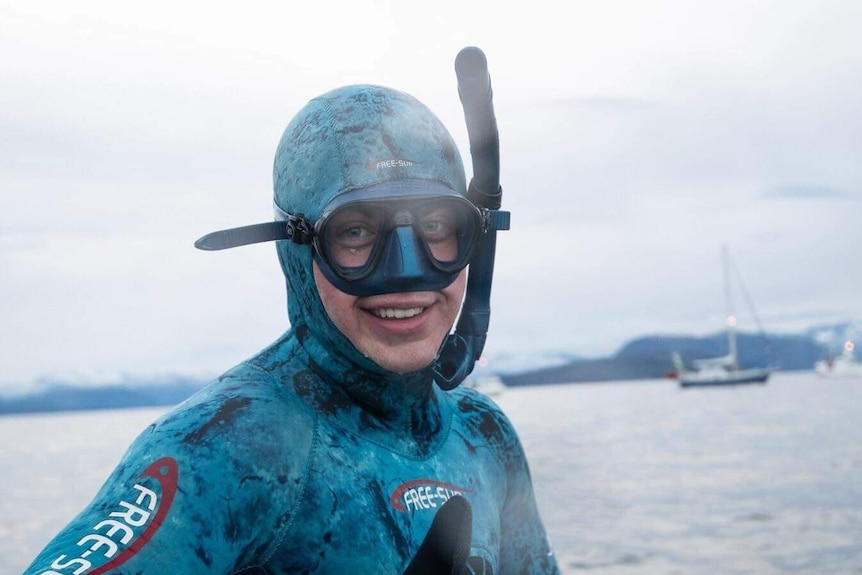 Missing diver's final Instagram post before disappearing
A 26-year-old diver who went missing off the Queensland coast shared a haunting story to Instagram just hours before he vanished.
Norwegian diver Didrik Hurum was with a group of divers east of Point Lookout off Stradbroke Island at around 10.10am on Wednesday.
Mr Hurum failed to return to the boat and police commenced a search and rescue operation at 10.45am.
Just hours before he went missing, Mr Hurum shared a video to his Instagram stories of the sun rising over the water as he headed out to sea.
The search for Mr Hurum continued on Thursday, however his family back in Norway has been told to brace for the worst.
"I've been very frank with the family with what I believe occurred and it's very unlikely that young Didrik is alive," Mitch Gray from the Queensland Water Police said on Thursday.
He added it is possible Mr Hurum may have blacked out while under the water.
Nine News reported Mr Hurum has been living on the Gold Coast for the past few years as he studies at Griffith University.
On his Instagram, Mr Hurum shared several photos and videos of him spearfishing.
His friend Brad Corbett told Nine News he treated Mr Hurum like a little brother and took him under his wing.
"Everyone that's close to him still can't believe it and we're all in shock," he said.
Theories emerge into how experienced Norwegian diver went missing off Stradbroke Island
Police are scaling back their search for 26-year-old Norwegian diver Didrik Hurum, who went missing off North Stradbroke Island on Wednesday.
Senior Sergeant Mitch Gray from Queensland Water Police said it was "very unlikely" Mr Hurum remained alive.
He said stronger currents today had worsened underwater visibility, impeding the search.
"Yesterday the search conditions were really good, today they've deteriorated throughout the day," he said.
"It's very challenging for our police divers.
"It's very dirty and on the surface now the winds starting to pick up and our crews are reporting less than ideal search conditions."
Mr Hurum was free diving and spearfishing with three friends at Flat Rock dive when he went missing 20 to 30 metres underwater.
Senior Sergeant Gray said it could be a case of "shallow water blackout", in which high carbon dioxide levels could a person to pass out.
"It is one of the highest risk activities that you can do underwater and certainly [shallow water blackout] is a part of that game," Senior Sergeant Gray said.
"You're in mother nature in its wildest form and you're holding your breath, sometimes down 38 metres for minutes at a time – things can go wrong."
'Alternate theories on how Mr Hurum went missing'
Police believe it is possible Mr Hurum unclipped himself from his weight belt and floated to the surface, so searches are being conducted both above and below water.
"We've conducted a sub-surface search using police divers, and a surface search using police vessels, volunteers and aerial assets."
Mr Hurum is a very experienced free diver and was studying marine biology in Australia.
"He's very fit, it's definitely a part of his world," Senior Sergeant Gray said.
His family have been briefed about what is likely to have happened and are "absolutely devastated".
"Your son who is only a short way through his life, has potentially had his life taken away from him, albeit doing something that he loves but it's still absolutely devastating."
Senior Sergeant Gray said the search would be scaled back, but reassessed daily.
He is urging people to have discussions on safety before heading out on the water to ensure everyone is aware of what to do in an emergency.
"Potentially a conversation before the boat left the boat ramp might have been the difference or might have assisted in locating the missing person quicker," Senior Sergeant Gray said.
"Have a conversation about what you would do in a worst-case scenario and about where your safety equipment is located in case something happens to you."
AUTHORITIES have suspended the search for missing free-diver Didrik Hurum who failed to resurface when spearfishing near Stradbroke Island.
Water police suspended the search on Monday after scaling back their efforts over the weekend.
Mr Hurum, a Norwegian National who was residing on the Gold Coast, disappeared while free-diving about 6km northeast of Point Lookout with three other men on Wednesday.
It's believed he was swimming between 20-30m below sea level when he failed to resurface. Police divers have recovered a speargun from the reef.
Mr Hurum's devastated family in Norway were told early in the search that it was unlikely he was alive.
Brisbane Water Police Senior Sergeant Mitch Gray confirmed the search had been suspended.
"They (Didrik's family) know that as of (Monday) that the search has wound up," he said.
"They knew it was coming. We talked every day so they understood that we couldn't search forever for him, and they understand the chances of finding him are very remote."
Sen-Sgt Gray said there was an "element of unknown" as to what had happened but the "most likely cause" was a shallow water blackout.
He urged people to dive within their capabilities, have a "dive buddy" and have an emergency plan in place in case anything were to happen.
It followed a similar warning by the last man who spoke with Mr Hurum before he disappeared, who issued a plea to divers to know their limits in the wake of the tragedy.
Antony Sercombe wrote in a social media post that he feels a "natural sense of responsibility" as the boat owner and described travelling back to land a man short as "eerie".
BOAT SKIPPER'S LAST WORDS WITH MISSING DIVER
THE last person to see free diver Didrik Hurum before he disappeared in waters near Stradbroke Island says he feels a "natural sense of responsibility" as the boat owner and described travelling back to land a man short as "eerie".
Diver Antony Sercombe, who did not know Mr Hurum but invited him on the diving trip, has issued a plea to divers to know their limits in the wake of the tragedy.
Mr Hurum, a Norwegian National who was residing on the Gold Coast, failed to resurface while free diving about six kilometres northeast of Point Lookout with three other men on Wednesday.
Mr Hurum, an experienced diver, has not been found despite a large-scale search. His family have been told it's unlikely he is alive.
In a lengthy social media post, Mr Sercombe revealed he had been "hesitant" to have Mr Hurum along, not knowing him but was reassured he was competent by other divers. Mr Sercombe had only days earlier saved another diver from a blackout, the post said.
In their first drift Mr Hurum shot a "big Mackerel" but while reeling in the fish was seen having a "samba" on the surface before he "came to it" after 10 seconds, according to the post.
Mr Hurum then spent an hour back on the boat, but returned to the water later with Mr Sercombe and appeared to be taking it easy, Mr Sercombe said.
"I made a dive in around 30 metres of water but pulled up a few metres from the bottom just out of caution because of the conditions and what happened earlier," Mr Sercombe wrote to Facebook.
"I reached the surface right next to Didrik. His last words to me were 'are we still on the reef' which I said 'yes' yet knowing we were approaching the southern end where it tapers off to 40 metres plus.
"He made a dive within a minute or so and that's the last I saw of him.
"After a few minutes of drifting without me or the boys in the boat seeing him I deep down knew what had happened but hoped he was just drifting in the sun's glare.
"After 40 minutes of searching in the boat we called the authorities to start a search but we knew what had happened. From there police divers have found his speargun on the reef, still loaded but nothing else.
"Being the boat owner I have felt this natural sense of responsibility and that I could have done things differently also. I wouldn't wish the feeling and eeriness of driving back to the ramp with one person less than you left with in the morning."
He urged "spearos" that the sport wasn't all about "diving deep and long"
"There isn't a benchmark in time or depth that you have to hit to be considered "good".
"And for the guys pushing deeper water; slow down! It's a marathon not a sprint and it takes time to progress."
Mr Sercombe added: "My heartfelt thoughts and condolences go to Didrik's family and friends. I couldn't imagine the pain and heartache they must be feeling being stuck on the other side of the world knowing their boy isn't coming home."