Rebecca DELALANDE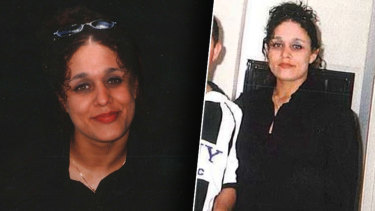 Responsible jurisdiction:
Circumstances
Rebecca Delalande has been missing since attending a dental appointment in Perth WA on 5 November 2001. Rebecca was known to frequent the Highgate and Mount Lawley areas. A man has been charged with her murder but Rebecca is still missing.
If you have any information that may assist police to locate Rebecca please call Crime Stoppers 1800 333 000.
Chris Blennerhassett charged with murder of missing mum Rebecca Anne Delalande
Kate Campbell | Tony Barrass
PerthNow
A MAN has appeared in court charged with the murder of missing mother Rebecca Anne Delalande.
Wearing a blue workers singlet, a tattoo on his left shoulder and clutching a crumpled and well-worn high-viz shirt behind his back, Chris Blennerhassett looked dazed when he appeared before Magistrate Richard Huston in Perth Magistrate's Court on Saturday.
He did not enter a plea and was remanded in custody to reappear on November 28.
Ms Delalande was 23 when she went missing after a dental appointment on November 5, 2001. She was last seen at a home on Fortunella Grove in Seville Grove soon after.
The young mother had one son who was six years old at the time she went missing. He has been raised by her family.
Cold case officers investigating her disappearance began searching a Bayswater industrial site on Friday.
Detective Senior Sergeant Craig Stephen from the Cold Case Homicide Squad said the search of the Bayswater industrial site would last for at least a few days and involve a crane needed to remove shipping containers and a concrete cutter. Forensic examination would not take place for a number of days. The area police are honing in on is at the back of two adjacent warehouses.
Workers on forklifts were busy removing items from the shipping containers Saturday morning.
Det Sen-Sgt Stephen said information from the public and police's ongoing investigation had led them to this area of interest. But he would not reveal details of any links between the accused man and this site, where it's believed "further evidence will be obtained", nor whether the accused and Ms Delalande were known to each other.
"We've spoken to the (Ms Delalande's) family, they're very pleased with the progression of our investigation," he said.
"(Ms Delalande's mother who issued a public plea this week) is pleased we've progressed so quick from when she's been reported, she still holds hope but she understands now that a process will take place and someone has been charged. She's thankful of that but there's still grieving she's feeling.
"Clearly members of the public did have information ... and we're hoping that there are still other people out there who can provide us information, so we ask them to come forward."
Det Sen-Sgt Stephen said the man charged, who was arrested yesterday morning, had been co-operative and assisted police with their inquiries.
He said police had no other information that would lead them anywhere else.
Cold case: Location of Perth mother's body still unknown as man charged goes for bail
A man accused of the murder of Perth mother Rebecca Delalande is alleged to have head-butted her before disposing of her body, a WA court has been told.
The allegations against Chris Blennerhassett for the 2001 murder of Ms Delalande – whose remains have not been found – were read out for the first time in the WA Supreme Court on Wednesday during an application for bail.
But Mr Blennerhassett, 45, will have to wait until Friday to find out if his bail application has been successful after Justice Joe McGrath reserved his decision.
On Wednesday the court was told the state's case against the 45-year-old Rockingham man hinged on several witnesses who claim Mr Blennerhassett head-butted the 23-year-old mother at a house, before carrying her limp body to a car which he then drove off in.
The state also alleges Mr Blennerhassett made some admissions to one witness about what occurred but that the group kept what happened and what they saw as a secret between them.
Mr Blennerhassett was only charged with murder late last year just several days after police and Ms Delalande's mother launched a fresh appeal for information about her disappearance.
Police have previously said Ms Delalande was last seen at a home on Fortunella Grove in Seville Grove on November 5, 2001.
Police spent several days searching an industrial property in Bayswater after Mr Blennerhassett was arrested.
Up until now it has been unclear what - if anything - police found at the Bayswater site.
But in court on Wednesday it was confirmed Ms Delalande's remains had not been recovered.
Mr Blennerhassett has pleaded not guilty.
Defence lawyer Tom Percy QC said on Wednesday the state's case against his client was beset with problems.
Mr Percy told the court one of the witnesses the state would rely on had a "raging drug habit" at the time, and criminal convictions for fraud and stealing.
"Without him, there is no case against this man effectively," Mr Percy said.
"This entire case is a grey area ... verging on speculation. There is no body, no known cause of death available to us."
State prosecutor Nick Cogin said it would be alleged Mr Blennerhassett caused Ms Delalande's death, disposed of her body and was the last person seen to drive away with her.
"The consensus of the witnesses was that she was in need of medical attention," he said. "She didn't get it ... her demise occurred that night."
Mr Percy said his client could raise a surety of up to $100,000 for bail, was in a serious domestic relationship and had children whom he saw often.
But Mr Cogin raised concerns some witnesses could be "interfered with" should Mr Blennerhassett be granted bail.
Justice McGrath is expected to hand down his decision regarding bail on Friday, Mr Blennerhassett was remanded in custody until then.
Safe to missing to murder charge: Bizarre cold case of Perth woman Rebecca Delalande
A MAN is behind bars accused of murder, a family is grieving and police are preparing to dig up a potential grave site in industrial Bayswater after a major breakthrough in the cold case of a woman no one knew had been missing for 16 years.
The bizarre murder mystery moved a step closer to being solved yesterday when cold case homicide squad detectives charged 45-year-old Rockingham man Chris Blennerhassett with murdering young mother Rebecca Anne Delalande, who was last seen alive 17 years ago this month.
Just days earlier, police and Ms Delalande's mother Doreena Kunoth had made a public plea for information after it came to light that no one had seen or heard from her in many years and police feared she had been the victim of a "serious crime".
It was only by luck that police realised Ms Delalande was missing after contacting her mother late last year wanting to speak to her as a witness in a separate investigation and were unable to track her movements since November 2001. Ms Delalande and her family had a fractured relationship, with her relatives assuming the young woman, who was known to disappear for long stretches, had moved, possibly interstate, to start a new life.
Police's ongoing investigations and "credible" and "verified" information from the public received since Wednesday's appeal led them to the site of two warehouses on Mooney Street in Bayswater.
Yesterday, heavy duty equipment — including a crane to remove shipping containers in the back corner of the industrial block behind the warehouses and a concrete cutter — were used in the search, which is expected to last several days. The forensic dig is not expected to start until tomorrow.
Det-Sen. Sgt Craig Stephen, from the cold case homicide squad, declined to reveal whether Mr Blennerhassett and Ms Delalande were known to each other.
He said police believed "further evidence" would be obtained at this site, but would not put a time limit on how long the process would take.
"At this stage I won't say what the link is between the accused and the (Bayswater) premises, but we have sufficient information to lead us here today," Det-Sen. Sgt Stephen said.
"(Despite someone being charged) we're hoping people from the public can still come forward and provide information we can piece together into what happened to Ms Delalande."
He said Ms Delalande's family had been informed of the latest development and were pleased police had progressed so quickly since the appeal.
"She (Ms Delalande's mother) still holds hope but she understands now that a process will take place and that someone has been charged, she's thankful of that, but there's still grieving that she's feeling."
Det-Sen. Sgt Stephen said the site of particular interest had been in "different people's hands over the years" and been used as a storage unit. Police had no other information leading to any other location, he said. Yesterday morning workers on forklifts were seen removing items stored in the shipping containers as detectives and forensic officers organised the logistics.
Mr Blennerhassett, who was arrested on Friday morning, had been "co-operative" and assisted police with their inquiries, Det-Sen. Sgt Stephen said.
In Perth Magistrates Court yesterday, Mr Blennerhassett — wearing a blue worker's singlet, with a tattoo visible on his left shoulder and clutching a crumpled and well-worn high-vis shirt behind his back — looked dazed as he appeared before Magistrate Richard Huston.
He was only in the dock briefly, did not enter a plea and was remanded in custody to reappear on November 28.
It is unclear exactly when and where police allege Ms Delalande was murdered.
Ms Delalande was 23 when she was last seen at a home on Fortunella Grove in Seville Grove with friends on November 5, 2001.
Earlier in the week, Ms Kunoth said her daughter had taken up with the "wrong crowd" and it was common not to have any contact with her for six to 12 months at a time.
She said it was her "worst nightmare" when detectives contacted her to confirm her daughter was missing, but still held out hope she was alive."I have carried this with me for many years and there's not a night I didn't pray and fall asleep crying," she said. "To get that knock on the door and to see two detectives telling you your daughter is missing confirmed my worst nightmare for me. I have still got that hope she's alive somewhere out there."
She pleaded with anyone with information to "have a conscience" and go to police and help provide the answers she was desperate for.
"I need to know, good or bad, if my daughter is alive or deceased because I've been carrying this for a long time in my heart," Ms Kunoth said.
Police said around the time of her disappearance Ms Delalande was having challenges in her life and did not have a job or permanent home, but was known to spend time in the Highgate and Mt Lawley areas.
TOP FRIEND WHO LOST HER WAY
PERTH woman Marie-Clare fondly remembers her old school friend Rebecca Delalande as a fun, funny and genuine person, recalling the last time they spoke was the same day the then-teenager had her baby.
Marie-Clare, who did not want her surname published, spoke to The Sunday Times yesterday in shock over news that her old schoolmate at Chisholm College had been allegedly murdered and that none of her family or friends had known — until police pieced it together last year — that she had been missing since 2001.
"She was quite proud of her baby, so much so that she rang me up. She just had the baby that day. I'd seen her a month before, I guess when you have a baby you want to tell everyone," Marie-Clare recalled of her last conversation with Ms Delalande, who would have been 17 or 18 when she gave birth.
Ms Delalande's son was adopted out as a young boy, before she vanished. He would now be 23, the same age his biological mother was when she was last seen alive.
The friends remained in touch for a few years after Ms Delalande left Chisholm College to go to another school when she was about 15. But they gradually lost contact, as Ms Delalande's life spiralled out of control.
"It's sort of a shock, but to be honest to most people who knew her there was a rumour going around that she was dead ... comments on social media that she was someone from our school who had died," Marie-Clare said.
She believed Ms Delalande had been trying to get herself away from bad influences.
"But I think when you're in that horrible cycle it's easier said than done. She was trying to help herself. Whenever I saw her she was trying to get herself away from the group of friends she was hanging out with that weren't very good," she said.
"I just feel really, really sad because I really liked her as a person. She was someone who I considered a good friend. I wish I could just call her up and have a chat. It feels like she was a good person and bad things happened to her."
On Wednesday during a public plea for information, Ms Delalande's mother Doreena Kunoth said her daughter started heading into a "dangerous world" about the time she was 14 or 15, describing her as a "rebel, one who couldn't be controlled".
"She got into the wrong crowd very young. She got involved with drugs. My daughter walked the streets. Every now and again, six months here, 12 months there, she would come home knocking on my door, all hours of the morning, just to come in, have a shower, get dressed and she would take off again," she said.
Ms Kunoth recalled the last time she saw her daughter was the day of her son's confirmation, with the photo released by police this week taken on that "happy" day.
"When she was ready to leave I just looked at her and could feel it, that I wasn't going to see her for a long time," she said. "The only thing I could do is hug her and say to her, 'Remember I'm your mother and that I love you ... and that you've always got a home ... waiting for you'."
With tears streaming down her face, Ms Kunoth said others had asked her why she had not reported her missing all these years, but in her heart she had believed her daughter was alive.
Murder trial aborted for man accused of killing Rebecca Delalande, who had link to missing teen Lisa Brown
The trial of a Perth man accused of a cold case murder 18 years ago has been abandoned amid revelations new information has been uncovered about the disappearance of the alleged victim.
Chris Blennerhassett, 46, has been on trial in the Supreme Court for the past three days accused of fatally assaulting 23-year-old Rebecca Delalande at a house in Armadale in November 2001.
In an opening address, prosecutor Ben Stanwix said Ms Delalande's disappearance came to light in 2017, when police were conducting a cold case review of the investigation into another missing woman, 19-year-old Lisa Brown, who vanished from the streets of Highgate in November 1998.
Mr Stanwix said as part of the original investigation into Ms Brown, Ms Delalande, who was a sex worker, reported to police that she had been violently sexually assaulted around the same time and area, after getting into a man's car.
The cold case officers tried to contact Ms Delalande again, but could find no trace of her.
Murder charge after housemate's testimony
The court heard after getting information that she had been in a relationship with Mr Blennerhassett, police spoke to him, but he claimed the last time he saw her was when he dropped her off on Beaufort Street and made it clear he did not want any further contact with her.
But he was charged with murder after a man who was sharing a house with him at the time of Ms Delalande's disappearance claimed Mr Blennerhassett told him he had struck her to the head and she was dead.
Mr Stanwix said the man also alleged Mr Blennerhassett had told him he had burnt Ms Delalande's body in a 44-gallon drum.
He said while it was not known how Ms Delalande's remains were disposed of, Mr Blennerhassett had access to a factory unit in Bayswater where drums of nitric acid — which could "digest" human remains — were usually stored.
The court heard police conducted an extensive search of the unit in 2018, but nothing was found.
Mr Blennerhassett denied killing Ms Delalande, with his lawyer Justine Fisher telling the court she lived "a high-risk lifestyle" that included using and selling drugs and working as a street prostitute.
Ms Fisher also suggested the housemate who claimed her client had confessed to him — and who she described as "crucial" to the state's case — was "neither a reliable or truthful witness".
'Developments' force trial to be aborted
Today, after legal argument heard in a closed court, Justice Michael Corboy brought the jurors back into the courtroom and told them there had been some "developments" in the case.
"In the course of the first few days, evidence has come to light about the disappearance of Ms Delalande that requires further investigation," he said.
"It is necessary the trial be terminated to enable further inquiries to be undertaken."