Rebecca DELALANDE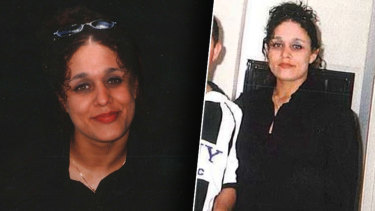 Responsible jurisdiction:
Circumstances
Rebecca Delalande has been missing since attending a dental appointment in Perth on 5 November 2001. Rebecca was known to frequent the Highgate and Mount Lawley areas.
If you have any information that may assist police to locate Rebecca please call Crime Stoppers 1800 333 000.
Chris Blennerhassett charged with murder of missing mum Rebecca Anne Delalande
Kate Campbell | Tony Barrass
PerthNow
A MAN has appeared in court charged with the murder of missing mother Rebecca Anne Delalande.
Wearing a blue workers singlet, a tattoo on his left shoulder and clutching a crumpled and well-worn high-viz shirt behind his back, Chris Blennerhassett looked dazed when he appeared before Magistrate Richard Huston in Perth Magistrate's Court on Saturday.
He did not enter a plea and was remanded in custody to reappear on November 28.
Ms Delalande was 23 when she went missing after a dental appointment on November 5, 2001. She was last seen at a home on Fortunella Grove in Seville Grove soon after.
The young mother had one son who was six years old at the time she went missing. He has been raised by her family.
Cold case officers investigating her disappearance began searching a Bayswater industrial site on Friday.
Detective Senior Sergeant Craig Stephen from the Cold Case Homicide Squad said the search of the Bayswater industrial site would last for at least a few days and involve a crane needed to remove shipping containers and a concrete cutter. Forensic examination would not take place for a number of days. The area police are honing in on is at the back of two adjacent warehouses.
Workers on forklifts were busy removing items from the shipping containers Saturday morning.
Det Sen-Sgt Stephen said information from the public and police's ongoing investigation had led them to this area of interest. But he would not reveal details of any links between the accused man and this site, where it's believed "further evidence will be obtained", nor whether the accused and Ms Delalande were known to each other.
"We've spoken to the (Ms Delalande's) family, they're very pleased with the progression of our investigation," he said.
"(Ms Delalande's mother who issued a public plea this week) is pleased we've progressed so quick from when she's been reported, she still holds hope but she understands now that a process will take place and someone has been charged. She's thankful of that but there's still grieving she's feeling.
"Clearly members of the public did have information ... and we're hoping that there are still other people out there who can provide us information, so we ask them to come forward."
Det Sen-Sgt Stephen said the man charged, who was arrested yesterday morning, had been co-operative and assisted police with their inquiries.
He said police had no other information that would lead them anywhere else.
Cold case: Location of Perth mother's body still unknown as man charged goes for bail
A man accused of the murder of Perth mother Rebecca Delalande is alleged to have head-butted her before disposing of her body, a WA court has been told.
The allegations against Chris Blennerhassett for the 2001 murder of Ms Delalande – whose remains have not been found – were read out for the first time in the WA Supreme Court on Wednesday during an application for bail.
But Mr Blennerhassett, 45, will have to wait until Friday to find out if his bail application has been successful after Justice Joe McGrath reserved his decision.
On Wednesday the court was told the state's case against the 45-year-old Rockingham man hinged on several witnesses who claim Mr Blennerhassett head-butted the 23-year-old mother at a house, before carrying her limp body to a car which he then drove off in.
The state also alleges Mr Blennerhassett made some admissions to one witness about what occurred but that the group kept what happened and what they saw as a secret between them.
Mr Blennerhassett was only charged with murder late last year just several days after police and Ms Delalande's mother launched a fresh appeal for information about her disappearance.
Police have previously said Ms Delalande was last seen at a home on Fortunella Grove in Seville Grove on November 5, 2001.
Police spent several days searching an industrial property in Bayswater after Mr Blennerhassett was arrested.
Up until now it has been unclear what - if anything - police found at the Bayswater site.
But in court on Wednesday it was confirmed Ms Delalande's remains had not been recovered.
Mr Blennerhassett has pleaded not guilty.
Defence lawyer Tom Percy QC said on Wednesday the state's case against his client was beset with problems.
Mr Percy told the court one of the witnesses the state would rely on had a "raging drug habit" at the time, and criminal convictions for fraud and stealing.
"Without him, there is no case against this man effectively," Mr Percy said.
"This entire case is a grey area ... verging on speculation. There is no body, no known cause of death available to us."
State prosecutor Nick Cogin said it would be alleged Mr Blennerhassett caused Ms Delalande's death, disposed of her body and was the last person seen to drive away with her.
"The consensus of the witnesses was that she was in need of medical attention," he said. "She didn't get it ... her demise occurred that night."
Mr Percy said his client could raise a surety of up to $100,000 for bail, was in a serious domestic relationship and had children whom he saw often.
But Mr Cogin raised concerns some witnesses could be "interfered with" should Mr Blennerhassett be granted bail.
Justice McGrath is expected to hand down his decision regarding bail on Friday, Mr Blennerhassett was remanded in custody until then.