Stacy Conrad De SIELVIE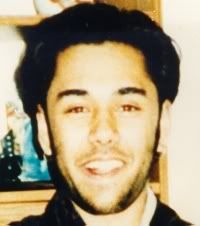 Date of Birth: 1972
Eyes: Grey
Hair: Brown
Height: 160cm
Build: Thin
Complexion: Olive

Circumstances: Stacy De Sielvie left his home in 1992 to work his way around Australia. Until April 1994 he was in regular contact with his family. His family last heard from him by phone on 20/4/94 when he called from Armidale NSW. He said that he was making his way back to Sydney, but he never returned to his residence and has not been seen or heard of since.
Stacy Conrad de Sielvie left Melbourne in 1992 to pursue his musical and literary talents in Sydney. During the following two years he kept in sporadic contact with his parents in Frankston.
In April 1994 he rang them asking for help with money. His family deposited funds into his account which he withdrew from the bank.
At the time Stacy was living with a family in Darlinghurst but he never returned to the house.
Stacy's parents are eager to speak with him but would abide by his wishes if he doesn't want contact with them. They only want to know that he is safe.
Stacy is Sri Lankan and 160cm tall with a thin build, black hair and grey eyes. He has a small scar on his right hand.