Lina GU and Xueying (Carina) GU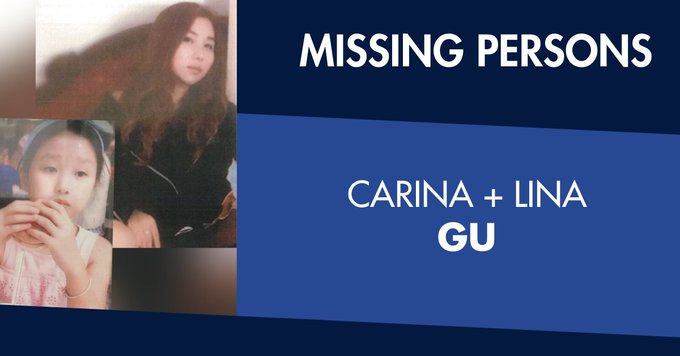 Carina -
Responsible jurisdiction:
Lina -
Responsible jurisdiction:
Circumstances
Lina GU and daughter Xueying (Carina) went missing from their family home in Aberfeldie in Victoria after leaving their address at 10:00 PM on the 6th of March 2020. Lina and Carina left in a white Audi A5 bearing registration, ATO506 after advising the reporting person that "I'm going outside. I am very busy".
Their disappearance is described as out of character and they have not contacted family or any friends.
Can you help us locate missing Aberfeldie mother and daughter Lina and Carina Gu?
The pair were last seen at their Antares Court home on Friday 6 March about 10pm.
Lina drives a white 2012 Audi A5 sedan, registration ATO 506, and frequents Crown Casino.
Police and family have concerns for Lina and Carina as their disappearance is out of character.
Flemington Police Station on 9371 6100