The Beaumont Children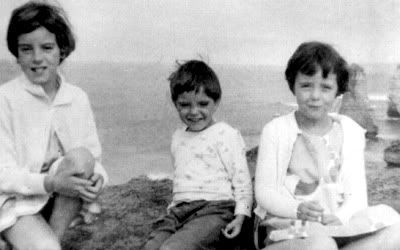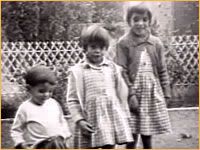 Jane, Arnna and Grant BEAUMONT
Missing - January 26th (Australia Day) 1966
Glenelg Beach, Adelaide
Circumstances - at 10am on the morning of January 26th, 1966, brother and sisters Grant (4 years), Jane (9 years) and Arnna (7 years) Beaumont caught a bus from their home in Somerton Park Adelaide a short distance to Glenelg Beach. They were seen at 11am playing with a young, blonde man on the Beach, in the park opposite the Beach and then walking away with him behind the Glenelg Hotel. Jane bought ice creams for her brother and sister and paid for them with money her mother had not given her.
The local postman came forward and said that he had seen the trio, alone, walking up Jetty Road away from the beach and toward their home at about 3pm. They were laughing and holding hands.
The children were expected to return home on the midday bus but failed to catch this bus. They have not been seen since this date.
*Click here for a comprehensive website dedicated to the Beaumont children, an unbiased account that I highly recommend.
Police re-open inquiries into Beaumont children's disappearance
The World Today - Thursday, 3 February , 2005 12:30:00
Reporter: Nick McKenzie

KAREN PERCY: Now to one of the country's most notorious unsolved cases – the disappearance of the Beaumont children from an Adelaide beach almost four decades ago.

And last night cold-case detectives from across Australia interviewed Victoria's longest serving prisoner about that case and five other unsolved murders. Derek Percy has been in prison since 1969 after he was arrested for killing a 12-year-old girl in Victoria.

Police there say interviewing him is only a preliminary step and may not yield results. Nonetheless, the story is dominating newspapers and reigniting speculation about a mystery that continues to haunt the nation.

Nick McKenzie reports.

NICK MCKENZIE: In Melbourne last night, Detectives from South Australia, Victoria and New South Wales interviewed prisoner Derek Percy about his possible connection to eight unsolved murders.

They include the murders of Christine Sharrock and Marianne Schmidt on Sydney's Wanda beach in 1965, the murder of 6-year-old Alan Redston in Canberra in 1966, the death of Simon Brook in Sydney in 1968 and the disappearance of schoolgirl Linda Stillwell from St Kilda in the same year.

But police also interviewed 55-year-old Percy about the disappearance of the Beaumont children – 9-year-old Jane, seven-year-old Arnna and 4-year-old Grant from Glenelg beach on Australia day in 1966.

It's his possible connection to the Beaumont mystery that's sparked so much attention this morning, although Victorian Police Chief Commissioner Christine Nixon say the development is, at this stage, far from a breakthrough.

CHRISTINE NIXON: I think that what we are doing is simply at the very preliminary stages. When we've got some more information, when in fact the investigators have had a chance to talk with this individual, then we'll certainly make more information available as we can.

These are very difficult issues and areas. They're old cases, the family's involved. You don't really want to raise their expectations until we're a lot clearer. We clearly have information, and that information will be put and when we've got further to say about the matter, we will.

NICK MCKENZIE: Prisoner Derek Percy was arrested in 1969 for killing a 12-year-old girl at Western Port Beach, but was found unfit to plead on the grounds of insanity.

Today, the Age newspaper reported that in interviews with authorities over the last few years, Percy has always remained evasive, but that notes and diaries seized from his cell detail plans to abduct and kill children.

It's also believed police can place Percy near the scene of the Beaumont children's disappearance and that there may be some similarities with the crime he was arrested for and other unsolved murders.

Police are stressing the interview of Percy last night is, at this stage, a very minor development. But it's not difficult to understand today's media interest. The moment the Beaumont children disappeared, the nation was fascinated.

This radio extract is from 1966:

RADIO EXTRACT: (Music in background) The biggest search of all was for the Beaumont Children – Jane aged 9, Arnna 7, and Grant 4. They disappeared in January after visiting a beach in Adelaide. In November, a Dutch clairvoyant, Mr Gerard Croiset, said he believed the children's bodies would be found under an Adelaide warehouse floor.

NICK MCKENZIE: Possible linking of Derek Percy to the Beaumont case comes after a number of instances where other prisoners have been mistakenly linked to the children's disappearance.

Associate Professor Colleen Lewis is a criminologist from Monash University. She says new technology is breathing life into cold cases, but that there are limits to what it can achieve.

COLLEEN LEWIS: With the advent of new technology with DNA and other technology, there is the possibility these days that cases that have been cold for some 20 or 30 years can be solved and we're seeing that more and more.

NICK MCKENZIE: Is there a danger, though, in this case, that, because the Beaumont case is really inscribed upon the nation's memory, that whenever there's a snippet about any progress or any step or any development in the case, that we get a bit ahead of ourselves and talk about a possible breakthrough?

COLLEEN LEWIS: I think it has a lot to do with hope. I think that people hope that we can solve this mystery, this Beaumont killing which has, as you say, occurs, is brought back into our memory, time and time again when we think that maybe this time there is a breakthrough.

KAREN PERCY: Criminologist Colleen Lewis from Monash University speaking to Nick McKenzie.
New lead in Beaumont case
May 11, 2004 - The Age
New Zealand police are investigating claims that three children who disappeared from Adelaide nearly 40 years ago may be living in Dunedin.

The disappearance of the Beaumont children has been one of Australia's most baffling cases.

Jane, 9, Arnna, 7, and Grant, 4, left their home to go to beachside Glenelg on Australia Day, 1966, and never returned.

Inquiries have now turned to New Zealand, after a man in his early 40s told a woman at a butcher shop he thought he had lived next door to the missing Beaumont children in Dunedin.

"He thought that because he recognised the children from a photograph he saw in an article in The Truth some years later," New Plymouth police Sergeant George White said.

Later, when the woman read a magazine article about the Beaumont case, she realised the man's claims may have been valid and contacted police.

New Plymouth police Senior Sergeant Fiona Prestidge today said police wanted to speak to the man to find out what he knew.

"We don't know whether it was some kind of community gossip or what," she told ABC radio in Adelaide.

"It may not be (that) he physically believed he recognised them but it was like he understood, he knew where they had lived and been raised.

"It's pretty speculative but then again, people might sit on information if they don't appreciate the weight of it.

"We really want to identify this man in the first instance, although if he doesn't come forward we've got avenues of inquiry to make down there (Dunedin)."

Every major division of the South Australian police, along with Scotland Yard and the FBI, have been involved in the Beaumont investigation, but neither the children nor their bodies have been found.

Clairvoyants were also consulted as conventional police methods failed.

Despite a dizzying array of theories and rumour, only one major lead has emerged.

Four witnesses, all of whom positively identified the children, said they had been with a tall fair-headed man.

SA police today said the Beaumont file was still open, with a full-time detective sergeant in charge of the case.

Every month the police received new calls about the Beaumonts but were yet to hear from New Zealand police, a SA police spokesman said.

"At this stage it's just a stalemate and we're still waiting," he said.

-AAP

Police keen to solve 40-year mystery
Wednesday Jan 25 14:00 AEDT

It's been 40 years since the three Beaumont children vanished from an Adelaide beach, but police have not given up hope of solving the mystery.

Jane, Arnna and Grant Beaumont were last seen with a tall, fair-haired man at Glenelg beach in 1965.

Detective Superintendent Peter Woite said police still receive regular tip-offs about the siblings.

He said it remains very much an "active case" even though Australia Day marks the 40th anniversary of their disappearance.

"Information is received on a regular basis regarding this matter," Supt Woite said.

"Any information received is investigated, (but) at this stage there is no new information."

The disappearance of Jane, then aged nine, Arnna, 7, and Grant, 4, is South Australia's most enduring mystery.

Police have followed up more than 10,000 clues and rumours, including one early report that the children were living on the Mud Islands, in Victoria's Port Phillip Bay.

An Adelaide warehouse was twice excavated after a Dutch clairvoyant said the children were buried under the building's brick kiln.

There were also suggestions they were alive and living in New Zealand.

Police have travelled to Tasmania and Victoria to interview convicted killers James O'Neill and Derek Percy but their investigations drew blanks.

Supt Woite said the case could still be resolved and urged anyone with information to contact Crime Stoppers on 1800 333 000.

New light on missing kids
Frank Walker - SMH
October 15, 2006

THE answer to the 40-year-old mystery of what happened to the missing Beaumont children is buried in the twisted mind of a child killer locked in a Tasmanian jail, a retired detective says.

Former Victorian detective Gordon Davie spent three years speaking to convicted child killer James Ryan O'Neill, 59, to win his confidence before filming him for an ABC documentary, The Fishermen, to be broadcast on October 26.

Mr Davie said although there was no evidence to link O'Neill to the disappearance of the Beaumont children - Jane, 9, Arnna, 7, and Grant, 4 - from an Adelaide beach on Australia Day, 1966, he was convinced O'Neill was to blame.

"I asked him about the Beaumonts and he said: 'I couldn't have done it. I was in Melbourne at that time.' That is not a denial."


Suspected mass child killer dies
By Andrew Rule - The Age
July 22 2002

Now no one will ever know if an old man called Arthur Stanley Brown was Australia's worst serial child killer. The retired Townsville carpenter, charged in 1998 with a notorious double murder - and suspected of others - has died, aged 90.
His death ends any chance of proving he was guilty, as police firmly believe he was, of the rape-murder of Mackay sisters Judith, 7, and Susan, 5, in Townsville in 1970.
But it also leaves unanswered questions hanging over other families robbed of their children.
Did Brown, subject of a Sunday Age investigation in July last year, abduct and kill other children over several decades - and not just in Queensland, where several cases remain unsolved?
Is it just a coincidence that he matched the descriptions of a thin-faced, middle-aged man who abducted Kirste Gordon and Joanne Ratcliffe from an Adelaide football game in August, 1973? Was he the same thin-faced man seen with the Beaumont children before they vanished from an Adelaide beach in 1966?
Brown not only took his secrets to the grave - he ensured his own death was kept quiet. He left instructions that no funeral notices be placed.
Only one of his second wife's daughters knows any details of his funeral, but when The Age reached her yesterday she wasn't talking. All that is known is that after his wife, Charlotte, died last April, he was put in a home at Malanda, north of Townsville. He died alone on July 6.
Brown has no known living blood relatives. His only kin are the children and grandchildren of two widowed sisters he married - the second one soon after the suspicious sudden death of the first.
Brown's name hit the headlines in 1998, after a woman broke a 30-year silence to tell police he had molested five children related to his first wife - often at the same spot where the Mackay sisters' bodies were found in 1970.
He had also owned a car in 1970 with one odd-coloured door, matching a description of one driven by the man who had abducted the Mackay girls. Relatives believe he replaced the door and buried it days after the murders.
Brown's first wife, Hester, crippled by arthritis, became a virtual prisoner in their neat fibro and timber house in Rosslea, an old suburb of Townsville. She died suddenly in May, 1978, from injuries Brown claimed she suffered in a fall.
Police believe the family doctor wrote out a death certificate without examining the body, which Brown had cremated immediately. Already close to Hester's younger sister Charlotte, a mother of five, he married her soon after.
Brown, a fit, wiry man, was unusually strong and obsessively neat, wearing pressed clothes to work as a maintenance carpenter on state government buildings. The Mackay sisters' clothes were found neatly folded near their bodies.
The evidence against Brown was strong but circumstantial. He twice blurted cryptic confessions to the Mackay girls' murders, once to a workmate and once to a stranger in a pub.
A Queensland jury could not reach a verdict in 1999, and a new trial was blocked on the ground that he was too senile to be tried again.
If Brown was a monster, what made him so? A stepson, Robert Neilsen, says Brown talked incessantly - but rarely mentioned children. "Except once, when the subject of little kids came up and he started to cry and said we had to look after the little children."
But Neilsen has no sympathy for the man his mother stuck with to the end of her life. "I can't believe such an insignificant little arsehole had such a profound effect on so many people's lives."
This page has been visited
times