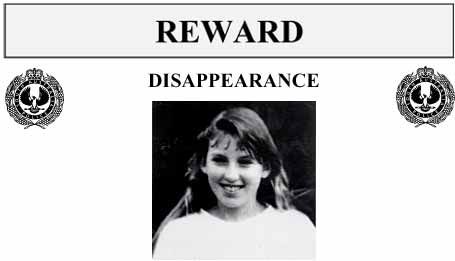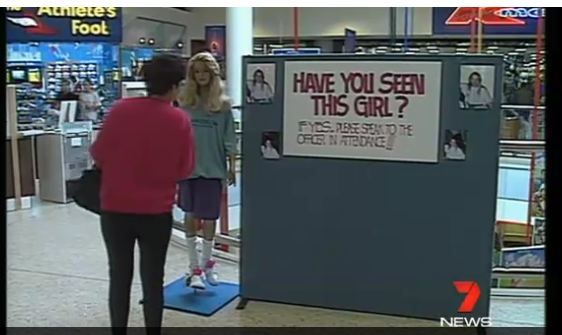 Rhianna Brenda Ann BARREAU
Date Of Birth: 1980
Age at Time of Disappearance: 12 years old
Height and Weight at Time of Disappearance: 5'1"; 90 lbs.
Distinguishing Characteristics: White female. Light brown to blonde hair below shoulder length; hazel eyes. Slim build and fair complexion.
Clothing: Purple shorts, green t-shirt with words Hypercolour across front, white socks and white Lynx sneakers with bright pink tongues.
At about 10.30am on Wednesday, 7 October, 1992 Rhianna Brenda Ann Barreau, 12 years, student of 47 Wakefield Street, Morphett Vale left her home and walked to the Reynella Shopping Centre where at 11.19am she purchased a Christmas Card from a newsagency.
Between 12.05pm and 12.30pm the same day, she was seen walking through the grounds of the Morphett Vale High School and the Stanvac Primary School carrying a small bag. At about 4.00pm the same day she was seen standing near the junction of David Terrace and Acre Avenue, Morphett Vale unaccompanied. Suspicious activites occurred at Acre Avenue, David Terrace, Highwray Avenue, and Crittenden Avenue Morphett Vale allegedly involving a Victorian registered white Torana. Her description is 158 cms, 44 kgs, slim build, hazel eyes, fair complexion, light brown to blonde hair below shoulder length wearing purple shorts, green 'T' shirt with words 'Hypercolour' across front, white socks and white 'Lynx' sneakers with bright pink tongues. Enquiries have failed to establish the whereabouts of Rhianna Barreau and it is suspected that she has been murdered. "Notice is hereby given that a reward of up to One Hundred Thousand Dollars ($100,000) will be paid by the Government of South Australia, at the discretion of the Commissioner of Police, to any person or persons who give information leading to the apprehension and conviction of the person or persons responsible for the murder of Rhianna Brenda Ann Barreau."
The assistance and cooperation of the public is earnestly sought in this matter. Any information, which will be treated as confidential, may be given to BankSA Crime Stoppers on 1800 333 000.
A member of the public posted this comment online in relation to the car Police were seeking and I feel this precise description is worth reprinting here -
"I still remember this case yet at the time of this crime police released a media request to the public in relation to a car seen in the area of Rhiannas home.the police were interest in speaking to the MALE driver of an early model 2door Holden Torana (white) with possibly VICTORIAN number plates. a few months after, police released a statement stating they were still interested in speaking to the driver & locating this vehicle.yet they were unable to trace this vehicle? nothing more was ever mentioned in relation to the car or the driver? i can't see how hard it would be to trace this MODEL with interstate plates? "
Rhianna Barreau - 18 years on
RHIANNA Barreau should have celebrated her 30th birthday on Sunday. But Rhianna's future was snatched from her when she disappeared from her Morphett Vale home almost 18 years ago.
Rhianna was 12 years old when she vanished from her Morphett Vale home and left behind a mother, father and brother heartbroken by her disappearance. Police believe she was murdered shortly after she disappeared.
Detective Senior Sergeant Steve Kinsman, from the Major Crime Investigation Branch, said Rhianna's missing person case would remain open until someone was convicted of her abduction and murder.
"Police never give up. The lack of a body does not stop people from being charged with murder," Det-Sgt Kinsman said.
He urged who thought they knew something that could help to ring Crime Stoppers.
"Anything, any information no matter how trivial may assist us in any case," he said.
"If they're not sure if it will assist they should ring Crime Stoppers and let the investigators decide. No one knows, it could be something that links some pieces of information together and could assist the investigation."
Det-Sgt Kinsman could not reveal whether police had a suspect for Rhianna's abduction and murder.
What can be reported are the facts of her disappearance.
Rhianna's mother Paula last saw her on October 7, 1992, about 8.30am.
Ms Barreau was studying at TAFE and initially she planned to meet Rhianna later that day at Colonnades shopping centre, where Rhianna wanted to buy a Christmas card for her American pen friend.
However, Ms Barreau heard on radio that Wednesday morning that bus drivers planned a snap strike.
Ms Barreau suggested Rhianna, who was on school holidays, walk to a nearby newsagent instead.
Ms Barreau hugged and kissed her daughter goodbye and never saw her again.
When Ms Barreau returned home at 4.10pm, she found the front door locked, the television on and a vinyl record on the living room floor, as though Rhianna had been playing it.
The Christmas card, complete with its wrapper, was on the dining room table.
Witnesses told police they saw Rhianna walking towards a Reynella newsagency about 10.30am.
She was also sighted walking alone at Morphett Vale High School at 12.30pm.
Det-Sgt Kinsman said missing persons cases were always distressing for families.
"I can't speak for the family, they're all getting on with their lives as best as they can, but they would hope, as I do, that one day media publicity will prompt something to occur that will bring the investigation to a successful conclusion," he said.
"When there's a release in the media about a body or remains being located I would surmise that people who have lost loved ones, lost relatives, lost friends would immediately be thinking is that their loved one?"
However he warned parents should not be paranoid about letting their children play - Rhianna's abduction, though tragic, is rare.
"Stranger abductions are a very rare occurrence, and it is borne out in statistics that the victims of personal crimes such as sexual abuse and homicide, know the perpetrators in a high number of cases - in homicide it's more than 80 per cent.
"I think with a healthy family environment children should be encouraged to talk to mum and dad or a trusted adult about any worries."
A $200,000 reward is on offer for information about Rhianna.
Even someone who remained anonymous could collect some money, Det-Sgt Kinsman said.
"Everyone who rings Crime Stoppers is given a caller ID number, whether they want to remain anonymous or not. They can then use that number every time they ring.
"I think anybody that would assist the immediate victims of this, and that's the family and friends of Rhianna, anybody that could assist bringing this matter to closure would be helping them very much and also helping the general public of South Australia."
Anyone with information about Rhianna's disappearance or other crimes should phone BankSA Crime Stoppers on 1800 333 000 or visit www.crimestoppers.com.au.
Police reinvestigate Rhianna Barreau cold case
7News Adelaide, Yahoo!7
March 9, 2012, 6:07 pm
Rhianna Barreau missing person case not re-opened by police, despite media reports
From:

Sunday Mail (SA)

March 10, 2012
SA POLICE have refuted claims they are conducting a full review into the 1992 disappearance of Rhianna Barreau, as reported by Channel Seven news on Friday.
Seven news reported relatives of Rhianna - who went missing nearly 20 years ago from her Morphett Vale home on Wednesday October 7, 1992 - have been approached by Major Crime Detectives and asked again who they believe may have taken the 12-year-old schoolgirl.
The report also stated at least one person who knew Rhianna, but wasn't related to her, was being re-investigated.
But SA Police today issued a statement denying the claims.
"No person is being re-investigated and speculation such as this by the media is unhelpful and causes unncessary distress to the family," the statement read.
"Major Crime Detectives maintain a watching brief over all cold case matters and detectives allocated the watching brief on any of the unsolved cases do keep in contact with relatives and keep them informed of any developments."
Anyone with information about the disappearance of Rhianna Barreau, or other missing persons, should contact BankSA Crime Stoppers on 1800 333 000.