| | | | |
| --- | --- | --- | --- |
| Name: | AITKEN Renee | Sex: | Female |
| Date of Birth: | 1978 | | |
| | | | | | |
| --- | --- | --- | --- | --- | --- |
| Age when missing: | 5 | Height (cm): | 91.0 | Build: | Thin |
| Hair Colour: | Blonde | Eye Colour: | Blue | Complexion: | Fair |
| | | Racial Appearance: | Caucasian | | |
5 year old Renee Aitken was last seen at Narooma NSW on 16 February 1984.



Wednesday, 13 August 2003

A coronial inquest into missing five-year-old Narooma girl Renee Aitken has heard evidence that police believe a Victorian man was involved in the girl's disappearance.

An intruder snatched Renee from the bedroom she shared with her eight-year-old brother almost 19 years ago.

No trace of the child was ever found.

Yesterday, Batemans Bay Detective Sergeant Ted Freeman told a coronial inquest that interviews with Brian James Fitzpatrick at Melbourne's Pentridge Prison in 1987 left police in no doubt he was involved in the child's disappearance.

At the time of the interview, Fitzpatrick was in jail for indecent assault.

He refused to be re-interviewed by police when the case was reopened in September 1998, and died in a car accident just weeks before the current inquest was set to begin.

The inquiry into Renee's disappearance continues today in Albury Coroner's Court.
Wed Aug 13 2003
The RENEE AITKEN inquest
New South Wales, Australia
Suicide claim denied -- (Shepparton News)

The wife of a Cobram man accused of involvement in the disappearance of a five-year-old girl in 1984 has denied he killed himself by running into a pole at Invergordon last month.
Left: Aitken, circa 1984; Right: Age-progression to 22 years old (circa 2000)


Bay detectives honoured for work on murder mystery
By Les Murphy Wednesday, 26 April 2006 - Narooma News


Two Batemans Bay detectives have been honoured for their role in investigating the murder of a five-year-old Narooma girl, Renee Aitken, who disappeared more than 20 years ago.

When her distraught family reported Renee missing in 1984, police began what would be a 20-year search to locate either the girl or her remains.

The mystery took a dramatic turn in 2003 when the prime suspect committed suicide after being subpoenaed to appear before an inquest into her death.

Detective Sergeant Edward Freeman and Detective Senior Constable Todd Clayton were presented with Southern Region Citations by Southern Region Commander, Assistant Commissioner Robert May, at the Narooma Golf Club last Thursday.

Detective Sergeant Freeman had reopened the case when he was posted to the local command in 1998, to see if time and a fresh pair of eyes could affect the outcome, the awards ceremony was told.

"From September 1998 to late 2003, Detective Sergeant Freeman and his team would periodically revisit the case looking at gaps in the initial inquiries that had only become apparent from a perspective of distance and time.

"They would re-investigate matters that had developed after the original investigation had finished, even to investigating suspicious earth disturbances that had been reported in the years that followed," said Senior Constable Gary Traynor of the Far South Coast Local Area Command, who acted as master of ceremonies for the awards presentations.

They had also interviewed young women who claimed to be Renee, or believed they were Renee.

"In 2003, Detective Sergeant Freeman was confident that he had located a suspect for the disappearance of Renee and he asked the coroner to subpoena the suspect to appear before an inquest.

"A month before the inquest, the suspect committed suicide," Senior Constable Traynor said.

"The eventual finding of the coroner was that in all probability, Renee Aitken had been abducted and murdered within a short time frame in 1984.

"The closure of the Renee Aitken file is entirely due to the actions of Detective Sergeant Freeman and his team of officers."

Did Samantha's killer draw portrait of Renee?
John Kidman
Source: The Sun-Herald
December 17, 2006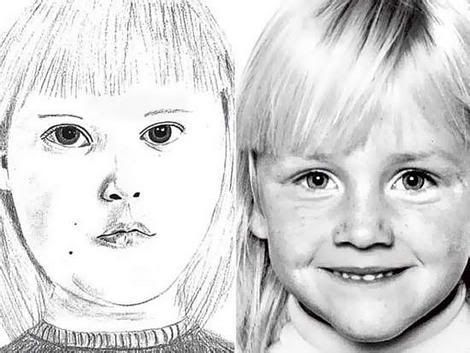 Uncanny likeness ... Renee Aitken (right), who vanished from her South Coast home 20 years ago, and the drawing by jailed pedophile Michael Guider.


THE killer of Bondi schoolgirl Samantha Knight made a sketch of a girl who resembles Renee Aitken, the five-year-old who vanished from her South Coast home two decades ago.

The drawing by Michael Guider captured the attention of the detective at the heart of the Aitken case, and senior NSW police know of its existence.

But despite fears that it links the pedophile with Renee's abduction and probable death, he has never been questioned about it.

The publication of the sketch comes as the NSW Ombudsman considers intervening on behalf of Denise Hofman, a Sydney teacher who spent years convincing senior police of Guider's involvement in the Knight case but has failed to persuade them he may be linked to the Aitken mystery too.

Mrs Hofman - a 58-year-old mother of five - received poems, letters and etchings from the pedophile in the mid-1990s when he was serving time in Lithgow jail for child sex offences.

Scrapbooks once kept by Guider contain newspaper cuttings about Renee's abduction and probable murder, The Sun-Herald reported last month. Guider's police mug shot was privately identified by a key witness in the case, while other evidence pointed to him having worked in Canberra, just two hours from Renee's Narooma home.

Police say they are unable to take their inquiries any further without more specific evidence, nor will they allow Mrs Hofman access to the scrapbooks or discuss their contents with her.

In 2002 Guider was sentenced to 12 years' jail for the manslaughter of Samantha in 1986 after Mrs Hofman exposed her former friend as a suspect, then went undercover to help police gather evidence against him.

The pair met in 1993 through a mutual interest in Aboriginal art and history.

But later, when she heard of Guider's incarceration for molesting children, Mrs Hofman made a connection between Guider's obsession with Samantha's disappearance and began visiting him in prison.

While advised by senior police to walk away from her campaign because Guider was not a suspect, she pressed on and was vindicated.

After Guider was convicted, Mrs Hofman contacted Batemans Bay detective Ted Freeman and told him about the sketch, which she believed was of Renee. He travelled to Sydney to collect it and began reviewing the case, but has since retired.

The Ombudsman last week asked Mrs Hofman for a written account of her concerns about the Aitken case, including the responses she had recently received from police headquarters.

The law enforcement watchdog will then determine whether it should request that police conduct a formal internal review.

NSW Police declined to comment. But yesterday Mrs Hofman said she had received a promise on behalf of Deputy Commissioner Andrew Scipione to reconsider her concerns.

"They called me on Friday and said they may not have been fully aware of certain historical aspects of the Aitken case," she said. "As a result, they've asked that I write to them again and, while offering no promises, they say they're prepared to have another look at what I've raised."